So as another year draws to a close but what is hot and what is not when it comes to 2014? Well dear friends, the answers are just a heartbeat away! It is that time of year when fashionistas across the globe come together in order to discuss what will make the catwalks of London, Paris, Milan and New York as well as what trends will take centre stage next year. So lets check out the lowdown on the snoops and scoops of what is exactly trending for 2014.

Mod World
This particular type of trend is believed to be harking back to the 1960s. This retro style takes advantage of simple designs and shapes, whilst Mod World focuses its attention on two different colour themes. Firstly it is around multi-coloured items as well as a black and white palette. This gives the impression of being both strong and elegant which would go alongside numerous jewellery items including wedding rings. Other key patterns that Mod World brings feature;

Geometric design.

Cabana stripes.

Cropped pants.

A-line dresses.
Spice Trail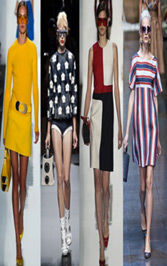 This is considered to be the perfect blend of detailed embroidery which sits beautifully alongside a number of different metallic materials not to mention embellishment. Meanwhile there are also halter dresses as well as pencil skirts which are hot to trot. In addition to this, ladies will have the opportunity to enjoy not just Indian but a wealth of Moroccan and North African influences including;
Handwork and plenty of diverse vibrant colours.

A wide variety of different materials such as jacquard, lame and sequins.

Tribal patterns, prints and numerous dye techniques.
Glam grunge appeal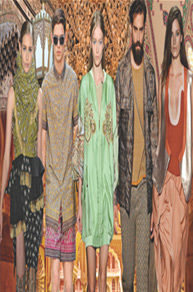 Another popular trend that you will see next year is glam grunge. This is a much more modern take on the trends which were set in the 1990s. Meanwhile, there is plenty of soft appearance in the designs, whilst there are several elements which have been bought together with denim playing an important role. Some of the most significant colours that will have an exciting part range from steel blue to several wine shades. On the other hand, you should look out for a wealth of patterns offering;
Camouflage.

Leopard print.

Florals.

Plaid
Provincial picnic trend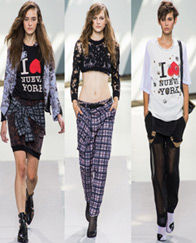 This is supposed to be a clean look which is reminiscent of the typical sweetheart look. It is entirely based on nautical themes which incorporate a host of floral patterns not to mention stripes, soft plaids and much more. On the other hand, red is certainly a colour which will be in next year. Vibrant and the symbol of passion it will be one of the most talked about shades come next year. Some of the extra colours that will rate high up the list feature;
Banana yellow.

Cool minty blue.

Cotton voile.

Linen white
Quirky girly
Some fashion lines are bringing together unusual feminine fashion styles which sit perfectly alongside more girly outfits. This includes the likes of cat prints not to mention jackets and socks that take their inspiration from the school playground with plenty of pastel colours to boot. Nonetheless this is definitely going to cause a stir among those fashion conscious females who desire this type of style.
Patterns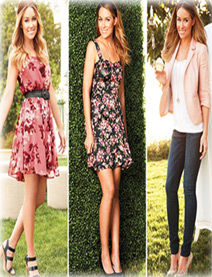 Again, this is an important trend which has come back into ladies fashion and will be apparent in certain forms. From gingham checks and stripes to different types of cherries fruit prints, there is plenty to write home about! Furthermore, you will have the opportunity to enjoy plenty of patterns which take their inspiration from the West including;
Toile and A line skirts.

Shirtdress.

Jumpsuits

Ruffled dresses

Complete skirt outfits with an eyelet edging.
Safari
Another iconic collection that is so on trend, Safari will be hot in the next twelve months. It will be the next big street trend which is down to plenty of fashion houses launching their own exclusive collections of jungle type wear. This will no doubt make all the right impressions, so you should look out for;
Sharp safari suits.

Shorts.

Sharp jackets

So it seems that dressing to impress is set to be launched in many different forms in 2014. With plenty of unique styles and interesting trends to choose from, there is plenty to look forward to next spring and summer.
Image courtesy:
1. Stylebyyellowbutton.com
Georgia Warren is owner of the Diamond Store.