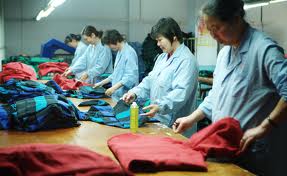 It is palpable that bread and butter of any industry are its sales, which are directly influenced by product quality and customer satisfaction. In case of apparel industry, this rule is applicable more than any other industry. Today the apparel industry is a booming sector and following this, most of the big names in the industry are opting for contemporary inspection system that ensures finest quality of product. Earlier, textile industries heavily relied on human inspection, as the cost of the same was low. Nevertheless, the chances of error are high and the work is tedious and repetitive.
Inspecting a fabric is one of the most difficult tasks and it has taken years for computer technology to come up with system for inspection that's easy, user-friendly and practical. Fortunately, in recent years, the inspection system has radically intensified and rapidly accelerated. Automated inspection system by machine has been developed and is being deployed now by textile industries to reduce the errors during fabric inspection and also cut down other shortcomings of human inspection system. Automatic inspection systems are created to augment the accuracy, uniformity and pace of the detection of defects in the manufacturing process of fabrics.

The modern day automated fabric inspection systems are based on adaptive, neural networks, which imply that they can learn. The user has to feed in the system a short length of good quality fabric via scanning and the system understands what it has to look for in the fabric to disqualify it. This along with specialised computer processors that have the computing power of several hundred Pentium chips makes these systems feasible. These systems are made in such a way so that they can detect and list defects in a wide variety of fabrics including greige fabrics, sheeting, apparel fabrics, upholstery fabrics, industrial fabrics, tyrecord, finished fabrics, piece-dyed fabrics and denim.
The automated fabric inspection system consists of a four 5 Megahertz camera modules along with four signal processing modules. It has a central computer, one 19" high resolution colour monitor with touch screen, a 6' light box with red fluorescence output, input output encoder, an alarm light, assortment of cables and interactive software. These features provide the automated fabric inspection system with several powerful features. The system can detect flaws as small as 0.05 inches at high fabric winder speeds as high as 120 feet/minute. It can be used to find out significantly contrasting flaws on fabric rolls. The manufacturers can be assured that the best quality products are being shipped with use of the automated inspection system. Each roll of fabric can be accompanied by a diskette containing the flaw map generated by the inspection system.
In the automated inspection system, a fabric has to go through a two-part illumination module which inspects in reflected or transmitted light. The illumination type depends on the fabric density, the special types of defects or the textile process stage in which the inspection is carried out. Above the light source, there are 3 to 6 Charge-Coupled Devices (CCDs) or in special cases, up to 8 CCD high-resolution line scan cameras depending on the inspection width. The cameras scan the fabric continuously for deviations.
In this process, the inspection system is operated from an operating terminal, where article-specific inspection parameters are set and the necessary piece data are entered or read in with a bar code reader.
In case of production process, there are basically two forms of physically integrating automatic fabric inspection systems - on-line and off-line integration. In online integration the inspection system is incorporated in an existing production machine and in the offline integration there is a built-in fabric transport.
In conventional methods flaws that are not visible to the human eye are ignored, whereas with the automated inspection system, smaller flaws are also easily detected. Flaws like lump in yarn, endouts, and small holes can easily pass undetected during human inspection, but with automated system these are detected effortlessly. Though, some textile companies complain that there are certain limitations in automated system, like the system does not detect dark flaws on dark materials, it also does not detect minor shade differences in fabric and it is not capable of inspecting fabric with pattern design.
The good news is that these limitations can be resolved by using a different lighting scheme such as back lighting and higher resolution cameras. The system can also be used for tagging flaws on the fabric roll during the process of inspection. This setup requires that a tagging device be interfaced to the fabric winder and the inspection system. The system can also be incorporated with a marker and cutter such that the flaw information could be put to use on the fly. These are the tasks of main interest for the next phase of the project.
The Least Development Countries (LDC) like Bangladesh, that achieve 25 percent revenue earning from Textile export, require laying emphasis on producing less defective textile for minimizing production cost and time. Automated inspection system can be of genuine help for LDC. The price of a defective fabric is reduced by 45 percent to 65 percent. Wastage reduction through accurate and early detection of defects is an important aspect of quality assurance. With automated inspection, the results are reliable, reproducible and free from the subjective deficiencies of the manual fabric inspection.
Developed countries like Germany have also adopted this contemporary inspection system. The developed countries often face tough competition from low priced imported fabric and to cut this competition, the industries in developed countries are producing best quality fabric using automated fabric inspection. Such a system works well for medium and large scale textile industries, where manual inspection of fabric gives way to a lot of errors.
References:
1. Indiantextilejournal.com
2. Eee.hku.hk
3. Dtic.mil
Image Courtesy:
1. Ddilogistics.com
2. Luckya.com