"One is never over-dressed or underdressed with a little black dress", said Karl Lagerfeld. There are few styles that remain forever in the fashion trend cycles and become a staple among the fashion forwards. These classic styles never go out of fashion and are time and again showcased by designers at the runway. The Little Black Dress (LBD) is one such thing that has survived innumerable fashion fads and trends to become a quintessential statement piece in every woman's wardrobe.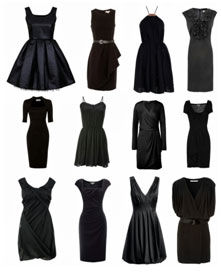 LBD became popular among women because one can dress up or dress down with it. One can never go wrong and easily dodge the fashion police by wearing an elegant and chic LBD for almost all evening occasions. There has been a huge transition in the style and structure of the LBD since its inception. Nonetheless, it holds the same undying charm, versatility, and affordability.
Black was essentially considered to be the color of mourning. A woman in mourning had to follow strict rules of wearing nothing but black dresses for about a year. During the time of the great depression and World War ΙΙ a lot of women wore black and also became the bread winner of families by starting to work. Hence a simple black dress was the power dressing of choice for most women.
The very first LBD was designed by Coco Chanel in the 1920s. Chanel's black dress appeared on the cover page of Vogue in 1926 and became a rage among women. The magazine referred to it as Coco's 'Ford', after the success of the Ford's affordable Model T car. The dress was short, had simple cuts, a drop waist and was accessorized with pearls. The mass appeal of the dress made it accessible among women of all social classes. Black was no more associated with mourning and by the end of the 1920s it became a standard and the epitome for elegance and mystery and dominated the women's high fashion scene.
The 1930s witnessed the era of jazz and hence the LBD had loose designs, with flappers and sequences. In the 1940s the LBD became more conservative because of the war. Hence women invested in a classic LBD and accessorized it differently to change the look, making it the perfect garment for just about every occasion.
Hollywood found increasing interest and love with the LBD in the 1950s. By this time, the little black dress transformed into a bold and edgy symbol good enough to add the extra glamour on the big screen. Christian Dior's designs ruled the fashion scene but in LBD style during this decade. The collection consisted of fuller skirt shapes and nipped waists, giving a break to the much conservative look wore by women in the war time. The LBD of the 50s addressed an audience which was young and had a broad outlook by shortening the length to the limit.