The layers of clothing during winter can be exasperating and wishing that winters somehow magically disappear is palpable. However, scowling doesn't help and thanks to the innovations in textile sector that there's a miraculous solution to fighting cold wave. Today the textile sector offers wide range of thermal wear that have gone through some positive changes with technological revolution. The materials that are used in thermal wear have changed and thermal wear is a lot more comfortable now.
Thermal clothing was intended to be worn under usual clothes, so it is also known as thermal underwear. The conventional style of thermal clothing is the long sleeve shirt with long pants. These are thin, so it's easy to wear them under jeans, sweaters, and slacks. However, the traditional style has also seen transformation, as with long styling, it's difficult for women to wear them under skirts, dresses, or short sleeved blouses. To overcome these issues, designers are now creating styles that fit nicely under all types of clothing. There are even styles designed for children so that they can stay warmer in the winter.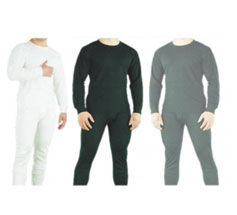 Earlier, thermal wear was used as undergarment only, following which the designs didn't have any special features, and was plain and simple in layout. However improved features like change in fabric, and better weaving techniques were introduced, thus enabling thermal wear to be used as normal clothing.
Some features that have been imbibed in the design of the thermal clothing include the material of the fabric is generally cotton, or a combination of cotton and polyester, use of merino or other varieties of wool are generally used in Europe, the fabric texture is box weave, generally, there is a thin polyester lining on the inner surface and flannel is used in a union suit, which is basically a thermal wear in which all the various parts are connected.
Thermal clothing is generally made by 2-ply material. The clothing works by locking in heat, by means of an in-built insulation system in the clothing. The functioning of a thermal wear works on the principle of insulation. The material used in these clothes basically adds a layer of insulation between the body and the garment. The material absorbs minimal amount of moisture from the body, allows quick drying and regulates air flow in the insulating layer that is formed. The material is tightly knitted and weaved so that it retains the warmth produced by the wearer's body. The additional layer of polyester on the inner surface allows better moisture retention, and helps to keep the skin dry. Cotton does not offer the insulating properties when it becomes wet. However, this is not a case with wool as it allows insulation even when it is wet. Also, wool is a naturally occurring fire retardant, and is hence advantageous over cotton.
The human body's constant core temperature is of about 37 degree Celsius. The actual value varies slightly from person to person but the temperature is maintained within narrow limits. In most climates, body temperature is above that of the external environment so that there has to be an internal source of heat in order to maintain the temperature difference. Thermal clothing comes to rescue in such a scenario.
Thermal wear are most commonly used in cold countries, but with the change in style, it has gained popularity all over the world. The shift from being inner garments to serving as upper wear has made these an obvious choice during winters. Besides being available for all body components separately, they are also available in the form of a long unified suit. In most cases, thermal wear can be used without any supplementary clothing. Thermal Wear is designed to fit closely and is usually firm near the ankles and wrists. The price of thermal clothing is reasonable as compared to the other products that are used in winter. Also as these clothes are not bulky, it is comfortable to wear them in mild winter. It is easy to stay fashionable without looking bulky in winter with good thermal wear.
There is a wide variety of thermal wear in various price ranges in the global market. The style includes long body warmers, vest full sleeve body warmers, vest half sleeve body warmers in pure wool. There are full sleeved, half sleeved and sleeveless body warmers available in cotton, wool and acrylic. There is wide range of thermal wear available for women as well. The range includes half sleeved and sleeveless body warmers available in wool, cotton and acrylic. There are also cotton blouse half sleeved body warmers, drawer body warmers, blouse half sleeve body warmers in pure wool and cotton blouse sleeveless body warmers.
The ease and comfort that the thermal wear provides are unmatched. Unlike the clothing worn in colder climates, thermal clothes can be worn over the skin, and the tight weaving provides body comfort like any other clothing. A thermal wear is one of the essential pieces of clothing that appear visually pleasing, are warm and comfortable at the same time.
References:
1. Theartofeverydayjoe.com
2. Wordpress.com
3. Indiantextilejournal.com
Image Courtesy:
1. Theguardian.com
2. Bountfil.com