Denim's the staple of everyone's wardrobe nowadays. It can be anything from a perfect blue rinse or a vintage wash, casual boyfriend jeans or a short denim skirt for weekend, and graceful black denim for evening or a saturated pigment spray for a unique look. While it is fun to explore new styles and colours of denim dresses from shorts to jeans or skirts to shirts/jackets, it is the durability of this rugged fabric that makes the garments made out of it long lasting. The denim categories differ as per wash processes, fit and style and spinning process.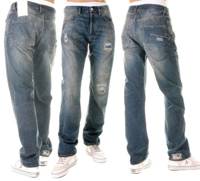 Denim is a sturdy and durable fabric, which is woven in a manner that it can be effortlessly worn in rough conditions. The durability comes from the weave known as twill weave. The blue yarns are the lengthwise or warp threads and the white yarns run across the fabric width i.e. the weft threads. Twill weaves imparts strength to denim that helps it undergo a lot of friction before it breaks apart.
The simple reason behind this is that one set of yarns floats over another two to four sets of yarns at regular intervals to form a slanting textured fabric surface. It is this floating set of yarns that absorb the abrasion. When the floating yarns experience wear and tear, there are still more yarns underneath to hold the fabric together. There are two types of twill weave, LHT and RHT. LHT or Left Hand Twill runs diagonally from right to left and produces denim that is a bit softer than RHT. RHT or Right Hand Twill runs diagonally from left to right, which produces flatter and smoother denim. Manufacturers prefer RHT more often than LHT.
Conventionally denim was made from cent percent cotton, but some modern interventions have ensured that there are varieties of denims available in market. Today denim is blended with polyester to manage shrinkage and crease; and elsatane is also popular these days. Elsatane denim ensures proper stretch, which gives wearer a better fit.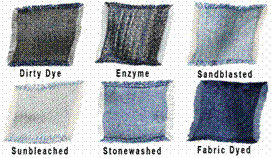 Harking back at the journey of denim, it is interesting to note that this humble fabric has surpassed all kinds of economic and time barriers. Its popularity graph has always shown an upward trend and continues to do so. Jeans are now a wardrobe essential and are looked at as fashion symbol. The sturdy denim is available in variety of ranges based on cuts and washes. Low-rise, ultra-low-rise, boot-cut, flare, stone-washed, dark, distressed jeans; jeans based on body types i.e. slim body, curvy body, athletic body, full-figured body types are dominating the markets.
On the basis of washing, there are pre-washed, stonewashed, river washed, indigo, Tate-Ochi and other kinds of jeans. Pre-washed jeans are produced by repeated washing during the manufacturing process to make the denim softer. The stonewashing is a process that physically removes colour and adds contrast.