Multi-channel retailing broke the barriers of geographical locations. But with the advent of digital technology there are various platforms from which consumers have the access to purchase garments and integrating all the channels can help apparel retailers streamline their supply chain processes and achieve customer satisfaction. With the vanishing boundary between online and off-line shopping in the minds of consumers, it becomes increasingly important for apparel retailers to provide a seamless buying experience across all avenues and have a competitive advantage.
<![if !vml]>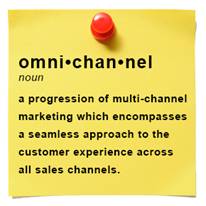 <![endif]>The growing numbers of smartphone users are influencing the rise of online apparel shopping. This means more number of consumers have the liberty to research about various apparel brands and retailers online. Moreover, the rise of social media marketing and blogs has also made brands to break out of their conventional advertising strategies and stay more updated web-wise to reach to their target customers.
Multi-channel vs. Omni channel retailing
Multi-channel retailing gives the shopper the options of buying a product from various purchase points like in-store, online mediums (Computer, tablet, mobile phones), interactive televisions, and even wearable technology, where each channel is independent of the other. Omni channel retailing on the other hand lets the consumers use more than one purchase point from a retailer for a transaction. For example, buying a garment in a physical store and asking for a return online.
Moreover, with the help of Omni channel retailing, an apparel retailer offers a 360 view of the purchases made by customers across all channels while with multi-channel retailing, retailers just offers customers an array of channels to choose from.
Data and analytics
In order to become a good and successful apparel retailer, having knowledge about the consumer behavior and purchase decisions is extremely vital. With digitization of retailing and modern concepts where retailers allows customers to down mobile applications, availing data about customers becomes easy. This can help retailers leverage on doing analysis on the collected consumer data. Besides that, with omni retailing platform, a retailer can also provide instant updates to a consumer, who has just entered the stores, with offers and discounts.
Moreover, by having access to such data, retailers can provide consumers with facilities like setting alerts on their favorite items, daily deals, offers, and special discounts. Smart consumers surfing the internet look for reviews on blogs and social media networking sites to compare and purchase a product. According to a recent survey on American apparel shoppers revealed 77 percent compare prices, 58 percent read reviews, and 71 percent look up for coupons and offers. The same survey also discovered that 68 percent consumers considered writing product reviews (for both online and physical store apparel purchases), 71 percent agreed that product reviews do influence them, and 81 percent think online reviews of products are believable.
Hence with Omni channel retailing the customer feedback and such kind of data can be used to recognize decisions to be made, to build customer loyalty, and to win confidence of the consumers.
What does having Omni channel apparel retailing do?
Being omniscient is perceiving and understanding all things. Hence having an all around presence in apparel retailing requires brands to connect online and offline stores. This means having same prices, offers, products, and even displays across all channels. Providing facilities like buying garments online and picking up from stores to customers will lead to integration across all channels.
The in-store shopping experience needs to amalgamate with digital mediums that consumers use like Smartphones, tablets, and even wearable technology like Google glass and apples watch. This allows shoppers in the store to have access to information regarding offers and discounts, check if items in their shopping list are available in the store, and provide layout of all the merchandises in the store. Moreover, with such a digitization in brick and mortar stores, retailers can also provide the privilege of paying through digital wallets to avoid the queues at the check-out counters.
Omni channel retailing gives the facility to make the purchasing process more customers centric. Personalized information on new products, discounts, and offers can be enabled to encourage brand loyalty and customer satisfaction. Besides integrating all the front end operations of a physical and online store, Omni channel also helps connecting the whole system to the back end inventory and supply chain. This makes it easier to streamline data and workflow.
The increasing usage of digital technology through different platforms has led retailers create a flawless shopping environment for customers that keeps them updated about all the channels simultaneously. The use of mobile and online buying has transformed the way we look at shopping. Having unified apparel retail strategies and offerings on websites, physical stores, mobiles, and social media channels can improve the shopping experience and make it more easy and frequent.
References:
1.Omnichannel.me
2. Apparel.edgl.com
3.Blog.joelrubinson.net
4. Sloanreview.mit.edu
5. Cottoninc.com
Image Courtesy:
1. Iamomnichannel.com
2. Blog.acumium.com