Animal print has always garnered attention and has been in fashion for a long time. It displays sophistication, style and versatility. Noticeably, this trend does not seem to fade and is still ruling the fashion world and other sectors. Animal prints are the rage of this season and finds its way in party wears, coats, skirts, handbags, lingerie, watches, accessories and even in home furnishing textiles.
Animal print clothing are garments which have patterns of the skin or fur of animals like leopard, cheetah, zebra, tiger, Giraffe, Striped Hyena, African wild dog or monkey. Animal prints have remained popular since ancient times and there are many reasons for it.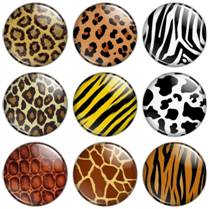 Firstly, it was expensive and considered extraordinary. If one goes back to the history, kings and higher class people have used rugs made from animal skin. They have displayed animal skin or animal head as medals, which is a symbol of royalty and high status. Coats made from unusual African fur were worn by members of royal families and elite class of people during olden times.
In the past few decades, celebrities and fashion designers have played a major role in bringing animal print into mainstream fashion. This evergreen trend is loved by all and the apparel market is flooded with variety of animal prints. Bengal tiger stripes and black and white Dalmatian spots were in fashion last year. However, leopard print is the classic flavor of this season and rules the current fashion scenario.
Animal print trend has been heating up the Autumn/Winter 2013-2014 shows. This season one can see many designers and brands like Roberto Cavalli, Diane Von Furstenberg, DKNY, coming up with their own fashionable versions to showcase their animal print collection. Burberry displayed amazing giraffe and leopard print collections whereas giraffe print ankle boots by Boden were loved by all at the Autumn/Winter 13 show.
The amazing feature about animal print is that it has been reinvented time and again, and comes up with a new trend every season. Animal prints can be worn anytime, irrespective of the season, weather or style. Moreover, many people think that animal prints can be worn by women alone, but the fashion world has offered animal print garments for men as well.
Animal print always garners attention therefore, it is important to pair it up perfectly to look right. The golden rule to remember while wearing animal print is never dress head to toe with this print. Here, the fashion trend is "less is more" so as to keep the look sophisticated and stylish.
This winter make style statement by wearing an animal print coat or tiger print sweater or zebra print beanie to keep one's head warm. Further, go for this urban cool look wearing animal print cardigan paired with denim and yellow or orange shirt beneath.
Dark color like navy blue, purple and black crocodile print tops and bottom look fabulous. Try out a peplum leopard print dress with black pumps and gold accessories. The best match for a leopard print shoes is a black dress, skirt or pant. Moreover, white and neutral shades can also be paired with leopard print shoes. And those who need much attention can pair up with bright colors like red, orange, yellow etc.
Currently, digitally printed animal pattern fabrics are on high demand in the international fashion markets. They are available in chiffons, satins, art silk, velvet, georgette, lycra, cotton, silk jacquard and many other innovative fabrics. Sometimes, 2-3 types of fibres are blended to make animal print fabrics such as Cheetah print stretch fabric is available in combination of cotton, polyester and spandex. This will give the needed stretch and comfort feature to the fabric.
Zebra and leopard prints are popular patterns used in home dcor fabrics. Also, leopard print scarf is a pattern loved by many. Further, there is a range of animal print items available in footwear section. A wild leopard print sneakers are comfortable to wear and give a cool look. They are available in beige and brown colors to make one roar while walking.
Animal print sunglasses and belts are found in various patterns which are in great demand. Nowadays, animal print patterns are widely seen in home dcor furnishings. These prints on fabrics look great for pillows, slipcovers, bed skirts and upholstery.
Some animal print fabrics are finely woven fabrics while others are medium weight cotton materials best for draperies, valances, curtains, duvet covers, etc. While making ones interior trendy, it is important to choose the right print, color and quantity of the print. Avoid using too many of these prints while doing the interiors.
If used in the right manner, animal print lampshades, rugs, wall art, cushions and other home decor furnishings will give an exotic and classy look to one's space. Today's animal prints do not closely resemble the older ones. At present, designer's experiment and play with different patterns of these exotic animals and come up with new design and colors.
They have introduced new colors such as blue, green or pink which is not the natural color of the animal skin. Thus, the designers have tried to modernize the prints with their creative abilities. While animal prints are spotted in every corner of the fashion world, the jewelry industry is also smitten by it.
Renowned brands are showcasing their jewelry items and accessories with animal prints. Variety of fashion accessories like animal print strap watch, blue leopard print earrings, leopard print bracelet, cheetah print necklace, animal print brooch, bangles, hair pins, hair bands, stud earrings and many more are available all over the world. Similarly exotic collections of animal print lingerie are available in stores that will blow off one's mind.
Animal print clothing, accessories, jewelry or even home decor products are considered as ageless investment and a prized possession of one's wardrobe. This trendy print can be regularly seen worn by celebrities, Hollywood stars and on ramps.
Most importantly, people love animal prints which is gratifying to the eyes and brings out the wild side of a human nature. Moreover, one can find so many different patterns of animal prints in the market that everyone gets a pick of their choice.

References:
1. En.wikipedia.org
2. Attireclub.org
3. Leopardprintaccessories.com
4. Digsdigs.com
5. Firemountaingems.com
6. Internationalpress.org
7. Shoes.about.com
Image Courtesy:
1. Refinery29.com
2. Background-pictures.feedio.net