The trendy and timeless jeans are a staple of everyone's wardrobe globally. However, what people fail to notice are the environmental consequences that the denim industry brings with it. The denim industry consumes high amount of water, energy and chemicals. Fortunately, more denim brands are becoming responsible and adopting sustainable methods of denim production like, using less water and chemicals to reduce the environmental impacts of the denim industry.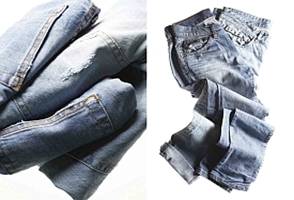 Faded jeans are loved by all. Nowadays, buyers look for different types of shades and finishes that denims can offer. Therefore, denim companies are trying their level best to satisfy their consumers by offering different types of washed jeans in various shades. However, they put a lot of effort to see that high productivity is achieved using less harmful techniques of denim finishing.
Denim finishing is one of the processes utilized to give a certain look to the jeans. There are many techniques used for denim finishing such as, stone wash, mill wash, moon wash, bleach, distressed look, whisker effect, 3D effect, PP spray, sandblast, etc. The dry finishing can create many effects on denim which has enticed the customers and enhanced its prospect in the denim market.
It has been found that an average American owns around 7 pairs of jeans, which means each pair of jeans is responsible for wasting tons of water and several greenhouse gas emissions. Denim companies have developed new methods of denim processing which are economical and ecological. Some of them are laser technology, mechanical abrasion, ozone fading, waterjet fading, tinting technique, etc.
All these techniques use less water and energy and are environment friendly. Laser wash is an exceptional method which can create extraordinary jeans and reduce the environmental impact of this industry. In laser wash, there is no use of water, stones or sand to wash the jeans.
The wash is done using laser which goes across the jeans and burns the wash into them. The process is very quick and the washes look amazing. This water-free technology can give much wanted 'distressed' or 'vintage' look to the denim.
Laser technology has been adopted by some denim brands as an apt replacement for the traditional methods of denim finishing like sandblasting, stone washing, etc. It is the fastest growing and accepted technique in the denim market, as this technology has made denims go green. This method creates patterns like dots, lines, text and even images which are executed through computer managed process.
The best feature of this process is that the fading of denim is done without the use of water and as it is done by computer controlled system, there are least chances of error. At present, there are various laser techniques available in the industry. The technology has succeeded because the techniques are much safer, environment friendly and economical. Further, the advanced technology used in these techniques offer not only visual variation, but also give opportunity to the designers for their creative input. Additionally, it saves time and cuts down the cost of production.
The experts say that these technologies have increased the output per workplace by 500% and have reduced the loss of fabric strength by 50%. The main benefit for the denim companies, who have adopted sustainability as their chief goal is that the laser technology has eliminated major environmental problems which were present in the traditional abrasive processes.
The new technology can not only replicate the exact abrasion pattern but also can create different kinds of distressed look designs and patterns. Besides, the health benefits of the workers cannot be overlooked. Processes like sandblasting generate large amount of dust which causes tuberculosis or silicosis in workers.
Turkey is one of the worst affected countries due to sandblasting. According to a report, more than 5000 workers in the textile industry are suffering from silicosis. Therefore, many denim companies have come forward in support of banning such processes and are developing sustainable techniques for manufacturing jeans.
Laser technology for jeans finishing along with eco-washing machine has yielded impressive environmental benefits. This new technology saves energy by 62%, water by 67% and chemical products by 85%. In addition, it saves 55% of the time in jeans finishing. Today, the companies are interested in developing techniques which reduce pollution and use of resources.
The eco-washing machine works water-free with only active oxygen and ozone. It gives jeans and shirts the vintage finishing without using water or chemicals. It allows higher rate of production compared to the traditional ways of jean finishing. With laser technology, 1oo or 200 units can be produced per hour. Whereas, manual scrapping produces only 10 units, sandblasting 30 and spray painting 60 units per hour.
According to a study, 6 billion units of jeans are manufactured in the world. Every jean consumes 7o litres of water, 1kw/h power and 150 grams of chemicals, which means annually 420 million m3 of water, 6 billion kw/h energy and 900,000 tons of chemicals are consumed. If everyone in the denim industry uses the new laser technology then, water saved would be equivalent to; two years human consumption of water in Paris.
Power saved would be equivalent to; two years electricity consumption in Nepal and 720,000 tons of chemical products would be saved every year. Laser technology is a great example of the fact that adopting sustainable techniques not only create positive impact on the environment but also on the business, with major savings on energy, water and chemicals, as well as reduction in waste and harmful emission.
In current scenario, it is essential for the fashion pioneers to come up with sustainable clothes that discard less or no waste and pursue environment friendly techniques. They are not only good for the consumers but better for our planet. The efforts of the companies who have come up with impressive technology to produce eco-friendly denims are praiseworthy. Nevertheless, there is a long way to go to reduce the environmental impacts of the denim industry.
References:
1. Ecouterre.com
2. Slideshare.net
3. Indiantextilejournal.com
4. Cereplast.com
Image Courtesy:
1. Individualsole.com
2. Adsaleata.com