The trendy and timeless jeans are a staple of everyone's wardrobe globally. However, what people fail to notice are the environmental consequences that the denim industry brings with it. The denim industry consumes high amount of water, energy and chemicals. Fortunately, more denim brands are becoming responsible and adopting sustainable methods of denim production like, using less water and chemicals to reduce the environmental impacts of the denim industry.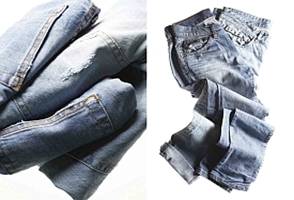 Faded jeans are loved by all. Nowadays, buyers look for different types of shades and finishes that denims can offer. Therefore, denim companies are trying their level best to satisfy their consumers by offering different types of washed jeans in various shades. However, they put a lot of effort to see that high productivity is achieved using less harmful techniques of denim finishing.
Denim finishing is one of the processes utilized to give a certain look to the jeans. There are many techniques used for denim finishing such as, stone wash, mill wash, moon wash, bleach, distressed look, whisker effect, 3D effect, PP spray, sandblast, etc. The dry finishing can create many effects on denim which has enticed the customers and enhanced its prospect in the denim market.
It has been found that an average American owns around 7 pairs of jeans, which means each pair of jeans is responsible for wasting tons of water and several greenhouse gas emissions. Denim companies have developed new methods of denim processing which are economical and ecological. Some of them are laser technology, mechanical abrasion, ozone fading, waterjet fading, tinting technique, etc.
All these techniques use less water and energy and are environment friendly. Laser wash is an exceptional method which can create extraordinary jeans and reduce the environmental impact of this industry. In laser wash, there is no use of water, stones or sand to wash the jeans.
The wash is done using laser which goes across the jeans and burns the wash into them. The process is very quick and the washes look amazing. This water-free technology can give much wanted 'distressed' or 'vintage' look to the denim.
Laser technology has been adopted by some denim brands as an apt replacement for the traditional methods of denim finishing like sandblasting, stone washing, etc. It is the fastest growing and accepted technique in the denim market, as this technology has made denims go green. This method creates patterns like dots, lines, text and even images which are executed through computer managed process.