Fashion always bucks the trend and keeps coming back. Be it polka dots of fifties or flared jeans of seventies, it is not surprising to see fashion houses and fashion aficionados revisit and revive the fashion from yester-years. Like the polka dots, satin trousers, flare denims, leggings, tartan fabric is also once again cynosure of all eyes for all the right reasons.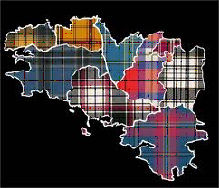 Tartan has always been an integral part of Scottish culture and it is a national identification mark of Scotland. With Scottish people dispersed all around the world, popularity of tartan has increased manifold. The influence of Scotland on world's fashion industry can be understood by the fact that tartan is regaining its popularity. With some 30 million people worldwide of Scots descent of which 11 million are in the United States, 4.5 million in Canada and nearly 6 million in Australia and New Zealand, the Scottish influence on fabric patterns are understandable.
Nevertheless, tartan, which is arguably the best-known cloth in the world, is not peculiar to Scotland anymore. In many parts of the world, apart from Scotland, tartan is worn by all ages at formal and informal functions like weddings, dinners, parties and celebrations of all kinds. Tartan fabric has shown stable growth and the economic value of tartan and related Highland Dress is now something in excess of 300 million per annum to Scottish business and tourism alone. The business of tartan industries is growing worldwide and some industries that are specifically producing various types of tartan designs and fabrics are benefiting a lot.
It is pertinent to note that tartan has never been an exact science and the precise date and origination of tartan remains arguable to this date. Originally, check cloths or plaids were loosely associated with clans. The original tartans were simple checks in single or double colours, and the dyes used were natural and included dyes that came from plants, roots, berries and trees found locally where the cloth was woven. Earlier, people of the same area would wear the same tartan and so in effect they became clan tartans.
In simple words, tartan is a pattern consisting of criss-crossed horizontal and vertical bands in multiple colours. The first step to create a tartan fabric is collecting strings of pre-dyed threads in aspiring colours. The next move comes when the weaver interlaces the horizontal weft threads through warp threads to form colour blocks. As oblique lines become visible at the point where distinct colours cross, the overall look ultimately provides an illusion of newly-formed colours. The colour blocks can be woven horizontally and vertically in peculiar pattern of squares and lines. As the weaver moves toward giving final touches to the pattern, Tartan can be shaped up in unlimited colour combinations as per the desire.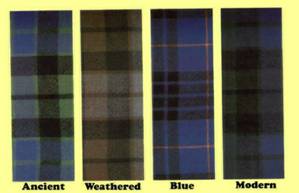 Today, there are several colours that are used to produce unique tartans. However, the principle of using natural dyes has been transformed here and chemical dyes are often used today. This has resulted in introduction of vivid colours which are known today as 'modern' tartan colours. The tartan colours that were previously produced using vegetable dyes are known as 'ancient' tartan colours. In addition, a third option has also surfaced now, which is called 'weathered' or 'reproduction' tartans. The third category of tartan colours are reproduced from pieces of fabrics found on battlefields or similar places which are weathered from exposure to the elements.
The simple tartan has witnessed various kinds of modifications, as there are different categories of tartans as well. There are dress tartans which were thought to be originally worn by women of the clan who preferred lighter coloured patterns with a white background. Nowadays, dress tartans are particularly popular for more formal wear. There are also hunting tartans that were previously worn for sport and outdoor activities, following which colours such as brown or other dark colours predominated the pattern and to this day, many tartans are linked to sporting associations like football or rugby.
Fundamentally, tartan belongs to the category of woven fabrics, but its initial use was not confined to clothing. One of the first primary uses of tartan was for home furnishings and this remains popular today. Tartan has been versatile since several centuries with a wide variety of uses ranging from bags to toys to umbrellas to shoes, the scope is unlimited. Current fashion market trends show tartan never went out of fashion, and till date the fabric is termed as glamorous and fashionable. Even though tartans originated in woven wool, they are now being made in many other materials like cotton, polyviscose and silk.
The ethnic and artistic growth of tartan remains steady to this date. The commercial suppliers of tartan are typically producing range of some 500-700 tartan designs. But then again, based upon how different tartans are defined, it is calculated that there are about 3500 to 7000 different tartans. Today the number of new tartan designs is increasing by about hundred per year.
Apart from the four ways of presenting the hues in the tartan 'modern', 'ancient', 'weathered' and 'muted' there are thus about 14000 recognised tartan variations to choose from, which is enough to meet any kind of customer demand regarding variations in tartans.
Today, the most popular tartans include the Black Watch (also known as Old Campbell, Grant Hunting); this tartan bears the name of the famous 42nd Royal Highland and Royal Stewart, which is the best known tartan of the royal House of Stewart, and is also the personal tartan of Queen Elizabeth II. Tartan designshave expanded its reach from textiles to non-woven mediums, such as paper, plastics, packaging, and wall coverings.
This season, tartan is back in a big way and nearly every store or designer is doing their take. Many fashion houses and designers have already joined the tartan army. There is tartan in bags, napkins, clothes, coats, shoes, skirts, shirts, pants, cushions, rugs and throws. The tartan clothing and accessories range from mens tartan suits, trousers and waistcoats to women's mini kilts, skirts and jackets, along with tartan scarves, ties and even tartan shoes and boots.
The invariable reinvention of an era is known to the fashion industry and tartan falls in this category of reinvention. Though tartan has changed in the modern era, but the uniqueness of the fabric will be appreciated always.
References:
1. Kinlochanderson.com
2. Scottishtartans.org
3. Wikipedia.com
Image Courtesy:
1. Connectsavannah.com
2. Electricscotland.com
3. Website.lineone.net