The textile and garment industry encompass a wide canvas and each category be it maternity, teen or senior apparel markets have grown to produce changing trends of their own with each passing year. Understanding and developing fashion and style sensibilities of its own, is the group of home textiles and fabric furnishes in the industry. With trade events and exhibitions dedicated exclusively for this purpose has given rise to a growing market for such trendy fabrics in home textiles.
This segment which was seen as a utility product in many developing countries like China and India is also now slowly changing. Advanced lifestyle requirements and consumers today want their homes to be an extension of the same. Self-expression and exquisiteness have become important criteria while picking textile products for their spaces. Upholsteries, curtains, bath and bed products, linens, cushion covers, bed sheets, pillow cases, quilts, and duvet, there are innumerable varieties and patterns to pick from.

The ITMA Showtime fabric unveiled some latest fabrics, colors, and patterns that will be in the limelight for the year twenty fourteen. Metallics in detailing and in absolute subtleness are being used for table tops and home textile designs. Gold especially occupies a secure position in the list of trendy fabrics. Using it with delicate linens, cotton, and jute fabrics in one's home furnishings will add a little polish but with much elegance. Colors are on the rise. A wide palette of beautiful colors but in wiped out and neutral shades are going to add the festive touch to homes in different patterned fabrics.
One color that will dominate and will be seen more than most others is blue, in all possible shades and hues. The versatility of the color and its ability to create varying moods with fabrics like comforting, soothing, healing, and divine bring different look and feel to the interiors of a space. Traditional prints like paisley and ikat in unusual color combinations and big bold prints of flowers, animals, geometric shapes, and motifs in darker backgrounds in home textiles will be witnessed for the year 2014. The luxury home textiles will be seen in rich colors with intricate prints and light embellishment in fine fabrics. Moreover luscious solid colored velvets and corduroys are also a trend that will be seen in luxurious home textiles.
Fine handcrafted fabrics and handlooms with a story to tell with a little bit of a shimmer will also make way into the luxury home furnishings market. Old world embroidery and paint like finishes on fine linens and silks is also a trend to watch for if one wants to add some opulence into their interiors in 2014. The matching trend is out of vogue for 2014 since consumers are open to experimenting with colors, patterns, and textures. Trims and detailing in neon colors will be seen in textile products like table cloths, pillow covers, and bath products.
Outdoor fabrics with performance are soon turning into a viable option for being used indoors as well. Increased functionality of home textile fabrics to withstand dust, dirt, and bacteria and yet, remain clean and hygienic is growing and the demand for such products is on the rise this year.
Soft and long-lasting rugs that are resistant to fading, bed-sheets that can modulate temperature according to the user's body temperature in order to enhance one's sleep quality, and anti-allergic & anti-bug bed sheets are few innovative yet performance yielding home textile products that will be popular in the months to come. Stain repelling carpets and rugs will be hot selling items along with these products. Some of these innovative fabrics can protect the carpets from wine stains too.
With the love for nature and increasing concerns about protecting it rising among today's consumers, the demand for eco-friendly home textiles is just going to increase day by day. Fabrics in irregular surface effects and understated natural shades expressing earthy feeling into urban homes made out of natural fibres. Organic, natural, and eco-friendly textile and textile products will get bigger and along with that textiles made from recycled fibres will be a trend to observe for this year. Consumers are environmental conscious and require products that match their nature loving attitude.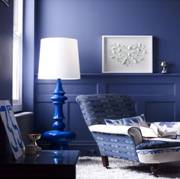 Blue seems to be the color of the year as long as home textile trends for 2014 are concerned. Gold, tangerine, lavender, and aquamarine are other colors to look out for. Using multiple colored prints with a solid colored background is another trend that will be seen on all kinds of home textile and furnishing fabrics. Bath products with extra absorbency and super soft micro fibres will be available along with different blends of yarns and slubs to choose from.
The home textile trends for this year are not just about change in color palettes, prints, and textures but also have improved functionality and with home furnishing fabrics made with natural fibres to maintain a balance with environment, there is a lot to look up to for consumers this year.
References:
1. Retail.economictimes.indiatimes.com
2. Heimtextil.messefrankfurt.com
3. Nestnestnest.blogspot.in
Image Courtesy:
1. Architizer.com
2. Dcor.com