1. Introduction:
India is well known for its handicrafts worldwide.Handicraft represents a unique culture of a particular region. It has aneconomic as well as a traditional value associated with it. Each state in Indiahas its own speciality. For instance, in Uttar Pradesh, city Moradabad isfamous for Brass handicrafts, Saharanpur for its wooden articles, Ferozabad forGlass products. Similarly, Rajasthan is famous for Jaipuri quilts, and the cityJodhpur is known for wooden or wrought iron furniture. Gujarat comes withembroidered articles from Kutch region. But this is only a small proportion ofthe total product range offered by Indian handicraft sector. In line with this,there is a city called Madhubani in Bihar which is well known for its Sikki- handicraft.Sikki is the natural fibre made from grass. From this fibre many items arecrafted by skilled artisans. This Sikki handicraft sector not only makes itemswhich are used in our daily life but its large proportion is of decorativeunique items. This art is a major source of income for many artisans. But thissector is still unorganised and decentralised. The artisans are not having anyformal education about business. They do business based on their experience.Thus, their full potential is not utilised. In today's era of globalisation, wecannot view this handicraft sector in isolation. The artisans have skill butthe main problem they are facing is the lack of marketing knowledge. Thisresearch study explores the marketing mix for this sector followed by thecurrent marketing challenges faced by these artisans. It also provides aninsight in the area of opportunities for this sector.
2. Literature:
2.1 About Sikki
Sikki is a type of grass and belongs to the category ofnatural fibres. This is grown in the damp and muddy area near the bank of therivers in the Koshi region (in North Bihar) in District Madhubani. Sikki grass,as it is, cannot be used; it is first cut near to its roots and then dried forfew days. The part of the stem bearing flower is not useful and cannot be usedfor making craft so it is discarded. The rest of the portion of the grass issliced and then shaved with knife. Then the natural golden coloured grass isused as it is or it can be dyed in various colours. This grass is not havinghigh strength so Munj grass is used as a strength provider. A bundle of Munjgrass is taken which is completely covered by Sikki grass. Then it is turn likecoil and this coil is used in forming various items such as lamps, containers,stools and other decorative items.
2.2 About handicraft sector
A dramatic shift in the nature of industrialisation due to globalisation has forced the handicraft sector to change from traditional to contemporary.
Many countries have started promoting their handicraft sector and India is not far behind. India is also trying to convert their weakness into strength. Many countries are trying to copy the hand work of India in order to capture the market of the Indian handicraft sector. This is giving rise to a lot of competition in this sector and helps in creating a dynamic environment.
2.3 The typical value chain
A value chain is an economic system that can be described as a sequence of interrelated business activities starting from input to processing, production, marketing and distribution and then selling to final consumer. In a value chain, the different business functions are linked by a chain of business transactions in which the product is passed on from manufacturers to end consumers. The typical value chain for a handicraft sector is shown below which consists of buyers at the top, then different business functions followed by different bodies which can perform the above mentioned functions.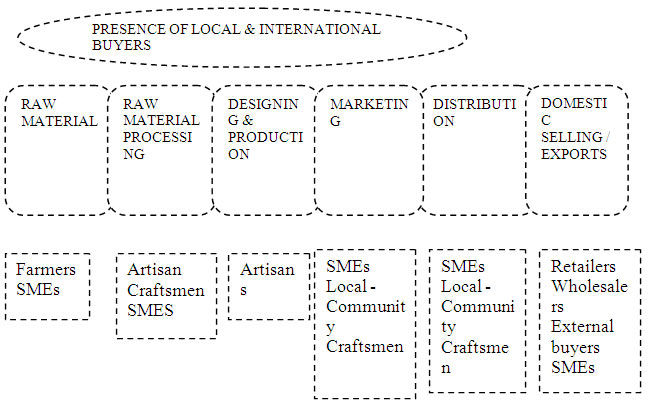 3. Objective:
The objective of this study is to identify current challenges faced by Sikki craft artisans in marketing and thus finding opportunities which can help them in business growth.
4. Methodology:
This paper is descriptive in nature and therefore the information presented is based on secondary data. The data source is journals, books, internet, magazines, etc.
5. Findings:
5.1 Identifying 4Ps of marketing mix
Product: Product includes tangible and intangible characteristics such as colour, packaging, service and image. In Sikki handicraft, there are various products that are made by artisans which includes decorative items as well as utility items. Utility items include lamps, containers, tables, bags, etc. and decorative items include dolls, wall hangings, etc. These are designed and produced by artisans. Generally, artisans use conventional ideas. But the designing should be done according to today's consumer needs and demands. Developing product lines in this sector involves immense creativity and art.
Price: Price is the monetary value that a seller gets in exchange of the goods. The artisans involved in producing Sikki products are finding it difficult to estimate the exact production cost due to lack of education as well as awareness. So by their experience, they fix a price irrespective of market trend. Sometimes they take help from SMEs or local co-operative societies. These Sikki products are very attractive and generally viewed as creative items so generally customers are willing to pay a higher price than expected. In order to support this sector, the Bihar government has exempted sales tax.
Promotion: The artisans who produce the Sikki craft are generally are not aware about promotions and do not take much initiative individually. They depend on Cooperatives, SMEs and other state bodies for promotion of their art. Promotion is mainly done by participating in trade fairs, exhibitions and indirectly through tourism advertisements.
Place (Distribution): The distribution channels for these Sikki products are direct or indirect. Some artisans directly sell their products to customers. Sometimes they also follow indirect channel which includes dealers and cooperatives which sell through outlets. Many artisans sell their products to All India Handcraft Development Corporation or equivalent state owned body.
5.2 Challenges
The various challenges faced by the Sikki artisans are:
5.2.1. Price Non-uniformity: The artisans face a lot of difficulty in fixing a price. They are not aware of the costing procedures that are used in organised sectors. The artisans just get the raw material, produce it and sell it. They are not sufficiently trained in identifying what all costs are involved in the production. Moreover due to unorganised distribution network the price is different at different selling points. This means if one person purchases same article from two different places, he has to pay different prices. This creates frustration in customers and thus affects the sales.
5.2.2. Inadequate financial support: The economic state of these artisans is very poor. Inspite of putting too much hard work they are not able to earn enough money to support their families. They try to take support from different local organisations but many times do not get a fair return.
5.2.3. Lack of training: The artisans are using their skill which they have inherited. They are not having any update of today's consumer demand. Due to globalisation many foreign buyers are also interested in buying the Indian handicraft but their requirements are generally different from Indian consumers. So Sikki craftsmen are facing this problem of not getting any update and training according to the changing trends.
5.2.4. Lack of resources: The artisans are not having any technological support. The family members produce the articles and sell it to local cooperatives or SMEs. One person performs several functions. So number of skilled craftsmen is very low, thus they could not able to fulfil the demand. Further to this, there is no quality standard. International buyers demand high quality products. So lack of knowledge and no standardisation of quality create a lot of difficulties of artisans.
5.2.5. Inadequate Advertising & Promotions: The Sikki craft is produced in the remote areas of Bihar which is not well connected to the main cities. So artisans very rarely travel to the cities to promote their craft. They are dependent on the local operatives, SMEs, etc. The people here do not know the world of advertising and promotions. They just display the products at the same place where they are doing production. So the Sikki craft not only needs promotions in India but also at global level.
5.2.6. Lack of Awareness: These crafted articles are made in the interior of the villages. So there is lack of awareness about new trends, pricing, competition, etc. These people are not aware that their product can be easily substituted with another product. The artisans are not even aware of value proposition.
5.2.7. Difficulty in maintaining distribution network and supply chain: Due to lack of resources, artisans are finding it difficult to manage the whole supply chain by their own. This results in very poor efficiency and also less productivity. The material is not supplied at right time, in right quality, in right quantity and at right place. This causes a huge loss to these craftsmen.
5.2.8. Making global presence: Due to industrialisation, many companies started copying handicraft items and started making them with machines. This gives them better efficiency, good quality, uniformity and low production cost. But these companies pose a great threat to this sector. So these craftsmen are finding it difficult to make a global presence.
5.3 Opportunities
The opportunities mentioned below can act as a great support for this sector.
5.3.1. Central and state government support: There is great opportunity for this sector by getting support from Central and State government. The government can provide economic aid and also government agencies can help them in establishing the network. Tourism department of central and state government can help in promotions.
5.3.2. Support from NGOs: Non-profit organisations can also help Sikki artisans by giving them training and helping them in setting an organised set up. They can also help them by giving resource support. The initiatives such as microfinance can help them in uplifting from poor economic conditions.
5.3.2. Foreign collaboration: Many foreign bodies are also interested in investing in the Indian handicraft sector. Exploring these opportunities will help craftsmen to expand their business beyond boundaries. As these artisans are not having sufficient resources so SMEs and other agencies can help them in exploring these global opportunities.
5.3.3. Export to foreign countries: Instead of limiting to domestic market, the artisans can seek help from SMEs and other authorities to help them in exporting the products to foreign countries. This will give them a broader customer base and these handcraft products have a high value for foreign buyers.
5.3.4. Copyright: The main challenge which the artisans are facing is the copying of their designs by the industries. If they get copyright for their designs, this will insure some protection from these automated industries. The process is difficult and lengthy but can provide a kind of security to these artisans.
5.3.5. Collaboration with institutes (Fashion/Designing): Collaboration with institutes mainly fashion and design institutes, will help them in getting exposure and the traditional art can be retained and saved. Moreover with the students of new generation, these artisans can get different and new innovative ideas which can uplift their economic standard.
6. Conclusion
It can be concluded that having a limited perspective by giving importance only to one element of marketing mix, i.e. product, will hamper growth. Price, promotion and distribution also plays an essential role for economic interchange and growth. The handicraft sector is evolving and various bodies linked with it have started focusing on whole marketing mix and not on a particular element. These traditional and ethnic products are such that if buyer likes the product, he is forced to purchase it even at a higher price than market. So creating products according to today's consumer demand is essential. Person to person promotion or personal relationships can also help these artisans in promotion. Product diversification and making it contemporary will provide greater satisfaction to the craftsmen. Middle men i.e. different agencies (retailers and wholesalers) can help the artisans in promotions and distribution. In order to get success, the artisans not only have to learn new techniques but also need to dislearn some of the old methods. The need of the hour is to organise this Sikki handicraft sector. Craft is a traditional heritage so everyone should take a step to make Indian handicraft sector shine at global level.... even a small step can make a big difference.
References:
1. Nugraha, Daniel Setiawan(, Rauch, Theo)."Extending the concept of value chain governance", Landwirtschaftlich-Grtnerische, Fakultt, 2010.
2. Aiacaonline.org/date:30/1/2014
3. Springer-Heinze, 2007.
3. Dc159.4shared.com/doc/67mDgVhT/preview.html - date:1/02/2014
4. India-seminar.com/date: 30/1/2014
5. Textilelearner.blogspot.in/2012/02/what-is-textile-fiber-types-of-textile.html
6. Definetextile.com/2013/04/textile-fiber.html
7. Textechdip.wordpress.com/contents/textile-fiber/
8. Textileschool.com/articles/66/the-building-block-of-the-textile-industry-textile-fibres
9. Yieldopedia.com/paneladmin/reports/72b291f3f1d34448b0184efa49ee1312.pdf
10. Umsas.org/en/bihar-arts-crafts/sikki-craft/
11. Gaatha.com/sikki-grass-craft-bihar/
12. Articles.timesofindia.indiatimes.com/2012-1203/chandigarh/35570250_ 1_traditional - art-grass-madhubani
13. Jiyo.net.in/craft-skill-and-technique.php?crID=4&cloID=4s
Manoj Kumar Paras is an Asst. Professor with NIFT, Patna, Bihar (India) and Geetika Varshneya is a Research Scholar (Marketing) from IIM Rohtak, Haryana (India).