Textile industry is one of the most common industries in almost all countries around the globe. India is one of the fastest growing economies of the world and occupies a prominent position in the global textile industry. The textile industry is considered to be the mother of Indian industrialisation and plays a crucial role in the national economy. Global textile trade was estimated to be US$ 662 bn in 2011 and is expected to grow @ 5% in the next 10 years. By year 2021, the growth of Indian Textile industry is envisaged as given below:
Growth of the Indian Textile Industry in cr

Apparel

6,64,000 (@9.0% CAGR)

Technical Textiles

1,60,750 (@10.0% CAGR)

Home Textiles

40,800 (@8.0% CAGR)
Textile industry contributes about 14% to our national industrial production. The existence of vertically integrated supply chain and diverse range of products are the factors that contribute to the growth of the textile and clothing industry in India, which contributes 5.2% to the country 's GDP. High growth categories include home textiles, women's casual wear, innerwear, children wear, work-wear, uniforms and technical textiles.
Home Textiles
The global home textiles market is around US$ 35 bn, amounting to about 5% of the total textile market. This market is primarily dominated by the US and Europe, both accounting for over 70% of the market size. The various categories of home textiles items include towels, bed linens, curtains, blankets, upholstery, kitchen linen, rugs, carpets, etc. and play an important role in the comfort, protection and decoration of household.
One of the major issues encountered in Home textile is a problem of de-colorization (in form of spots and patches) of dyed towels, apparels, bed sheets and pillow covers, while using Benzoyl peroxide based cream, gel or lotion for treatment of acne. Selection of suitable class of dyestuff and combination of dyestuffs in recipe plays a major role to avoid, minimize such de-colorization problem.
Benzoyl Peroxide
It is one of the most important organic peroxides and widely used in personal care and cosmetics for treatment of acne, bleaching of hair and teeth. It consists of two benzoyl groups bridged by a peroxide link.

Structure of Benzoyl peroxide
Benzoyl peroxide readily undergoes homolysis (breaking of O-O bond) forming free radicals which contain at least one unpaired electron and it is highly reactive.
[C6H5C(O)]2O2 2 C6H5CO2 .
Benzoyl peroxide breaks down in contact with skin, producing Benzoic acid and oxygen. Such release of oxygen makes it important for its use as an antibacterial for burns and as a dermatologic agent in the treatment of acne. Acne vulgaris is a very common skin condition that occurs when oil and dead skin cells clog the skin's pores. Acne commonly occurs on the face, chest, back, shoulders, and neck. As many as 25% of adolescents may suffer from permanent acne scarring by the time they reach 18 years of age. Treatment for acne depends upon its severity and treatment with Benzoyl peroxide is most effective and widely used.
Benzoyl peroxide treatment performs three actions - kills bacteria, reduces inflammation and helps to unplug blocked skin pores. Benzoyl peroxide is available over the counter in a range of formulations (e.g. cream, lotion, gel, liquid wash, etc.) and strengths range from 2.5% to 10%.
De-colorization of Textiles
The most common challenge faced by dyers is the problem of de-colorization of clothes, towels, bedding, etc. by powerful bleaching effect of Benzoyl peroxide while applying or wiping out the cream, lotion, gel after application. In addition to spillage of the medication, it is easy to unknowingly transfer the chemical onto the fibers from the hands or face. The medication is not readily washed off, leaving behind to get on to the textiles, which causes color loss. The contaminated cloth, towel is not generally washed immediately and lead time between contamination and washing varies in the range of 24 hours to 7 days.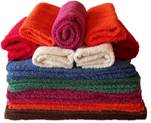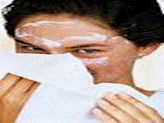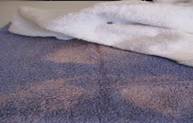 Several classes of dyestuffs on cotton are heavily damaged when in contact with Benzoyl peroxide. Due to chemical damage of dyestuffs, the bleached areas are permanently discolored, leaving yellow, pink, orange or off-white marks. The color loss can occur after the contamination of chemical with the dyed fiber sooner or later. The reaction is accelerated by humidity, heat and moisture. It is particularly common for these spills to appear after rainy weather, or soon after washing of textiles. Considering this problem of decolorization, there is a growing demand for Benzoyl Peroxide fast dyes.
Dyestuffs for cellulosic coloration The coloration of textiles is an important aspect of the production process and adds value to it. The specific requirement of color shade, hue and its fastness properties is a major quality parameter demanded by the end users. Cotton is the most widely available natural fibre, it has many qualities and countless end uses, which make it one of the most abundantly used textile fibers in the world. The consumption share of different types of dyestuffs for cellulosic coloration is shown below: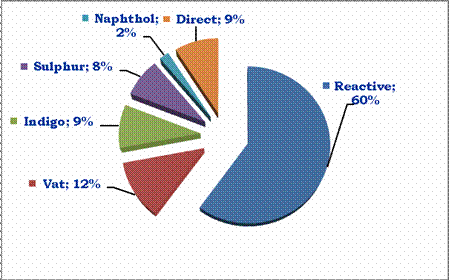 Out of the various classes of dyestuffs used, Reactive and Vat dyes occupy the major share. The reasons for choice of Vat dyes over other classes of dyes are mainly due to following superior fastness properties:
High light fastness at any depth of shade
Very good weathering fastness
High repeated laundering fastness
Good dry Cleaning fastness
Good chlorine fastness
Due to these excellent properties, vat dyes are widely used in home textiles segment and other areas, where stringent fastness properties are demanded [e.g. industrial workwear; uniforms (military, police); surgical clothing (used in hospitals); high quality shirting; towels and clothes (used in beaches, swimming pools, saloons), etc.

Dyes for Benzoyl Peroxide fastness
NOVATIC MD is a compact range of specialty Vat dyes, which confer:
Uniform, level dyeing of cellulose textiles and its blends by continuous and exhaust dyeing methods

Super fine, micro-molecular particle size to ensure stable dye dispersion, ease of reduction and speck free performance

Ready to use, easy to handle, non-dusting formulations

Excellent reproducibility and shade continuity

High shade build-up

Optimum thermal stability under high temperature finishing conditions
Given below are the test findings of the effect of Benzoyl peroxide fastness studies. NOVATIC MD dyes were dyed at various depths from 5 to 40 g/l (80 g/l for Blacks) on Mercerised Bleached 100% Cotton twill fabric following Pad-Dry-Chemical Pad-Steam (PDPS) dyeing method. Then, Benzoyl
peroxide fastness properties of the dyed swatches were tested using commercially available Benzoyl peroxide cream (PersolTM Forte) following below mentioned test method:
Composition of PersolTM Forte Cream
Precipitated Sulphur U.S.P. : 5% (w|w)
Hydrous Benzoyl peroxide B.P. equivalent to Anhydrous Benzoyl peroxide: 10%(w|w)
Preservatives:
Benzoic Acid I.P. : 0.079% (w/w)
Methylparaben I.P. : 0.007% (w/w)
Cut two 4"x 4" specimens from the dyed sample.

Mark the area on test specimens (2" 0.25" diameter), on which PersolTM Forte Cream has to be applied for test results.

Weigh 0.50 0.05 gms. of cream on non-absorbing weighing paper.

Transfer the cream from the weighing paper to the specimen using the plastic stirring rod.

Spread the cream evenly over the entire specimen and work it into the structure of the dyed fabric.

Allow the specimen to react with Benzoyl Peroxide for eight (8) hours 5 minutes at room temperature (65 10oF).

Rinse each test specimen thoroughly in distilled water at 40 3C (105 5F) with occasional hand squeezing. To remove excess water, pass the test specimens through wringer rolls.

Dry in a nylon mesh bag, exposing at temperature of 60-71C (140 - 160F).

Condition the samples for 4 hours before evaluation in standard atmosphere [65%2% RH; 702oF].

Evaluate color change on the marked area on both specimens using grey scale in light box under D65 light source and report average grade (nearest to 0.5).
Pass - If the change in lightness as assessed using the grey scale is greater than or equal to 4.0 and if there is no perceptible change in hue.
Fail - If the change in lightness as assessed using the grey scale is less than 4.0 and/ or there is a perceptible change in hue.
| | |
| --- | --- |
| | |
| Pass | Fail |
Findings:
Product Name

(NOVATIC MD)

Change in Shade

(Effect of Benzoyl peroxide)

Report

After 8 hrs.

Yellow 5GF

4-5 (On Tone)

Pass

Yellow 4GL

4-5 (On Tone)

Pass

Yellow 3R

4-5 (On Tone)

Pass

Brill. Red 3B

4-5 (On Tone)

Pass

Brown BR

4-5 (On Tone)

Pass

Brown R

4-5 (On Tone)

Pass

Olive TN

4 (On Tone)

Pass

Black DB

4-5 (On Tone)

Pass

Direct Black AC

4 (On Tone)

Pass
The above dyestuffs can be used in recipes, where critical Benzoyl peroxide fastness is demanded by the buyers. However, it is recommended that the dyed swatches should be tested for Benzoyl peroxide fastness (following desired method at laboratory level), before embarking on bulk production.
Need for innovation across entire supply chain of textiles has been identified as key area for sustainability. Textile wet processing segment is facing challenges in the area of substrate, machinery, dyestuff, chemical, process, fastness, statutory norms, etc. Home textiles have emerged as one of the most dynamic and promising segments in the global textile industry. The NOVATIC MD range of Vat dyes offers solution to satisfy stringent Benzoyl peroxide fastness demand in home textiles.
References:
1. Chemicalland21.com
2. En.wikipedia.org/wiki/Benzoyl_peroxide
3. Indian Textile and Apparel Compendium, 2012 by Technopak Advisors Pvt. Ltd.
Image courtesy:
chem.ucla.edu
Dr. Ashok Athalye is working as a General Manager, Technical Service in Atul Ltd. (Colors Division) Gujarat. Arindham Chakrabarti and Kaushik Bhatia are also working with Technical Service, Atul Ltd (Colors Division).