Clothing is one of the most purchased product categories in global B2C E-commerce. It is in close competition with consumer electronics and travel categories for the title of the leading category in online shopping. In countries like the United Kingdom, Spain, Russia and Brazil, it has been in the lead for years. While the necessity of developing an E-commerce channel is no big news for clothing retailers, some newer trends within this field rise to their attention: M-Commerce, Cross-Border B2C E-commerce and Omnichannel, for instance. Each of these on the one hand follows the customer, and on the other creates an opportunity for growth.
Cross-Border B2C E-commerce
Clothing is the most traded commodity in cross-border online retail worldwide. According to a survey by PayPal and Ipsos in November 2014, it accounted for close to 40 per cent of cross-border online purchases globally, with the share for Eastern Europe, Latin America and the Middle East rising to almost 50 per cent. Consumers in these emerging regions are keen on finding better product offerings and prices on foreign websites as compared to the local ones.
<![if !vml]>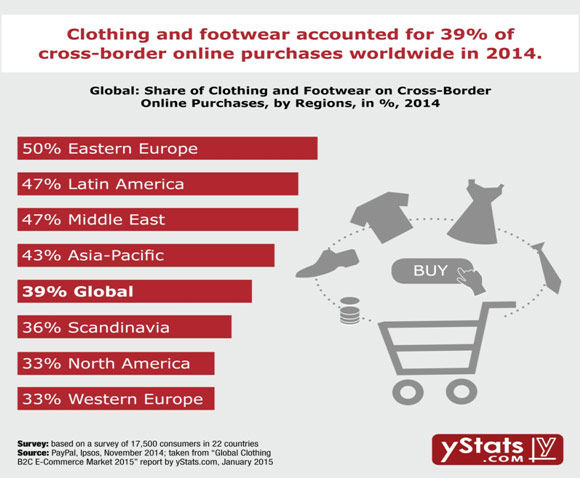 <![endif]>
In Russia, online shoppers buy directly from clothing merchants in the United Kingdom, Italy, China and other countries. In Brazil, they shop from the United States of America, China and Japan. Clothing retailers could utilise this opportunity by offering direct shipping to these regions and localising content on their websites. For example, many luxury apparel brands miss out on the well-known luxury consumers in the Middle East: Only a small percentage of high-end merchandisers offers direct shipping to the Middle East and has Arabic content on their websites. A good example of cross-border B2C E-Commerce strategy is the United Kingdom-based online fashion retailer Asos. The company offers direct shipping to 245 countries worldwide with free delivery on orders above a certain minimum value.
M-Commerce
The rise of mobile commerce is an important pattern for retailers in general and clothing merchants in particular. A survey by Google and TNS revealed that while the desktop remains the leading device used for buying clothes online, the share of purchases from mobile devices in some countries is substantial. In China, the United Kingdom and Australia, over 10 per cent of consumers who purchased clothing online, conducted their latest purchase on a smartphone.
<![if !vml]>
<![endif]>
The world leader is South Korea where over 30 per cent of consumers made their most recent purchase of clothing online via a smartphone. The share of M-Commerce sales on total online sales of clothes grew from one third in early 2014 to 40 per cent in late-2014, according to Statistics Korea. Worldwide, apart from mobile-optimised websites and retail apps, mobile applications for fashion look-sharing and shopping, such as The Hunt, LIKEtoKNOW.it, Keep, Lyst and others are revolutionising the way consumers shop for clothes.
Omnichannel
The rise of online browsing and the use of mobile devices in fashion shopping has not eliminated the store-based retailing of apparel. While the share of B2C E-commerce on total retail sales of clothing can reach high numbers of close to 15 per cent and above in markets such as the United States of America, the United Kingdom and Germany, in most others it stays at way below 10 per cent. And even in the mentioned advanced countries, the significance of store-based retail in the clothing market is felt strongly.
In Germany, consumers surveyed by PwC mentioned that they do not have a clear preference between buying clothing online or offline and over 50 per cent of them do both. In the United Kingdom, the popularity of a click-and-collect option is also driving sales of store-based merchants and creates a challenge for online pure plays. In the USA, the Google/TNS survey revealed that even after researching products online, consumers are as likely to buy online as in a store with no preferences to one over the other.
This means that it is important for clothing retailers to create a seamless shopping experience for consumers in which they can search for products online, check prices on the mobile, try things in a store, buy through any of these three channels and have the product delivered to their home or picked up from a store or at some other convenient location.
About the author
Tatiana Teplova is a Market Research Analyst at yStats.com. yStats.com is headquartered in Hamburg, Germany, it is a leading secondary market research organization, committed to delivering up-to-date and objective data on Global E-Commerce and Online Payment markets.