Clothing is one of the most purchased product categories in global B2C E-commerce. It is in close competition with consumer electronics and travel categories for the title of the leading category in online shopping. In countries like the United Kingdom, Spain, Russia and Brazil, it has been in the lead for years. While the necessity of developing an E-commerce channel is no big news for clothing retailers, some newer trends within this field rise to their attention: M-Commerce, Cross-Border B2C E-commerce and Omnichannel, for instance. Each of these on the one hand follows the customer, and on the other creates an opportunity for growth.
Cross-Border B2C E-commerce
Clothing is the most traded commodity in cross-border online retail worldwide. According to a survey by PayPal and Ipsos in November 2014, it accounted for close to 40 per cent of cross-border online purchases globally, with the share for Eastern Europe, Latin America and the Middle East rising to almost 50 per cent. Consumers in these emerging regions are keen on finding better product offerings and prices on foreign websites as compared to the local ones.
<![if !vml]>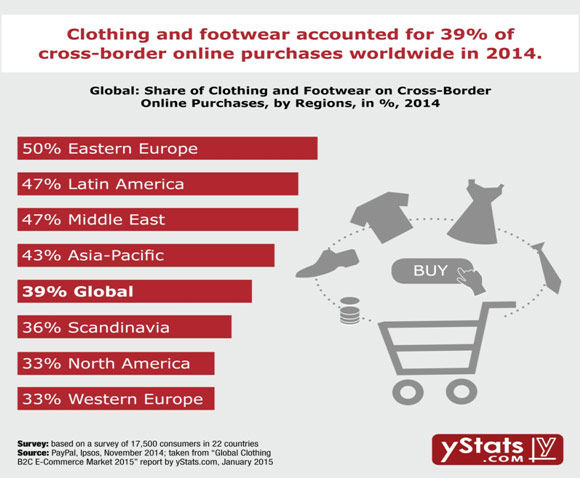 <![endif]>