Muga, the fabric with the golden hue, has not been able to acquire its rightful place in the Indian or world market. From its heydays during the Ahom reign in Assam, there has been a gradual decline of the muga, interspersed by the occasional glimmers of hope brought about by the initiatives of people like Dulal Chowdhury, a lone ranger. In recent times, there has been more bad news. The conversion of Somanis or som tree plantations to tea gardens, the adverse effects of pollution, global warming, use of fertilisers, regular floods, and the lack of government initiatives have all had their toll. Unofficial figures put the overall loss to the muga industry between 2008 and 2014 at 50 per cent.
Among those trying to arrest the decline of a glorious past is Chowdhury, a mechanical engineer from Guwahati. Chowdhury developed the technology for a mechanised process of making muga fabric right from reeling to weaving. He was awarded a patent for this in January 2000.
Chowdhury manufactures plain muga fabric of a much better quality than the fabric produced on handlooms. Yet, Chowdhury's muga has been certified to be 100 per cent silk by a Mumbai-based testing laboratory. The invention made it possible for muga to be produced on a mass industrial scale that could meet large orders. Chowdhury concentrates on production of the plain fabric because it is not necessarily limited to use for making traditional garments only, but can also be used for making a wide variety of products as per the requirement of buyers not only from all over the country but also from different parts of the world.
He was also awarded a patent for the process for preparation of soft muga silk in March 2002. All for good reason. That's because, there is an inherent hardness in muga fabric due to its 10-12 per cent serecin content which tends to make it difficult to use for various purposes. Chowdhury's softening measure aims at reducing the serecin content through a process of heating. Softened muga is more malleable and applicable to a wide range of uses. Although muga can be softened by chemical washing, the process leaves behind undesirable chemical residues, shortens the life of the fabric, and there is an undeniable drop in quality.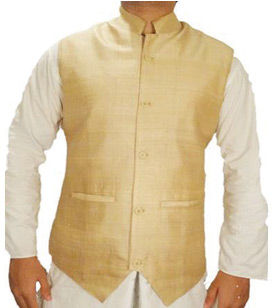 Others have followed the example set by Chowdhury, and tried to strengthen Assam's age-old silk industry with their own innovations in the areas of weaving and design. These include the Buta-Bocha machine of Dipak Bharali, the bobbin-winding machine of Sailen Das, and the pirn-winding machine of Sarat Deka.
The man who stumbled into the world of muga Dulal Chowdhury is a large-hearted man in love with muga. Large-hearted, because instead of holding on to his patent on mechanised process of muga fabric production, instead of trying to make the big money that would have come in, he decided to dedicate the patent rights to the people of Assam. Why? His note dedicating the patent is self-explanatory: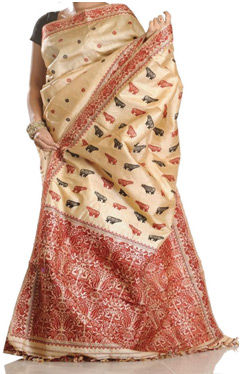 "I am an Assamese indebted to my people and our culture. My innovation is only a manifestation of that indebtedness.... As for dedicating this innovation to the people of the state, it is my humble wish that I should allow my people, who have so far been preserving and developing the unique culture, to exercise their rights over this innovation. They are the real owner of this innovation. They should have the sole right to derive the benefit of this accomplishment."
There were people who realised the significance of Chowdhury's magnanimous gesture. In 2012, the then governor of Assam, Janaki Ballav Patnaik, took the initiative to set up a pilot project on the mechanised process under the supervision of the Indian Institute of Technology (IIT) Guwahati, in the industrial area of Amingaon on the outskirts of Guwahati.
The project was subsequently named as the Technology Development and Production Centre for Muga Silk, and Chowdhury was appointed the officer on special duty (OSD) to the governor, to run the project; with the governor himself as the chief patron of its advisory committee. The aim of the project is to facilitate technology transfer to potential entrepreneurs in a bid to increase the production of good quality muga and promote its commercial application.
Chowdhury, for his part, had in a way stumbled into muga. The organisation he was working for the Assam State Minor Irrigation Development Corporation had become defunct in 1995, and he was asked to take voluntary retirement. Without a job in hand, Chowdhury ventured into a cotton powerloom weaving unit that his uncle had set up. On March 21, 1999, Chowdhury even remembers the date, a friend mentioned how muga yarn was being strengthened by twisting in a machine. Since the main problem in using a powerloom for weaving muga was the low strength of muga yarn, Chowdhury realised immediately that such an innovation could lead the way to the development of a powerloom for weaving muga.
Although the yarn did not work, the engineer in Chowdhury took over and he started devising ways not only for making the yarn strong, but also to make the process of mechanised weaving of muga possible. He tinkled with controlling the speed, vibration and surfaces of the machines, and finally in the first part of 2000, he was successful in producing muga fabric through the mechanised process for which he was ultimately awarded patent rights, and which he, in turn, dedicated to the people of Assam. Deeds of greatness and magnanimity don't get overlooked. Chowdhury was ultimately to get his government job back. Pending the payment of his dues for voluntary retirement, he was reinstated in the irrigation department of Assam.
Advantages of machine-woven muga
Machine-woven muga is far superior to the hand-woven fabric in terms of uniformity in texture and colour, and the fabric is of better quality because the power loom uses stronger, better yarn, leading to a heavier fabric in terms of weight per unit area. Another great advantage of the mechanised process is that unlike in the handloom where the maximum length is restricted to 12 metres due to practical problems in the weaving process, there is no such restriction for the power loom. This translates into greater flexibility for buyers who could require longer lengths for their products.
The powerloom has not been used for weaving intricate colour designs yet, however, self designs are possible by using different variations in what is called the 'missing dent technology'. It has also been used to produce the fabric in striped and net forms. The very obvious advantage is, however, in the rate of production. A single powerloom can produce as much as 700 metres of muga in a month, something unthinkable for a weaver who uses the handloom. The powerloom has liberalised muga for mass production and mass distribution.
The challenges ahead
The biggest challenge for muga remains the inability of both the government and entrepreneurs to develop a market in the country and elsewhere in the world. In spite of all its qualities, muga has not been adopted as a fabric for any specific purpose, nor has it been used much as a fashion fabric. One big reason could have been the absence of large scale production till the mechanised process of production was invented. Even after that, the promotional activities for this rich silk remain lacklustre at the national level, and almost absent in the international arena.
Another problem that threatens the very existence of the muga silk industry of Assam, is spurious muga the adulteration of muga with tasar yarn dyed in the colour of muga. Low quality Chinese tasar is dumped in Assam, with traders from outside the state tying up with local producers. The problem has struck Sualkuchi the core of muga production. It is compounded by tasar fabric dyed in the colour of muga, with plagiarised traditional Sualkuchi designs being sold as authentic muga in showrooms of Assam itself. So much so that there were widespread protests across the state against unscrupulous traders dealing in adulterated muga items.
A glimmer of hope for the golden silk
All is not lost for muga. A very significant development in recent times has been the granting of protection of Geographical Indication (GI) to muga, making it the 38th product to be so protected by the GI Registry in Chennai. The GI being specifically for the cocoon yarn and fabric and extending even to garments and furnishing products, covers the entire muga domain. This will have very wide ramifications, as none outside the marked area of Assam will now be able to produce muga or its products without the explicit permission of identified authorities concerned in Assam. This effectively puts an end to large scale buying of muga cocoons by traders from outside the state in a bid to produce sub-standard low quality yarn, muga and its products.
In Sualkuchi there is a new awareness among the youth. They have come forward with their own innovations to protect their muga heritage. The loom owners have come together in a committee called the Sualkuchi Tant Unnayan Samiti (Sualkuchi Loom Development Committee). This committee has applied for a trademark for muga, and expect it by early 2015. The Silk Mark Organisation of the Central Silk Board has also sanctioned a textile laboratory for Assam silk. This is also expected to be operational by early 2015.
The golden silk from Assam has the required potential to be a commercial success. What is lacking is planned and organised effort to make it happen. Everybody needs to chip in the government, the loom owners, the entrepreneurs and the people of Assam and India as a whole.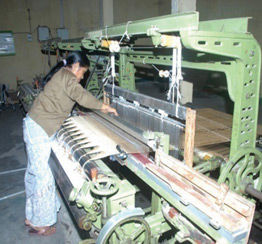 The golden silk from Assam
In the Ramayana, Sita is said to have worn a type of golden garment when in exile with Lord Rama. When Ravana abducted her, it were pieces of this golden garment that she tore and left as a trail for her husband to follow. Kautilya's Artha Shastra mentions a garment with a shine 'like the golden rays of the sun'. It is called the Katuza, This is dated around 331 BC. Later in history, around 600 AD, Banabhatta's Harsha Charit mentions Harsha Varhadhana's messenger Hansha Beg reporting a garment with the same kind of golden lustre. He calls it Dukula.
In Assam there is a certain type of caterpillar (Antheraea assama) which feeds on the leaves of som (persea bombycina) trees till it ensconces itself in a cocoon for its metamorphosis to a butterfly. The fibre of this cocoon is reeled into thread and used to weave a fabric with that legendary shine. An area in which som trees are grown is known as a Somani.
Reference to the fabric goes back to around 1600 AD when the authoritarian Ahom King Swargadeo Pratap Sinha was so impressed by a private plantation that he ordered its owner Mumai Tamuli Barbarua, father of the famed Ahom general Lachit Barphukan, to grow Somanis wherever possible in the kingdom. He also ordered that Somani cultivators be exempted from the relevant tax. The fabric so produced is now called muga. Experts agree that the Katuza, Dukula and muga could indeed be the same kind of fabric. The muga we know is a unique golden silk produced in Assam. The word 'muga' itself is of Assamese origin. It signifies the name of a particular colour golden amber.
The silk industry of Assam has existed since ancient times. Though Assam produces all four available varieties of silk muga, eri, paat (mulberry) and tasar it is famous for muga and eri silks. The muga silk is exclusively produced in Assam. The silk industry has been one of the most important cottage industries of Assam through ages. However, it was under the patronage of the Ahoms (1228-1828) that the silk industry of Assam flourished and developed. The royal family preferred wearing muga as a symbol of their status.
In fact, the Ahoms created a separate administrative machinery for the development of the silk industry of Assam, particularly that of muga. They also exempted people working in the silk industry from paying taxes. It was Mumai Tamuli Barbarua who initiated rearing of silkworms for their cocoons in and around the Ahom capital in the present day upper Assam districts of Sivasagar, Jorhat, Lakhimpur and Dibrugarh. However, most of the cocoons produced are bought by traders from Sualkuchi in Kamrup district of Lower Assam for reeling and weaving. It is Sualkuchi that produces the bulk of muga products in Assam.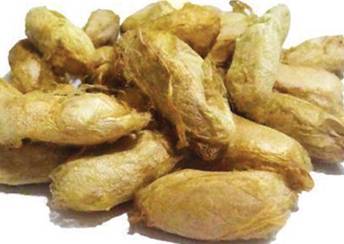 At present, official estimates put the total muga output of Assam in the range of 130 metric tonnes per year. However, this figure is vehemently contested by entrepreneurs who claim that the actual figure is less than half of that officially stated. At present, the business of muga is estimated to worth around `200 crore. About 30,000 families in Assam are directly associated with muga production.
The process of making muga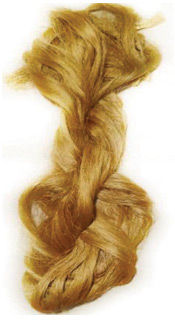 Rearing: The first stage consists of rearing the silk worms for their cocoons. The muga worm or caterpillar is a wild variety and feeds predominantly on the som tree in Upper Assam, where most of the rearing is done, and the suala (Litsea cubeba) tree in Lower Assam, although there are some other secondary varieties of trees on which the worm can be grown. The colour of the silk produced depends on the host tree and the season during which the silkworm is reared.
The cocoons are of two classes commercial and seed and depend on the seasons during which they are reared. The cocoons produced by silkworms reared during the Assamese months of Kati (autumn} and Jeth (spring) are viable for production of the commercial muga fabric and are called Katiya and Jethuwa; cocoons produced in other seasons, during which weather conditions are not ideal enough, can be used only as seed cocoons for rearing silkworms from the eggs in them. The weather even brings in differences in qualities of commercial cocoons the yarn reeled from Katiya cocoons are of low strength but high in lustre, whereas the yarn reeled from Jethuwa cocoons are of high strength but low in lustre or shine.
Reeling: Reeling is the process of extracting the yarn from the cocoon. However, the cocoon has to be cooked or boiled before it can be reeled. Cooking or boiling is a degumming process which results in swelling, softening and some dissolution of the chemical serecin present in the cocoon. The cocoon is boiled with an alkaline solution made from plantain ash and straw ash. Reeling involves processes such as de-flossing, end picking and uniting, twisting, reeling and re-reeling. Muga reeling is done with the help of an apparatus known as the Bhir or Bhawri operated by two persons. Some government initiatives have also started using mechanised reeling machines of late.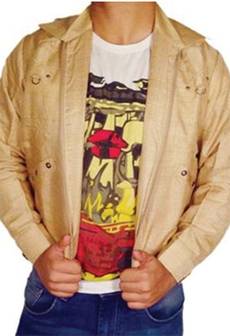 Weaving: Muga weaving is a traditional art form of Assam. There are still many places in the state where expertise in weaving is considered a pre-requisite for marriage of nubile girls. Female apparels such as the mekhela, chaddar, riha and gamocha are woven of muga in exquisite designs. Sualkuchi in Kamrup district is the most popular and well-known commercial weaving centre in Assam. The traditional looms of Assam are the throw-shuttle loom and the loin loom. The fly-shuttle loom has been used, especially in Sualkuchi, as it is not possible to weave broad cloth on the throw-shuttle loom.
Nowadays mechanised looms are also being used for weaving muga fabric. The designs woven comprise abstract figures of animals, birds and human forms, diamond motifs, creepers, flowers and celestial representations. Weavers use an indigenous technique called Saneki for weaving designs on the fabric.
What is so special about muga
• In Assam, muga is considered to be a divine fabric. What are the qualities or properties of muga as a silk or a fabric that makes it so special?
• The golden shade of muga is natural. It is the only fabric which has its own colour.
• Unlike other fabrics, its golden lustre increases with age, and after every wash.
• Since the colour of muga is natural, it cannot be bleached.
• Muga cannot be dyed, and therefore it is stain-free.
• It is more comfortable to wear because it absorbs moisture better than other silks.
• It is the second costliest fabric in the world after Pashmina silk. However, while Pashmina is used only for making shawls, muga can be used for making dress material, furnishing material and even for decorative purposes.
• Recent experiments conducted with the UV spectrometer at the Tezpur Central University in Assam has shown that muga produced by a mechanised process is 85 per cent UV resistant. This high ultra violet ray absorption capacity of muga is attributed to its high iron content. It, therefore, offers protection from the harmful effects of ultra violet rays.
• Muga is said to be the most durable of fabrics.
• In its original form, muga is the most organic of fabrics. No synthetic chemicals are used in any stage of its production.
Some would call it a unique feature of the fabric, while others would see it as a disadvantage it is impossible to maintain perfect uniformity in texture and colour of muga. This is true both in the case of muga produced on the handloom and that produced in the mechanised loom. The texture and colour of muga is sensitive to changing atmospheric conditions. Sometimes the yarn reeled in the morning differs in colour and texture from the yarn produced in the evening.
How is muga used?
Muga finds extensive use for a wide range of purposes:
• Traditionally, muga has been used to make garments or garments embroidered with muga, such as the mekhela, riha, cheleng (wrapper), etc, for women; turban, churia or dhoti, etc, for men.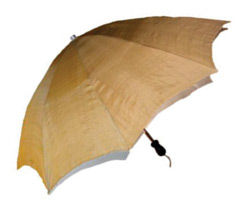 • In modern times, muga on its own, or blended with other fabric, is used to make Indian garments such as shawls, stoles, sarees, ghagras, salwars and shawls. It is also used for western items such as ties, scarves and trousers.
• The recent discovery that muga provides UV protection has resulted in the muga umbrella.
• Designers now often use muga as traditional Indian zari in place of gold or other metals.
• Because muga is stain free, absorbs moisture and is very durable, it is now finding wide use as a furnishing material in the form of cushion covers, bed spreads, pillow covers, wall hangings, tents, lamp shades, etc.
In conversation with Dulal Chowdhury
F2F: What is it about muga that makes you so dedicated to its development?
DC: Muga is auspicious devanga divine a material for the Gods. It is our heritage. Its potential is huge. I would describe my feelings for muga as devotion.
F2F: What is the main reason behind the slow pace of development of the muga industry?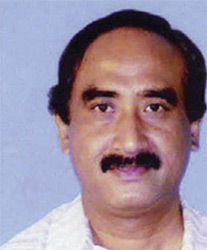 DC: Competent people are not involved in the muga industry. The really rich have not taken up muga. They have taken to tea cultivation and production instead. Our people are not daring enough to take up an entirely new venture. We are not adventurous enough. We tend to follow in the footsteps of successful people, but seldom try anything new on our own. Also, government efforts have not been adequate. We have not been able to develop a market for muga.
F2F: Your innovations have given a boost to muga production, what are your future expectations?
F2F: Innovation is the key. When I see the adverse effects of pollution and climate change on silkworm rearing and muga production, I begin to wonder why we cannot resort to green-house cultivation. Why can we not organise silkworm rearing in greenhouses? Why can we not make the frames for such greenhouses with locally available bamboo?
F2F: From whom do you get orders for your fabric?
DC: I get orders from all over the country, and from abroad. However, since the market is not organised, the volumes are sporadic. We lack initiative in market development, in product promotion. I can make muga, but I hardly know anything about marketing my product. There is no one to help me with that. Even then I have got orders from Japan, Paris, the Netherlands and the US. People who come, and people who know are awestruck by muga. But since there is no organised effort, we do not get assured, regular orders. I have tried whatever has been possible as an individual. I have even taken advantage of EDI to deliver my orders, but you need more than that to make muga realise its full potential in the entire world.
F2F: What is your call for the new generation?
DC: For centuries we have made muga, but we have done that mainly as a secondary means of earning. Most of those associated with the muga industry are poor people. We need the well-to-do to take over, to take up muga as their primary source of livelihood. The other most important thing is to break out of the traditional mindset. Muga should not be viewed as a fabric meant exclusively for manufacturing traditional garments. Our emporia still refuse to take fabric beyond the length of the conventional 12 metres. They want us to cut our fabric in pieces which results in wastage. There are people out there who want greater length of the cloth. How would they be able to buy if we insist on 12-metre pieces? We need to look beyond, and take muga beyond the realm of hope, into the domain of practical commercial usability. Only then will muga sustain and survive.