Introducing the E-commerce Sustainability Quotient Matrix
In a war to capture that fleeting consumer loyalty, most e-commerce stores in India are currently operating in the deep-discounting mode and nearly all are running into huge operational losses. However, as the industry matures, e-commerce companies would need to start focusing more on improving profitability by reducing operating costs and improving resource efficiency, says Sustainability Outlook.
E-commerce is changing the way people shop globally. Over the last two decades, multi-billion dollar e-commerce companies have come into being. Even as they see increasing scale and success, e-commerce companies have not turned their focus on environmental sustainability in stark contrast to the initiatives on sustainable production and consumption undertaken by world's leading retailers like Walmart and Ikea.
Realising the acute need for the e-commerce industry to start thinking about their environmental impact, Sustainability Outlook delved deep into e-commerce operations to create an E-commerce Sustainability Quotient Matrix. The E-commerce Sustainability Quotient Matrix will help guide e-commerce companies to assess their preparedness and current state when it comes to environmentally sustainable operations. This matrix also provides an indicative path that e-commerce companies should embark upon to make their operations greener.
The e-commerce scenario in India
E-commerce has suddenly exploded in the Indian marketplace. What was a non-existent concept ten years ago is now a US$ 3.5 billion industry with about 20 million active users and an annual growth rate of 34 per cent. Flipkart and Snapdeal have set targets of Gross Merchandising Value (GMV) of $8 billion and $10 billion respectively for 2015 as the market gets ready to see even greater growth. Brick-and-mortar stores are already feeling the heat as young Indians are now choosing the comfort of ordering from homes (at high discount levels) instead of physically visiting stores for shopping. This applies to everythingfrom clothes, shoes and jewellery to mobiles, laptops, and quite interestingly even furniture, air-conditioners and refrigerators.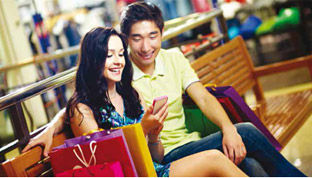 Environmental impact of e-commerce vs. brick-and-mortar stores
Various studies have consistently underlined that e-commerce has a significantly lower environmental impact than physical retail stores. This is primarily driven by the reduction in consumer transport to and from the stores, which is replaced by last-mile delivery for e-commerce. Multiple products to different addresses are consolidated in the e-commerce last-mile delivery system and as the number of users of e-commerce grow the per-item footprint of last-mile delivery drops significantly. As Figure 2 indicates, the greatest contributors to the carbon footprint of retail stores are consumer transport, warehousing and retail store operations while the greatest contributors for e-commerce are delivery, warehousing, packaging and computer networks.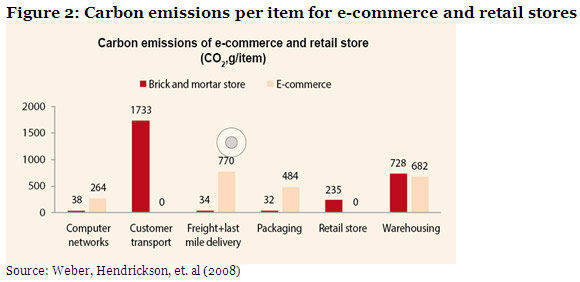 E-commerce sustainability: The need for measurement and metrics
Today, e-commerce companies in India are only looking at one number and that is their consumer base. Currently, no e-commerce company in India has endeavoured to even measure their environmental impact. However, this exercise will not only allow companies to reduce their impact on the environment, it can act as an effective differentiator in an ecosystem where multiple companies selling the same goods are vying for consumer loyalty.
Additionally, most practices for promoting resource conservation and sustainability result in lower material and energy intensity which translates into an improved bottom-line for e-commerce companies. In a war to capture that fleeting consumer loyalty, most e-commerce stores in India are currently operating in the deep-discounting mode and nearly all are running into huge operational losses. They can sustain this practice because venture-funded e-commerce companies in India have deep pockets today. However, as the industry matures, e-commerce companies would need to start focusing more on improving profitability by reducing operating costs and improving resource efficiency.
Green practices can also help earn brownie points from responsible investors and this might be a significant factor since the entire e-commerce space in India is currently being bankrolled by VC funding.
However, before an e-commerce company's "Green-ness" can be judged it will become imperative to define parameters and metrics in order to measure their Sustainability Quotient.
Parameters influencing "E-commerce Sustainability Quotient"
The broad parameters contributing to an e-commerce company's Sustainability Quotient are: logistics including delivery networks, packaging and return mechanism, and resource efficiency of data centres and offices.
Warehousing too is an important factor for most e-commerce stores (even those operating on a marketplace model). However, inventory management has not been included in this study since optimisation of inventory and best practices for warehousing would be applicable even for brick-and-mortar stores. Additionally, with most large e-commerce stores operating on the marketplace model, the onus of warehouse optimisation falls upon the sellers and not the e-commerce stores.
Similarly, while resource efficiency of the data centres and offices are important, they impact only about 10 per cent of the emissions associated with e-commerce. This is primarily because large number of orders can be handled by very few employees. For example, Flipkart, with GMV of $1 billion has only 15,000 employees. It is because improving data centre efficiency of e-commerce companies is very similar to that of any IT company.
The E-commerce Sustainability Quotient Matrix
The Sustainability Quotient Matrix presented below indicates how sustainable an e-commerce company is in various aspects of its operations. It encapsulates the parameters discussed above and is summarized below - the value ranges indicate representative performance of the e-commerce companies viz. environmental aspects in their operations.
The main impact (85 per cent of emissions) on the Sustainability Quotient of an e-commerce company depends on logistics. For this reason, the E-commerce Sustainability Quotient Matrix considers the various components of logistics-delivery, packaging and returns.
A detailed description of the parameters considered in the Sustainability Quotient Matrix is presented in the ensuing sections of this report. Most companies in India seemingly fall at the low end of the matrix today.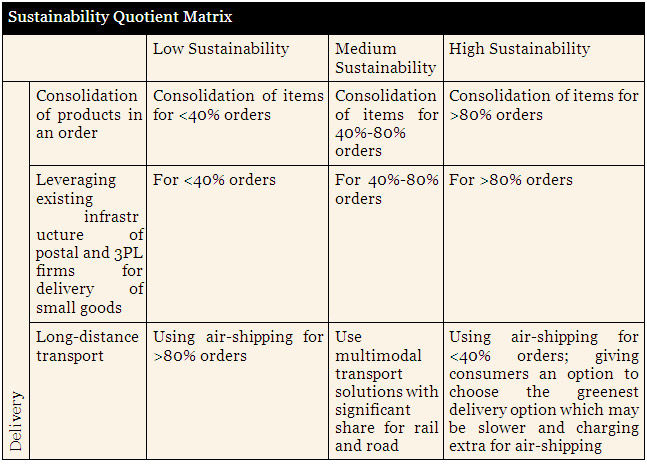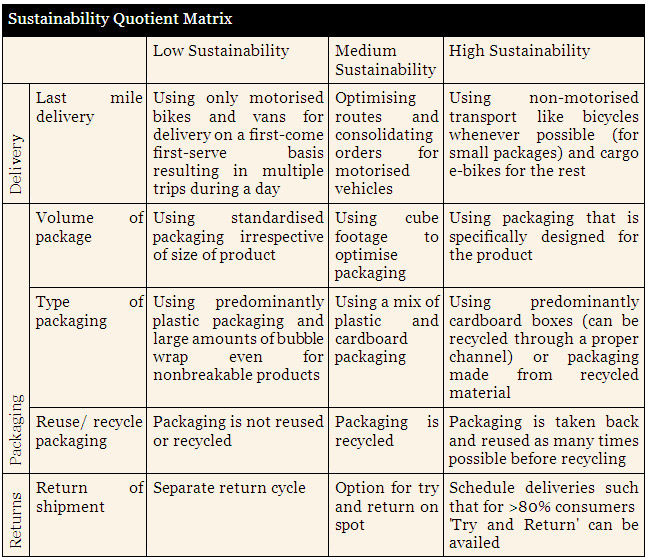 Logistics
By far, logistics accounts for the highest carbon emissions for the average e-commerce store (85 per cent).5 for e-commerce companies, the logistics cost amounts to an average of 10-15 per cent6 of operating expenditure and would be one of the first areas to look at when considering e-commerce profitability. This is partially because there is a lot of inefficiency in the way e-commerce logistics operate today. The Sustainability Quotient of e-commerce logistics is dependent on the following major factors:
Delivery Network

Packaging

Return Mechanism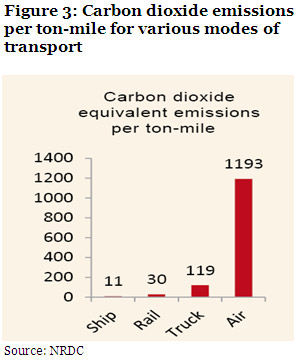 Delivery Network
Modes of Transport: In the age of e-commerce price wars, one significant differentiator for e-commerce companies is prompt delivery. In order to achieve this, most of the goods are shipped through air. Today about 90 per cent of the goods being ordered online are moved by air, which increases the delivery costs for the e-retailers, and the GHG emissions significantly. As can be seen from Figure 3, this is not a sustainable choice. To reduce cost as well as the carbon footprint, e-commerce companies should explore alternative modes of transport.
Today, many e-commerce companies offer 1-day delivery and charge a premium for the service. Companies can make this a standard practice for all goods that need to be delivered urgently and ship them via air. In other cases, companies might transport the goods by road or rail.
For certain low value-high volume product categories railways movement should be explored. Indian Railways is exploring various schemes like introduction of parcel trains and increasing the competitiveness of parcel loads in passenger trains. For certain commodities on the short haul routes railway can become a predictable and low-cost transport choice. Therefore the whole transportation paradigm of the future may evolve around a judicious mix of rail, road and air transport modes.
However, it needs to be kept in mind that in order to shift from air transport to other forms which have lower carbon footprints, it is necessary to develop better transport infrastructure in the country, which is not in the hands of the e-commerce companies.
Stepping up to this, the 2014-15 Railway budget announced that "Railways would extend logistic support to various e-commerce companies by providing designated pick-up centres at identified stations."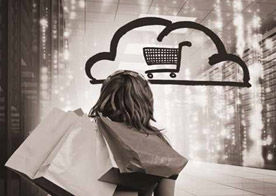 Last mile delivery: Today, most courier services used for e-commerce deliveries use scooters and motorbikes for last-mile delivery. However, in case of small goods, use of non-motorised transport like bicycles or e-bikes specifically designed for carrying mid- to large-sized parcels should be explored.
Case in Point: Non-motorised last mile delivery Amazon currently uses India Post, where postmen primarily use bicycles for last-mile delivery.
Own/outsourced delivery: Most e-commerce companies today use 3rd party logistics service providers for delivery. Many companies had initially tried to set up their independent logistics services, but that business model has proved to be unviable (see Box). Not only were the costs for setting up such networks enormous, the operational costs are still significantly higher than that of established delivery services. For retailers that sell goods like clothes, mobile phones and books, using third party logistics service providers reduces the cost as well as operational hassle significantly. However, e-commerce stores catering to larger products like furniture often prefer to develop internal logistics and delivery systems to ensure damage-free delivery as well as to support assembly and servicing of furniture.
There are pros and cons associated with both methods of delivery. Leveraging the existing infrastructure of the postal networks in the country helps in reducing footprint because of the optimisation in transportation and delivery achievable by the postal services. However, for high value products, ensuring damage-free delivery takes precedence.
Case in Point: Own delivery networks have not made business sense yet Flipkart's own logistics service eKart has now been decoupled and caters to all e-commerce companies. Jabong's logistics arm JaVAS (Jabong Value Added Services) was sold to a third party in 2013. However, Amazon India still is aiming to start its own logistics network by 2016.
Packaging
Packaging accounts for 22 per cent of e-commerce emissions. Lifecycle studies show that from an economic and environmental standpoint, the most important role of packaging is damage protection.9 Consider a 42-inch LCD screen television set: the cost-effective packaging that gets it safely from a warehouse in Bangalore to a home in Delhi is most likely the best choice regardless of the materials used.
Another aspect to consider is "cube optimisation", which ensures that packaging stacks for maximum efficiency during transport, handling, and warehousing. Cube optimisation also minimises product damage and energy consumption thus playing a major role when assessing economic and environmental sustainability.
Other important parameters to consider include:
Weight/volume of packaging materials

Source reduction

Reusability

Recycling opportunities
The large impact of packaging also occurs due to lack of recycling and re-use options. While plastic pouches for shipping clothes take up less space (and are easier to ship), cardboard boxes are easier to recycle in most Indian cities. While plastic pouches end up in the dustbins and eventually in landfills, cardboard boxes (which are biodegradable) can be re-used by households, or sold to local raddiwallas. A significant factor in this is the lack of any sort of waste segregation and recycling facilities in Indian cities and towns.
The means by which the environmental impact of packaging can be reduced involve responsible steps taken by not only e-commerce companies, but also by consumers and policy-makers - an illustrative view is presented below.
E-commerce companies
Cube optimisation

Reduction of volume of packaging material

Use of easily recyclable packaging material

Take-back programme for reuse or recycle of packaging
Consumers
R

eturn packaging if possible

Reuse packaging

Responsible disposal of packaging
Policy makers
Waste segregation and collection facilities

Plastic and cardboard recycling facilities
Returns
Studies show that when returns are taken into account, there remains a very small difference between the carbon footprint of e-commerce and brick-and-mortar stores.10 For e-commerce companies in India, higher-than-expected return rates are proving to be one of the most significant pain points and the costs associated with it are eating into operational margins of e-commerce companies. Stores are now figuring out policies and methods for easier and cheaper returns. In that regard, newer models of facilitating returns (as highlighted below) are easing the process for both buyers and sellers.
Try before you buy model: Warby Parker, and its Indian counterpart, Lenskart started the option of allowing users to "Try before Buy" spectacles and sunglasses. They provide consumers an option of trying out the merchandise and buying only the ones they like. Smaller fashion e-commerce companies like Fashionara and online baby-products store First Cry have also started this practice now. In fact, this is a model that could be used by all e-commerce stores, provided the person who ordered the items is the one to receive them. Be it damaged goods, or ill-fitting clothes, if the process of returns is made easier, not only can e-commerce companies prevent large amounts of losses, they can reduce a lot of redundancy in their systems. Today, as mobile phones become ubiquitous, delivery models entailing real time monitoring with geo-tagging seem to be the next logical step as e-commerce companies evolve to become more efficient.
However, while this model seems promising, it requires significant backup from the third party logistics providers as well as improvement of existing technology to ensure that the items are delivered at such times where the buyer can inspect and return them if they are not satisfactory.
Driving sustainability by changing consumer behaviour patterns
Most e-commerce companies in India today operate at the low-medium end of the Sustainability Quotient Matrix. Not only should they be striving to implement best practices so as to operate in the "high" end of the Sustainability Quotient scale, they should consciously seek out innovative ways to promote sustainable consumption.
The largest power of e-commerce is arguably the enormous consumer base it commands. Today, Flipkart has 26 million registered consumers. E-commerce companies can influence consumer behaviour significantly by inducing them to make eco-friendly choices.
E-commerce providers already have a more expensive one-day delivery option. For other consumers who do not need their products urgently, they can allow them to opt for slower, cheaper modes of transport like rail or road.

Like most brick-and-mortar stores offer recyclable plastic bags for a fee, e-commerce stores can also start charging a small fee for non-recyclable packaging.

Consumers can be awarded Green points for buying greener products-like LED bulbs or energy efficient devices and recycled products which may be redeemed for purchase of other green products.

E-commerce companies can even offer additional discount for choosing greener options.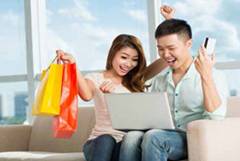 Most of the above suggested measures offer a small economic incentive to make the more responsible choice. More importantly, it serves as a constant and subtle psychological reinforcement to make greener choices. This essentially amounts to a non-intrusive form of choice editing. It has been seen that such means for subtly editing people's choices can work very well. e.g. After adding a 5-cent tax on plastic bags in Washington DC, in the course of one year, bag usage in the city came down from 270 million bags in 2009 to 55 million in 2010-an 80 percent reduction. Even though this tax did not pose much of an economic burden, it was enough to shift people's behaviour away from absent-mindedly taking multiple disposable bags when at the check-out line.
Clearly as this channel emerges as the preferred consumer channel for a large variety of goods and services, e-commerce companies can bring about a significant shift in wasteful consumption patterns by leveraging their significant consumer base to promote sustainable packaging and delivery systems, while differentiating themselves from their competitors.
References:
Gartner.com

Dipp.nie.in

Media reports, Economylead.com

Fitcher, 2003,

"E-Commerce: Sorting Out the Environmental Consequences", Journal of Industrial Ecology

Weber, Hendrickson, et. al, 2008, "Life Cycle Comparison of Traditional Retail and E-commerce Logistics for Electronic Products", Carnegie Mellon University

Ce.cmu.edu

Image.slidesharecdn.com

Pwc.in

Nrdc.org

Oregon Department of Environmental Quality, Life Cycle Inventory of Packaging Options for Shipment of Retail Mail-Order Soft Goods

Matthews, H. S., Hendrickson, C. T., & Soh, D. L. (2001b). The net effect: Environmental implications of E-commerce and logistics. Denver, CO. 191-195.