Biotechnology is changing the production of denim fabric
Biotechnology is a group of technologies which is characterised by working with organisms and their products. This is done with the aim of improving our lives. Modern biotechnology has a great effect on world economy and society. The best example of that is genetic engineering, a process of modifying genes in an organism to remove or add any characteristic. Modern biotechnology has a huge application in textiles like in enzymatic desizing, enzymatic scouring etc.
Use of enzymes has gained global recognition as it is non-toxic and eco-friendly. Enzymatic applications are mainly in textile wet processing and few areas of textile processing. Other advantages of enzyme technology is comparatively lower cost, less processing time, energy and water savings and improved quality. Enzymes are proteins which consist of long linear chains of amino acids that produce three-dimensional products. Each amino acid sequence has a unique property. Novozymes has recently performed two life cycle assessment at textile mills in China. One is bioscouring, which removes impurities in the cotton. The other is bleach clean-up to remove excess bleaching agent prior to dyeing.
Washing clothes improve their comfort. The finishing treatments on the garments during washing are the important parameters which influence the garment shade and mechanical properties. Finishing denim garments has various treatment methods like stonewash, moon wash, sand wash, mill wash etc. Recently, enzyme treatment had gained popularity in denim washing because of its eco-friendly nature and because it does not harm the garments.
Classification: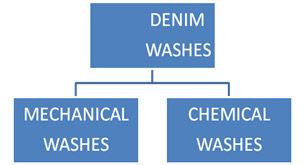 Some mechanical wash procedures include stone wash, microsanding, whiskering, shot gun denim, water jet fading, super stone wash, ice wash, thermo denim, laser technology finish etc. Chemical washes include denim bleaching, enzyme wash, acid wash, rinse wash etc.
Denim finishing:
Denim finishing is used to provide functional properties or fashionable flair. In olden days, finishing treatments were done using chemical and physical processes. Dry treatments are also given to jeans to get the desired effects.
Desizing with enzyme:
First, desizing is done to the denim fabric with amylases, warp yarns of denim fabric are sized with few compounds like starch, polyvinyl alcohol, polysterene, gelatin, oil, wax etc, to provide stiffness and stability during weaving process and sewing operations. Amylases break down starch into water-soluble sugars. Natural sizes can be easily removed by amylases where enzyme type, concentration, Ph, temperature, time etc should be properly controlled to achieve the best results. Desizing can also be done by oxidative method, using hydrogen peroxide, but enzymatic desizing is more advantageous as it gives higher efficiency, no damage to the fibre, no use of hazardous chemicals.
Bio-stone washing:
It is one of the methods of denim washes which give a faded look to the garment. Pumice stones are used for washing. An alternative method of stone washes were developed through cellulase enzyme. The reduction in the use of pumice stones will result in less damage to the garment, to the machine and to the environment. Neutral cellulase has a special feature which provides stonewashed look with minimum indigo redeposition during the treatment. Thus, the jeans and other denim garments have a higher difference between white and blue yarns.
Bio-bleaching:
Bio bleaching is done mainly with an enzyme named Laccase. Laccase is an enzyme that will accelerates the reaction of oxidising phenols and also simultaneous reduction of oxygen to water. Laccase alone cannot decolorize indigo on denim, it requires a mediator which transfers electron from indigo to oxygen, due to this there will be a unique wash down on denims. Conventional hypochlorite bleaching can also be done but due to its disadvantages like harsh to material and environment. Enzyme bleaching can be done under controlled condition and is very simpler to control. It is useful for stretch denim, without any effect on elasticity. After cellulase treatment enzyme and the mediator are used for abrasion for further brightening of denim.
Advantages of enzyme wash
To minimise the effect of using harsh chemicals to the environment many industries are using enzymes as biological catalyst. Due to the usage of enzymes energy can be saved and they give environmental effects. Enzymatic application is becoming more important at a time of increasing awareness about sustainable development and climate change. It should not be forgotten that the production of enzymes is also associated with environmental burdens.
Most denim finishing laundries have moved on from pumice stones to enzymes. Stone wash is sometimes considered as enzyme wash. Stone washing has some disadvantages like the intensity of the abrasion process is difficult to control. Due to the abrasion the quality of the fabric gets affected and increases the production expenses. To avoid these enzyme washing has been introduced, enzymes have been used to remove starch and wax residues from raw materials and also to give a uniform finish to the fabric.
In cellulase treatment there is no need for the removal of stones from the denim garments. This reduces the time involved. Number of washes after enzyme treatment is less when compared to number of washes required for pumice stone washing. There will be less damage to the garment and the machine and less pumice dust when enzymes are replaced with pumice stones. A garment which is given cellulase treatment will have good properties like soft handle and better appearance.
Enzymes used in textile industry
For Desizing: Amylases (Palkozyme, Palkozyme Ultra, Palkozyme Plus)
For Bio polishing, Denim Finishing: Cellulase (Palkofeel, Palkosoft, Palkostone etc.) For Bleach Cleanup: Catalase (Palkoperox)
For Bio-Scouring: Multi component enzyme (Palkoscour)
Conditions for enzyme wash
Enzymes are active only at proper or suitable environmental conditions. When these conditions are changed there will be a change the rate of reaction. There are few organisms in nature that can adjust to the conditions of their enzymes to get a nominal rate of reaction or they may be adapted to the conditions where they live. Main factors are Temperature, pH, concentration (substrate and enzyme).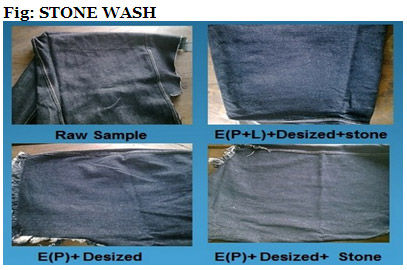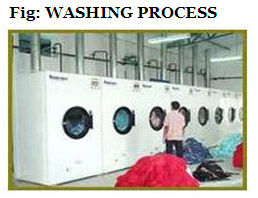 References:
Muhammad Moosa Abdul Rehman, "Revolution of biotechnology in finishing sector of textiles"

Mee-Young Yoon of generoor international,

"Denim finishing with enzymes", dyer international

P.H.Nielson et.al., "Enzyme biotechnology for sustainable textiles", woodhead publishing limited,

Suman mir et.al., "Evaluation of mechanical properties of denim garments after enzymatic bio washing", world applied sciences journal

Denim washing- fibre2fashion

Stone wash / enzyme wash /denim help

Malayappalaundry.com

Textilelearner.blogspot.com

Vapi.all.biz
About the authors:
Ayodya Kavitha is an Assistant Professor in University College of Technology, Osmania University. L. Renuka Tejaswini, B.Tech 3rd year, UCT, Osmania University.
N. Giribabu is a Merchandising Manager in Surya Lakshmi Cotton Mills Ltd.