The largest garment & textiles technology show in Western India, GarFab-TX, will be held in Surat from May 15-17 this year. A Fibre2Fashion report.
The 12th edition of GarFab-TX and concurrent shows Texma & Job Workers Fair has been announced. It will be held at the Surat International Exhibition & Convention Centre (SIECC) in Surat from May 15-17, 2015. GarFab-TX is the largest garment & textiles technology show in Western India.
Surat is one of the largest centres for synthetics in the country with over 700,000 looms and 100,000 embroidery machines. There are many process houses catering to the ever-growing needs of the industry. Though business was slow this year, mirroring the slowing economy, it is likely to pick up soon, providing an opportunity for companies to benefit from it.
Among major exhibitors participating this year are Colorjet India Ltd, Negi Sign Systems & Supplies Co, and Jaysynth Dyestuff (India) Ltd.
Product profiles
* Apparel, leather, knitting & jute technology: Weaving, texturising, dyeing, finishing, colour matching, lab equipments, printing, etc.
* Knitting machines: Sewing, embroidery, laundry and finishing laser, CAD/CAM, etc.
* Fabric and accessories: Yarn, fabrics, threads, button, zipper, interlining embellishments, etc.
Colorjet India Ltd | Colorjet
USP in digital textiles: Colour vibrancy and efficient cost of printing along with stable technology
Production capacity: 4,000 metres per day.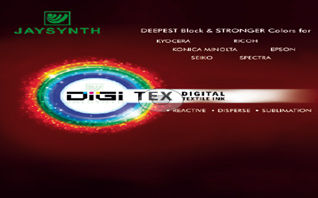 Jaysynth Dyestuff (India) Ltd | DiGiTEX Digital Textile Inks
USP in digital textiles: optimum quality, low price, prompts service
Production capacity: 50 MT months (provision for increasing further depending on market demand)
Lead time required to deliver minimum order: No MOQ. DigiTex keeps a buffer of 48 hours for regular orders and up to seven days for execution of new orders.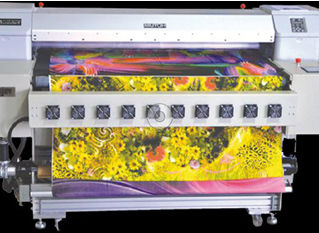 Negi Sign Systems & Supplies Co | NegiJet
USP in digital textiles: Quality at competitive rates. Negi offers textile printers for printing directly onto fabrics as well as a complete range of sublimation transfer printers from Mutoh-Japan. It has been exclusive distributor for Mutoh-Japan for the last 19 years. Negi also offers digital textile inks under brand name PZO (reactive, acid, sublimation inks) and also distributes KIIAN sublimation inks.
Production capacity: 40-80 s/m per hr
Lead time required to deliver minimum order: 3-4 weeks
challenges facing the digital textile industry
Colorjet
High costs

Lack of knowledge

Production capacity is still not as huge as compared to traditional outputs
NegiJet
Lack of awareness about the new digital textile printers and technologies available in market.

Many companies are into rotary and screen printing which puts limitations on number of colours.

Lack of high precision printing, which is usually a drawback with other forms of printing.
DiGiTEX
Production speed of digital v/s analog printing.

Pigment printing on cotton (home textiles).

Increasing price of imported raw materials.
Top trends influencing the digital textile industry
Colorjet
Designer apparels; greater colour vibrancy; easy to print short runs which means more number of designs can be printed; reduced wastage of water and electricity , and quick turnaround as it is a faster process.
NegiJet
Digital transition in the textile printing market; gauge outlook for demand for digital textile production in different fabric segments like garments, interiors, industrial textiles.

Fashion and interiors are merging into home textiles which influence the digital textile industry.

Increase number of buyers of textiles covering a wide range of products like floor/window curtains, fabrics, dress materials , wall coverings , bath/bed linen and thus also spike up use of digital prints.

The growing trend towards mass customisation supports one-to-one marketing strategy , which increases the demand for the digital textile industry.

An established segment well suited for this type of strategy is the home furnishing /linen market.
DiGiTEX
Frequency of collections in fashion world.

High fashion demanding variety of style, colour and design.

Increased frequency requiring quick response and less lead time.

Trend of mass customisation.

Uninterrupted execution of repeat orders.
steps on how to stand up to the challenge
Colorjet
More volumes are coming in digital printing which will further reduce costs.

Designer wears are more focused on digital printing as it's a quick process and gives you design flexibility and vibrant colours which are not possible in traditional technology.

Saves environmental resources like water and electricity.
NegiJet
Embrace digital printing technologies as it is critical to the future success of the textile industry.

Create awareness about digital textile printing which will help textile companies to understand their value proposition.

Understand that digital printing technology will provide tremendous opportunity.
DiGiTEX
Introduction of more high speed machine is closing the gap.

Currently this segment is being catered through reactive inks as pigment inks for wide format is still in budding stage.

Absorbing a major part of the high raw material cost.