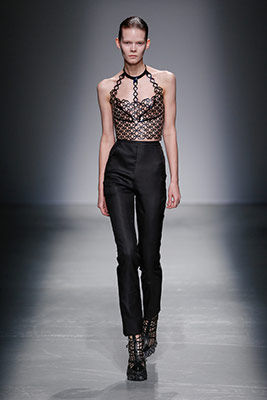 3D printing is conquering the fashion world. Although the pioneering new technology still has limitations, more designers are today experimenting with it and create entirely new looks. This spring, the first 3D print fashion show was organised in New York, showing what the future of fashion might be like, writes Regina Henkel.
The future scenario in the context of 3D printing is like this: every household will have its own 3D printer, and everyone will be able to design and produce their own products by simply printing them. The consumer will become the producer. Even if the consumer downloads the design from the Internet, the production will easily be done by the printer. It is the last phase of the democratisation of fashion, and the final solution for no-waste-production.
Essentially, 3D printing is an additive method: which means layer upon layer completely new structures can be built in three dimensions and seamlessly - without producing any waste. And, without over-production too. The raw materials for 3D printing are in plastics right now, but metals and even biomass are also possible. It's only a question of time when 3D knitting and 3D cloth will together build one's new wardrobe.
Fashion pioneers in 3D printing
These new creative possibilities are inspiring fashion. The first 3D print fashion show, which took place in New York as part of '3D Print Week' this spring, is proof. Designers like Melinda Looi and Francis Bitonti, who designed the first 3D dress for burlesque dancer Dita Von Teese two years ago, presented their latest creations at the event. Among the highlights was the evening dress by Looi. The special thing about the dress: it was made of one piece, and consisted of a flexible material. It therefore provided some comfort - at least for a 3D dress. In comparison, the Von Teese dress still consisted of 17 mesh-like pieces which had been put together, polished, painted and decorated by thousands of Swarovski stones by hand. It was rigid, and thus hardly wearable.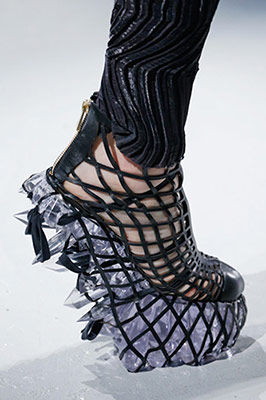 The potential is immense, as many agree. "3D-printing will change the world," says Looi. The Malaysian fashion designer has teamed up with Belgian 3D printing giant Materialise to produce her 3D collection. Her amazing gowns have been almost completely 3D printed, and are among the world's first full-length 3D-printed gowns. They have also been 3D-printed as a single piece. In fact, Looi and Materialise have already began working on the next 3D-printed fashion project, which is going to be a bit more commercial. They are planning to create marketable 3D printed accessories.
Also, Francis Bitonti launched his own jewellery at the German 3D printing shop Stilnest.com. For the moment, the new technology is still being used by designers, not consumers. Even Nike, Adidas and Timberland are using the technology right now, but primarily in the fields of footwear and accessories and in prototyping. Nike for example presented the first football shoe with 3D-printed studs and a bag that consisted of 3D components. US company Continuum Fashion developed a wearable 3D-printed bikini made from nylon, whose pieces snap together without any sewing.
Natacha Alpert, curator of the New York 3D Fashion Show, said: "I think high-end designers are going to lead the process. I would predict that more of the high-end brands will adopt 3D-printed products first, and then they'll go mass. So, designers will still be able to lead the process, but there will be a little more competition because consumers will become creators too."
Among the most advanced pioneers of the new technology is Dutch fashion designer Iris van Herpen. For years, she has explored new possibilities and now integrates the 3D-printing of flexible and washable materials in the regular collection. In 2014, she was awarded the coveted ANDAM Fashion Award in France. She also sees a lot of future in the art, although she does not share all visions. "Whether people actually print the products themselves at home, I do not know", van Herpen said, "but I imagine that there are printing factories that take over the production."
There are still many hurdles to overcome
Though it sounds easy, the printing of 3D objects is demanding. Before an object can be printed out, you need a 3D model and a software that ensures that the object is measured and converted into data. This needs considerable technical knowledge. That's why Stilnest.com, a Berlin-based label that offers 3D printed jewellery, works with specialised printing companies. Only the design comes from Stilnest and a pool of more than 20 artists located around the world. Limitations exist in terms of the elasticity of the materials, in the colour and the fact that a 3D printer is always specialised in only one material. In addition, the generally fragile objects are sensitive and thus not for everyday use.
By now, 3D-printing technology in fashion is primarily a testing ground, even if the progress is clear. The success of the technology will depend on what benefits it eventually provides. In the field of fashion, it will be crucial to develop print materials that are able to get close to our ideas of comfort.