The Republic of Macedonia is located in the central Balkan Peninsula in Southeast Europe. It is one of the successor states of former Yugoslavia, from which it declared independence in 1991. Ranked as the fourth "best reformatory state" out of 178 countries ranked by the World Bank in 2009, Macedonia has undergone considerable economic reform since independence. The country has developed an open economy with trade accounting for more than 90% of GDP in recent years. With a long, rich tradition in clothing and textiles, this sector is one of the largest export industries in Macedonia. The competitive advantages of the Macedonian garment and textiles industry are innumerable. An analysis by Market Intelligence-Fibre2Fashion.
Country snapshot
Official name

Republic of Macedonia

Capital

Skopje

Population

2.1 million (65% Macedonians, 25% Albanians, others)

Median age: 34.4 years

45% under 30 years

Life expectancy at birth: 74.2 years

Area

25,713 sq.km

Political System

Multi-party parliamentary democracy

Legislative: unicameral Assembly with 120 MPs with four-year terms; members are elected by popular vote from party lists based on the percentage of the overall vote the parties gain in each of six electoral districts

Executive: president elected by popular vote for a five-year term; prime minister and cabinet elected by the Assembly following legislative elections
Source: Ministry of foreign investment, Republic of Macedonia
Macroeconomic overview
GDP (purchasing power parity) (2013)

US$ 22.57 billion

GDP - real growth rate (2013)

3.1%

GDP - per capita (PPP) (2012)

US$ 10,718

GDP - composition by sector (2013)

Agriculture: 10.2%

Industry: 27.5%

Services: 62.3%

Population below poverty line

30.4% (2011)

Industrial production growth rate (2013)

3.2%

Stock of direct foreign investment - at home (2013)

US$ 4.695 billion

Stock of direct foreign investment - abroad (2009)

US$ 0.564 billion

Commercial bank prime lending rate (2013)

6.4%

Taxes and other revenues (2013)

30.6% of GDP

Budget (2013)

Revenues:
US$ 3.023 billion

Expenditures:
US$ 3.438 billion

Labour force (2013)

0.96 million

Labour force - by occupation (2013)

Agriculture: 18.8%

Industry: 27.5%

Services: 53.7%
*Based on calculations, Source: CIA World factbook, UN Comtrade
Textiles and clothing industry
| | |
| --- | --- |
| T&C cxports to EU-27 (2013) | US$ 635.7 million |
| T&C exports to World (2013) | US$ 697.3 million |
| T&C export growth rate (2013) | 5.88% |
| Net wage in garment industry (2011) | 169.27 Euro |
| Employment in T&C industry (2012) | 35,348 |
| Energy cost for manufacturing industry: Electricity (2014) | 0.04 Euro/KWh* |
*Based on calculations, Source: CIA World factbook, UN Comtrade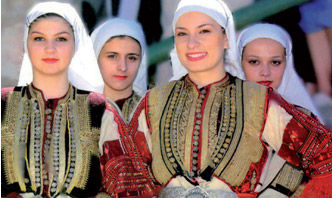 Structure
According to National Classification of Activity (NCA), Macedonian textile companies are divided in two groups: Manufacturers of textile materials; and Manufacturing of wearing apparel, dressing and dyeing of fur.
Spinning and fabric production constitute for 1.5% of industrial production, and readymade
products account for 11.32%.
As of January 2015, the following were offered to companies investing in Macedonia:
Can reach any place in Europe in 1-3 days via truck or rail

Two new international airports

1-3 hours to international seaports

No trade barriers with Europe, Ukraine and Turkey

Near to Middle East and North Africa

Perfect entry point to Europe.
Wages are most competitive in Europe at 374 per month in manufacturing sector in January 2015.
According to World Bank's Doing Business 2015 report, Macedonia is 3rd best in starting a business in the world and best in the region.
According to World Economic Forum 2013, it is 4th friendliest to foreigners.
The cost of labour in Macedonia is 0.07 per minute, excluding transport costs. This amount is among the lowest in Europe and worldwide.

Region/Country

Cut-Make Price (CM Price)

Region/Country

CM price

Balkans

Europe

Macedonia

0.07

Germany

0.60

Serbia

0.08

Austria

0.51

Albania

0.06-0.07

Italy (North)

0.52

Bosnia

0.08-0.09

Italy (South)

0.38

Bulgaria

0.09

Spain

0.28

Greece

0.19

Turkey

0.15
Source: Agency for Foreign Investments and Export Promotion of the Republic of Macedonia
Industry drivers
With a long, rich tradition in clothing and textiles, this sector is one of the largest export industries in Macedonia. The competitive advantages of the Macedonian garment and textiles industry include:
Short periods from orders to delivery;

High quality of performance at attractive costs;

Good transport and logistics services;

Convenient geographic location and favourable economic conditions;

Customer focus and orientation;

Availability of experienced labour;

Flexibility to quickly respond to the customers' requirements;

Capability to produce small orders at the same prices as big orders (higher productivity);

Long-term business relationships with worldwide partners and experience in working for well-known international brands;

Recognised quality for garments production.
Industry restraints
Due to the very high number of unemployed workers in Macedonia and the very weak role of trade unions, employees are faced with rules created by the employers, which in some situations are quite opposite from the guidance provided by the national legislation. One example of this is non-payment of the long overtime hours.
Since its independence in 1991, Macedonia has made progress in liberalising its economy and improving its business environment, but has lagged the Balkan region in attracting foreign investment; corruption remains a significant problem as well. Unemployment has remained consistently high at more than 30% since 2008, but may be because of the existence of an extensive gray market, estimated to be between 20% and 45% of GDP that is not captured by official statistics.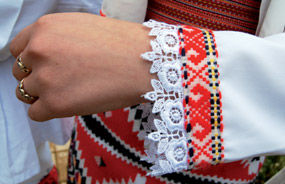 Macedonia's economy is closely linked to Europe as a customer for exports and source of investment, and has suffered as a result of prolonged weakness in the euro zone.
In recent months, there seems to be a political crisis in the country which can negatively affect new investments.
Industry opportunities
One of the biggest competitive advantages that the Macedonian textiles industry possesses is its close proximity to Western Europe, a large consumer market.
Good image of Macedonian producers, who have catered to the EU and US markets for decades and are known for their quality and professionalism.
High flexibility and readiness to adapt to the demands of foreign markets. Readiness to comply with changes that comes as a result of new trends in the world, punctual execution within agreed terms of delivery and readiness to adapt to the shorter terms that come due to the ever shortening product consumption cycles that become shorter and shorter.
Exceptional relation between product quality and price. This is a result of highly qualified personnel with a long tradition of working in the textile industry, as well as of relatively low labour costs.
Good and modern equipment of the factories, following world trends in developing textile machines and production technologies. In addition to modern textile equipment, more and more companies invest in computer technologies (CAD/CAM system, plotters etc.) that provide product models that meet the demands of buyers and can be used as a perfect training tool for introducing own designs.
Stable macroeconomic condition.
Industry in numbers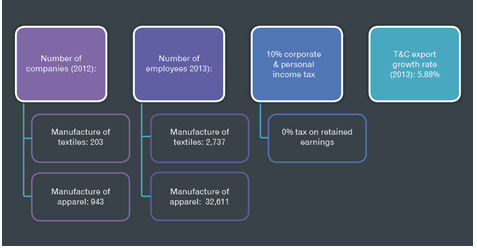 Concentration of Macedonian textiles and garment industry (% of total number of companies)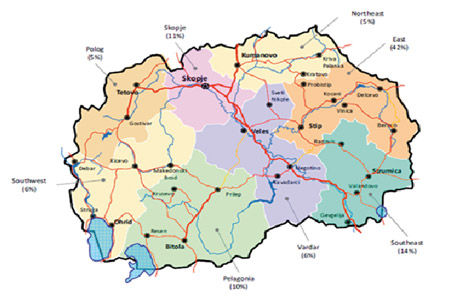 Export advantages
Country offers potential not only for new foreign direct investment, but also for outsourcing, strategic alliances and joint ventures with many well-established local companies

Short delivery periods

Flexibility of delivering sizes together with exceptional value for money

In addition to garments, there is manufacturing potential for cotton thread and fabric, wool yarn, fabric and knitted fabric.

Macedonia's total export value stands at about US$ 0.70 billion in 2013. Its major export markets are Germany, Greece, Netherlands, Austria, Italy and Switzerland. These countries together contribute to about 85.5% of Macedonia's exports. Among these top five markets, Greece and Italy show negative growth in the last five years. However, the rest of them show positive growth.

The fastest growing markets for Macedonia's textiles and clothing exports include Austria, Denmark, Turkey, Switzerland and Czech Republic.

Macedonia's total import value stands at about US$ 0.56 billion in 2013. Its major imports are from Germany, Turkey, Italy, China and Greece. These countries together contribute to about 68.1% of Macedonia's imports. Out of these top five markets, Germany and Greece show a negative growth in last five years indicating decline in trade.

Macedonia's imports have been rising from countries like Czech Republic, India, Bangladesh, Bulgaria and Spain among others.
Exim performance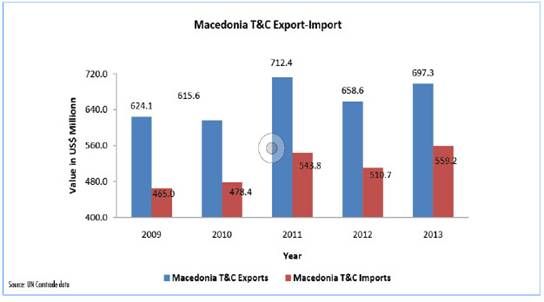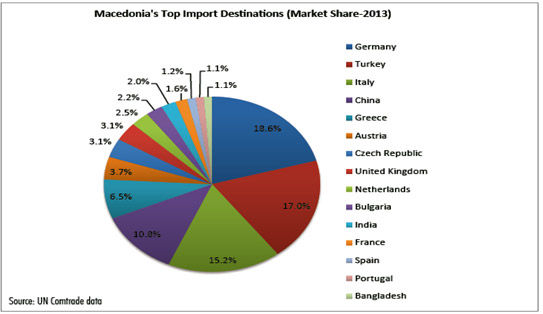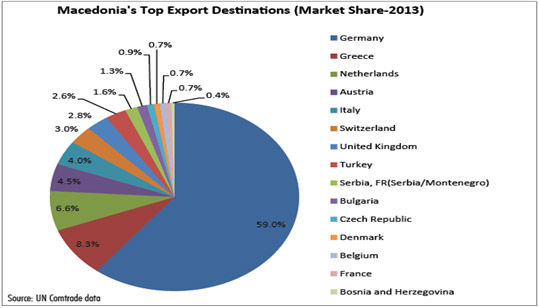 Government incentives
Unbeatable tax benefits that are lowest in Europe

10% Corporate & Personal income tax

0% tax on retained earnings

Lowest operating costs in Europe that drive industry expansion

Investment is protected

Macedonia is a member of Multilateral Investment Guarantee Agency (MIGA)

Tax free economic zones

Commercial buildings available - easy to start Brownfield projects

According to a PwC and World Bank Group Study 2015, Macedonia is No 1 in the world in total tax rate and 7th in overall paying taxes.

As per the statistics by National Bank of the Republic of Macedonia, inflation is less than 2% per annum for the last 13 years. Macedonian Denar stood at 61.6 per Euro for the last 20 years.