Not every fashion design graduate wants to move out of comfort zones, and out of glitzy metros. Hemang Agrawal was one of those exceptions who did. He went back to his hometown of Varanasi and has since been promoting traditional Indian textiles. In a freewheeling conversation with Meher Castelino, Agrawal speaks about the passion that drew him out of the mundane.
One does not often get to see a fashion design graduate switching weaves, devoting his life to the promotion of Indian textiles. But, that's exactly what Hemang Agrawal has done.
A 2001 fashion design graduate from the National Institute of Fashion Technology (NIFT) Mumbai, Agrawal had been born in a textile family of Varanasi where handloom silks were part and parcel of the family's daily life. His father, Shyam Krishna Agrawal, was a fine arts student who understood both art and business well. He started a business of saris under the banner of Surekha Arts in 1970, a firm that is today one of the many companies that's part of the Surekha Group. Textiles, therefore, remained in Hemang's conscious mind, and shaped his life right from day one.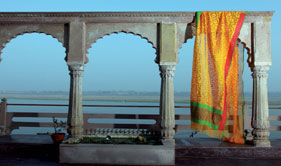 When Hemang Agrawal was starting out, fashion and textile design were only beginning to move from being considered a lazy vocation to being accepted as a serious profession. There were barely 80 students of fashion design across all centres of the NIFT. While his fascination was always textiles, he chose fashion design because he wanted to adopt a holistic approach to textiles, which are not just yarns woven in warp and weft but are the most important component of a fashion garment.
There was a reason why Agrawal thought so. "Now, unlike fashion, the nature of textile crafts is such that identity of the craft has to be much stronger than its practitioners. It's like when we see the great Indian miniature paintings, we only talk of their different schools; whereas, when we discuss Western art movements, we always view it through the painters who practised it," he argues.
For 18 months after his graduation, Agrawal worked with Contemporary Clothing Company Mumbai, a garment exports house as head designer and then as a freelance designer for on-the-job training. He returned to his hometown in 2003, and trained at the Indian Institute of Handloom Technology.
The following year, Agrawal joined the family business. His younger brother, Umang, an investment banker with S&P in the US, was to follow in his steps six years later.
As a fashion graduate, Agrawal was able to see textiles from a fashion perspective which subsequently helped him in development and designing. From the very beginning, he focussed on premium and super-fine hand-woven silk textiles for international markets, which are traditional in treatment but contemporary in form. "After I joined the company, all I did for the next two years was to visit weavers, dyers, naqshnbands, card punchers who my father had utilised for his saree business. I simply learnt from them. Around the same time, I happened to meet Rahul Jain, an eminent textile historian and revivalist, who greatly inspired and encouraged me to work in the field of handloom textiles. You could call it baptism by silk. By the way, the thing that I am slightly proud of is being half a good weaver myself!"