Emphasis on MSMEs, judicious useof existing trade agreements, and constant technological improvements can makethe 'Make in India' initiative more export-driven, says Subir Ghosh.
Economic growth and developmentare not just about new products or product mixes and trading partners. Whatmatters is not only about how much you export, but what you export as well.
This has formed the backbone ofthe argument that the textiles and apparel sector can indeed lead from thefront in order to ensure that the 'Make in India' campaign of the Indiangovernment succeeds. If there is anything after information technology (IT)that can propel India into global limelight, it is the textiles and apparelindustry, and all for good reason. Being the second largest producer of cottonand the second largest exporter of textiles, the industry has the potential.Enough numbers have been thrown around to bolster this claim, and none of thosecan be disputed. Being the second largest employer after agriculture, thetextiles and apparel sector remains a dark horse - underrated, but full ofpotential.
While it is true that both theexport basket itself and its size have increased over the years, India stilllags behind in competitiveness. According to the Competitiveness of IndustrialProduction (CIP) of the United Nations Industrial Development Organization(UNIDO), India's CIP score improved from 0.04 in 2000 to 0.07 in 2010. Duringthe same period, China went up from 0.16 to 0.33. Simultaneously, India's sharein world manufacturing climbed up marginally from 1.1 per cent to 2.0 per cent,while China grew from 6.7 per cent to 15.0 per cent. Hence, there is an urgentnecessity for a manufacturing push.
We have, in earlier editions ofthis magazine, looked at both the overall issue about exports as well as themanufacturing impetus that the 'Make in India' initiative wants to create.Let's look at the two together, but some numbers first.
Indianexports and world trade
It's been around nine months sincethe 'Make in India' initiative was launched, and the numbers have not beenencouraging. It's also a fact at the same time that these are still early daysfor a ripple to be felt.
According to figures released bythe Ministry of Commerce and Industry on June 16, merchandise exports fell forthe sixth consecutive month in May, dropping by 20.19 per cent to $22.34billion, compared to $28 billion during the same period last year. Exports haddeclined 13.96 per cent in April and 21.06 per cent in March. Services exportstoo fell for the second consecutive month in April.
Though the decline is beingascribed to weak global demand and a fall in crude oil prices, part of therather disconcerting drop has been because of currency fluctuations, especiallya strong rupee. In rupee terms, exports declined 14.1 per cent in May.Merchandise imports too were down - by 16.52 per cent at $32.75 billion in May,compared to $39.23 billion in the same month last year. Part of the decline inimports is being attributed to the fall in oil imports as well as decrease ingold demand. The trade deficit stood at $10.4 billion in May, against $11billion in April.
Growth the world over is sluggishat the moment. According to preliminary estimates issued on June 24 by theWorld Trade Organization (WTO) and the United Nations Conference on Trade andDevelopment (UNCTAD), world trade as measured by the average of exports andimports grew a marginal 0.7 per cent in the first three months of 2015, basedon seasonally adjusted data.
Matters have been more or less the same on India's textiles-apparel exports front too. Overall, exports of textiles and apparel were $41.4 billion in 2014-15, falling a bit short of the $45 billion target, according to the Textiles Export Promotion Council (TEXPROCIL). Last year, the exports were $39.31 billion against the target of $43 billion. Exports of cotton textiles (excluding raw cotton) during 2014-15 were $9,452.96 million against the figure of $9,669.05 million in 2013-14, showing a negative growth of 2.23 per cent. Exports of cotton textiles (including raw cotton) was $11,353.15 million as against exports of $13,306 million in 2013-14, registering a steep decline of 14.68 per cent.
Moreover, the latest provisional figures from the System on Foreign Trade Performance Analysis (FTPA) of the Ministry of Commerce and Industry corroborate this performance. Exports of textiles and applied products registered a marginal drop of 0.42 per cent in April this year over the same month last year. The share of the sector in overall exports stood at 13.50 per cent.
Money is, however, flowing in. India figured in the top 10 destinations for foreign direct investments (FDI) in 2014, after failing to make it to the list a year ago, according to the World Investment Report 2015 released in mid-June by UNCTAD. During 2014, FDI inflows into India jumped 22 per cent to $34 billion at a time when global FDI fell by 16 per cent to $1.23 trillion. UNCTAD projected global FDI flows to rise 11 per cent to $1.4 trillion in 2015.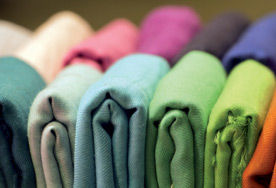 <![endif]>Exporters are apprehensive that the continuing decline in exports could result in layoffs besides putting pressure on the current account deficit (CAD). While it might be too early for the 'Make in India' initiative to show results, the issues of global sluggishness and currency fluctuations will not make things any easier for the government and industry alike. One could possibly expect some course correction measures from both the finance and commerce & industry ministries sooner than later.
Free trade needs to pick up
If it's a question of markets, there's a lot to explore around the world for Indian exporters. As far as India's FTAs are concerned, 13 have been signed and are in effect, one has been signed, and 14 others are being negotiated, as per the Asian Development Bank's (ADB) database. The latter include the Regional Comprehensive Economic Partnership (RCEP) and FTA with the European Union.
On top of it, the snail-paced developments of multilateral trade liberalisation under the WTO Doha Round has resulted in innumerable bilateral and regional trade agreements (RTAs) being inked across the globe. There are many overlaps. India has an agreement with Malaysia and is negotiating with Indonesia, but already deals with both countries under an FTA with the Association of Southeast Asian Nations (ASEAN).
According to the ADB, the utilisation rate of India's free trade agreements (FTAs) varies between 5 per cent and 25 per cent. The contention that India has not made enough on this front is cemented by the fact that exports to both FTA partners and non-partners have grown at the same pace. It is herein that a huge opportunity lies, and also a need to review and consolidate all trade agreements. This is what the ADB too has been lobbying for.
There are other conflicting issues. Though the generalised system of preferences (GSP) used to be the most widely preferred trade practice, it has been on the decline since there are a number of FTAs and RTAs in place now. For instance, India already has the India-Singapore Comprehensive Economic Partnership Agreement (CEPA) with that country and much trade happens with Singapore through the MFN (most favoured nation) mode, even though India has a separate FTA with ASEAN (of which Singapore is a constituent). This is possibly because of the low MFN rates in the case of Singapore. Nevertheless, such discrepancies and anomalies need to be sorted out as well.
The markets are there, and will grow in days to come. All India needs to do is make optimal use of them.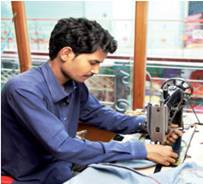 <![endif]>What will lead export-driven growth
The subject figured in a recent working paper of the International Monetary Fund (IMF) titled 'Make in India: Which Exports Can Drive the Next Wave of Growth?' that was released in May. The paper identified five priority areas for policies which ought to be driving factors: (1) reduction of trade costs, at and behind the border; (2) further liberalisation of FDI including through simplification of regulations and procedures; (3) improving infrastructure including in urban areas to enhance manufacturing and services in cities; (4) preparing labour resources (skills) and markets (flexibility) for the technological progress that will shape jobs in the years ahead; and (5) creating an enabling environment for innovation and entrepreneurship to draw the economy into higher productivity activities.
The paper remarked, "Given its exports structure, India is well positioned to benefit from the structural changes in technology and emerging forces of globalisation. In the medium-term, India has immense potential to diversify by latching onto products and services that are closely related to its current capabilities. India could also benefit by focusing both on domestically-oriented production to satisfy large domestic demand and producing goods for global markets, for example, by in addition to building automobile components, diversifying into designing high-quality export-oriented automotive products."
The researchers noticed that resource-based products - refined petroleum oil, cotton, jewellery of precious metals, and rice - constitute major exports from India. Within low-tech manufacturing exports, jewellery and textiles-apparel based exports constitute a major chunk of Indian exports. The number of products in which India has comparative advantage has increased over time. Moreover, exports of apparel and textiles have led to comparative advantages in related products such as fabrics, leather, fashion, garment technology exports.
The paper called for continuing with trade liberalisation, besides liberalising FDI, creating an enabling environment for investments, and higher spending on hard and soft infrastructure to support future exports expansion. The researchers also felt that "encouraging technical innovations by small-and medium-sized firms and integrating the informal sector would not only boost Indian exports, but also help create jobs and make growth more inclusive."
There is a point here to be noted since a substantial chunk of exports come from micro, small and medium enterprises (MSMEs). The added emphasis on technological improvement is expected too. The share of medium and hi-tech activities in manufacturing exports improved from 18.7 per cent in 2000 to 28.2 per cent in 2010, but is still far behind that of China's 60.2 per cent in 2010.
The question of export-led industrialisation
There's a case for export-oriented industrialisation (EOI) or export-led growth which is described by Wikipedia as "a trade and economic policy aiming to speed up the industrialisation process of a country by exporting goods for which the nation has a comparative advantage. Export-led growth implies opening domestic markets to foreign competition in exchange for market access in other countries." The classic cases that are often propped up as typical examples are those of the so-called Asian tigers: Hong Kong, South Korea, Taiwan, and Singapore.
The logic behind this is two-fold. The first argument is that "export-led growth can create profit, allowing a country to balance their finances, as well as surpass their debts as long as the facilities and materials for the export exist. The second, much more debatable reason is that increased export growth can trigger greater productivity, thus creating more exports in an upward spiral cycle." There are usually two types of exports that boost export-led growth: manufactured goods and raw materials. India's textiles and apparel industry does both: it exports cotton, and it exports garments as well. The industry, in fact, is the only one which therefore finds itself in a unique position.
But then, the concept itself is a double-edged sword. And since the immediate aftermath of World War II when it was first expounded, things have changed - particularly so in the last few years of the 20th century when the Asian financial crisis made economies do a considerable amount of introspection. An export-led industrialisation policy is bound to boomerang when the global demand for a particular specialisation plummets, especially if an economy lays too much emphasis on one area of specialisation or manufacturing, so to speak. India does not suffer from such a disadvantage. The 'Make in India' initiative offers as many as 25 very broad areas for growth. That, of course, includes textiles and apparel.
The other talked-about drawback of export-oriented industrialisation is a situation where the economy sees a decline in trade. i.e. when exports grow at a rate slower than that of imports. This can always be a cause for worry, especially given the recent numbers. This is also where the success (or failure) of the Foreign Trade Policy (FTP) 2015-20 may well define how much India will grow, and at what rate.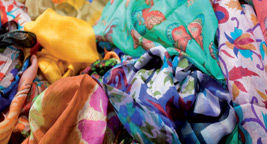 <![endif]>The Wikipedia entry, in fact, points out a possible fallacy, "The problem is that EOI presupposes that a government contains the relevant market knowledge to judge whether or not an industry to be given development subsidies will prove a good investment in the future. The ability of a government to do this may be limited as it will not have occurred through the natural interaction of market forces of supply and demand."Many will argue that by positioning 25 sectors the Indian government may have avoided putting all its eggs in one basket, and yet may have at the same time spread itself too thin.
But, to repeat, these are early days yet. And there is substance in the export-led growth argument.