What sets humans apart from other animals is our ability to apply creativity and imagination to produce things appreciated primarily for their beauty or emotional power.
Street Art: An Introduction
In the early 1970s, urban youth communicated their frustrations in the form of spray painted lines, curves and bubble letters that soon engulfed New York City's subway cars and stations. When the public saw this graffiti for the first time, it had no idea what it was. Today, graffiti and street art, almost always mistaken as synonymous terms, are instantly recognisable.
From its inception, graffiti was declared vandalism by the government and transit authorities, but has managed to continually develop "stylistically and in terms of the industry that has grown up around it." Various forms of mass media such as film, popular videos and magazines depicting graffiti helped the movement spread into a global phenomenon. It was not too long before New York City's art world would begin to consider this new, sweeping form of expression as Radical Chic. While this could mean that some impact is lost, as in any type of domestication process, we believe the power of the art form lies in its ability to continually arouse confrontation, make headlines, and divide public opinion.
It is difficult to define graffiti and street art. Originally, the spray can was integral to graffiti and pieces were usually created on walls and freight trains. More recently, street art has come to encompass a range of materials apart from the spray can, including acrylic, stickers, paste-ups, and even ceramics.
Graffiti is now a global phenomenon with different styles springing up all over the world. It crosses geographical, social and cultural boundaries and there is a constant cross-pollination of styles and techniques. Computer-based work, graphic design, illustration and calligraphy now contribute to the multi-faceted movement.
While Rough Cut Nation, "a collective project to redefine the way national life is depicted, in the heart of the Scottish National Portrait Gallery" features practicing graffiti writers and street artists, it is not intended to be representative of the scene in Scotland. Instead, the presence of graffiti is in the collaborative nature of the show and the coming together of diverse backgrounds and influences.
FROM GRAFFITI TO STREET ART
When graffiti is mentioned, thoughts of indiscernible lettering and spray paint typically come to mind. Several new types of the art form have emerged in recent years to include stencilling, stickers and other developments now labelled as street art. Graffiti and street art vary by technique and also sociological elements. Nicholas Ganz mentions in his book, "Graffiti Women: Street Art from Five Continents," that graffiti is "largely governed by the desire to spread one's tag and achieve fame." Writers are greatly concerned with the act of tagging and 'getting up' as much as possible in order to establish their work as better than everyone else's. Street art, on the contrary, "tends to have fewer rules and embraces a much broader range of styles and techniques."
The Emergence of Street Art
While it was letters that once dominated, the culture has (since) expanded: new forms are explored, and characters, symbols and abstractions .Personal style is free to develop without any constraints, and stickers, posters, stencils, airbrush, oil-based chalk, all varieties of paint and even sculpture are used. Most artists have been liberated from relying solely on the spray can. This is reflected in a newer form of graffiti, now referred to as street art, that developed as artists began to use more innovative approaches to form and technique that (went) beyond traditional perceptions of the classic graffiti style. Many graffiti writers were after recognition by means of spray-painting the most trains or the best pieces. The street artist, on the other hand, wanted to communicate with the passerby or shape their environment without any constraints. Spraypaint, as the original graffiti tool, remains vital to graffiti artists around the world, but the choice of material available these days-oil or acrylic paint, airbrush, oil-based chalk, posters and stickers, to name a few-is extensive and has widened the scope. Graffiti continues to evolve, as it is the very nature of the art form to try new techniques, which often results in a shift from the original concept to completely different areas. In its creative drive, it continually transcends its own borders as it devises fascinating new variations to bring life and colour to public spaces.
STREET ART
Street art has gone mainstream. Artists who started on the street now show in museums and galleries, rather than on them, and their stencils or posters can be worth millions. Cameras watch to catch people defacing what's already on the walls.
Objectives of street art for Punjabi Rajput bridal lehenga
<![if !supportLists]>1. <![endif]>To collect the pattern of street art
<![if !supportLists]>2. <![endif]>To enhance new patterns of lehenga
<![if !supportLists]>3. <![endif]>To use motifs of street art in various designs of lehenga
<![if !supportLists]>4. <![endif]>To find acceptability for the new creation
Methodology
A methodology is normally used as a guideline rather than as a strict set of instructions. This section deals with methodological details of the present study, "Design Concept on Street Art for Punjabi Rajput Bridal Lehenga."For the purpose we collected both primary and secondary data through different means including books, Internet.
Process
First, we collected the information about our target market Delhi, Rajasthan and Chandigarh wedding reception and inspiration. Two types of data were researched. The first is primary data collection based on direct client attributes and the second is secondary data collection from secondary sources like the Internet, books and magazines.
Later, we made a story board which includes style board, mood board, colour board, inspiration board and swatch board.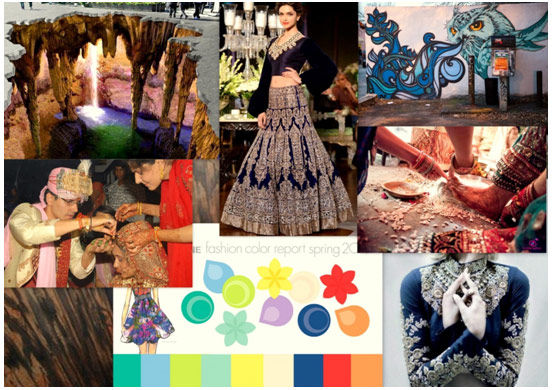 <![endif]>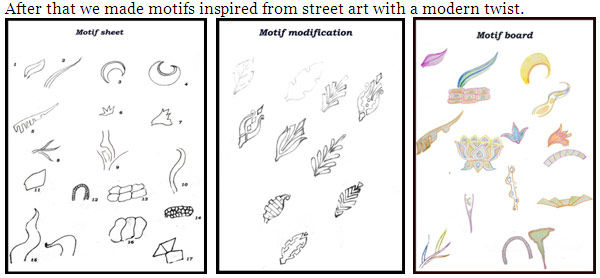 <![endif]>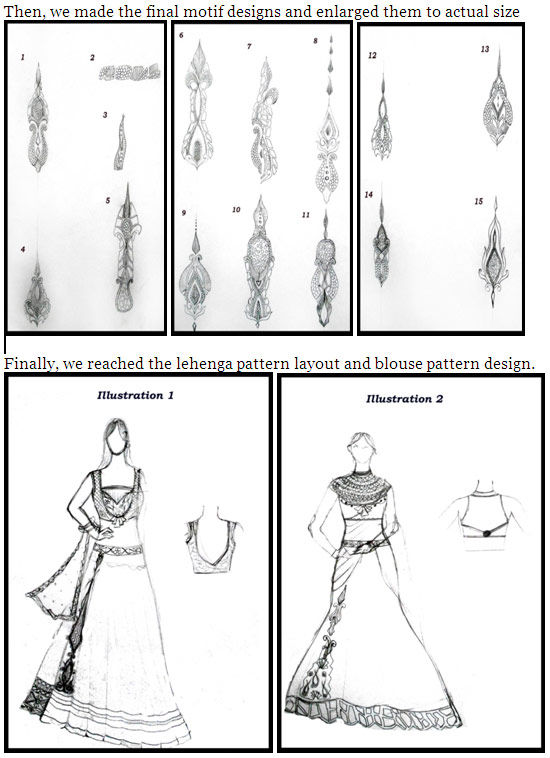 <![endif]>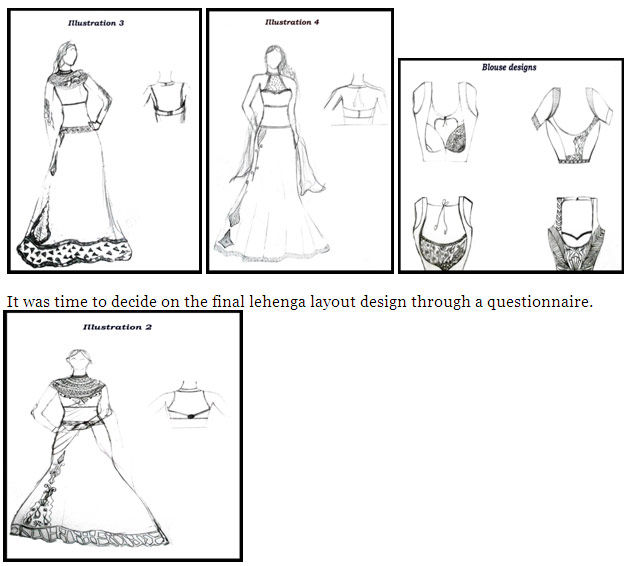 <![endif]>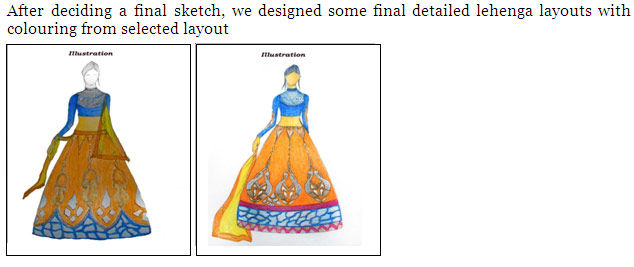 <![endif]>
Result and Discussion
Fifteen designers from Delhi and several other places like Chandigarh, Rajasthan were evaluated. The experimented works, as respondents, were selected purposely to access and select developed motifs of street art. The order to find the acceptability of articles was carried with the rating.
Summary and conclusion
Working on a project entitled, Street Art for Punjabi Rajput Bridal lehenga, we had surveyed fifteen designers. They were given 16 questions framed according to the article and motifs. The result of the questions is shown in a bar chart in which most designers said that total expenditure on a lehenga is between Rs. 5,000 and 10,000. The preferred colours are warm/bright colours, mostly picked up by the Punjabi Rajput bride, and the selection of design pattern is both abstract and traditional. They prefer to use accessories and embroidery in lehengaand the preferred fabric is cotton/silk and they required the packaging of the material for lehenga. The suggestion from designers was good and according to the Punjabi lehenga.
References
1). Conservancy.umn.edu
2). Crln.acrl.org
3). Articles.latime.com
4). Scuplure-museum.com
5). Wikimedia.org
6). Mentalflos.com
7). Barnard Nikolas, Gillo John, Traditional Indian Textile, 1951.
8). Dr.Shailaja D. Naik, Folk Embroidery and traditional handloom weaving, S.B Nangia, A.P.H. Publishing Corporation, 1997.