Technological development in the field of online business started from the early 1990s. At that point, only structured, less experiential goods could be experienced on online e-commerce.
Digitisation helped fashion retailers strategize newer ways to reach and engage with consumers. As a result, many fashion e-commerce sites developed and encouraged consumers to look for online products, offers and new collections. Digital innovation has made it possible for fashion and lifestyle products to be extensively bought online.
In the last decade, technological innovations enabled fashion consumers to buy online with near-real experience. At the same time, these developments enabled fashion retailers to sell online in a more efficient way.
Technology enhances buying experience
Variety, trends, fitting, colours and brand options are the main factors that impact the consumer's online buying experience. Technologists across the globe are working to enable such near-real experiences of online purchases. Social media enabled fashion e-commerce and has led to take trends, styles and other influential aspects to the next level with sources of feedback and sharing of user experiences.
<![if !supportLists]><![endif]>Varied Exposure
Consumers can quickly search for options across various sites via aggregators like ROPOSO. Technological enhancement has made accessibility more convenient with advent of marketplaces, providing customers with more options on a single platform.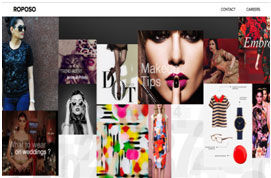 Making decisions on selection

Industry stalwarts are aiming at enhancing consumer experience by enhancing visual appeal for the web store. E-commerce sites are constantly upgrading the technologies. Improved internet speed helps consumers view quality images.
Multiple images, various angles

Image size, zoom functionality, alignment, margins, background, shadows and viewing angles are features that enable customers to view products carefully to be able to take decisions on whether or not to purchase.