In the past, over-sized category was overlooked, but it's finally getting the deserved attention from international and domestic retailers. Ankush Karwa co-founder - eShopbox discusses the potential, challenges, and the future of plus size clothing category along with the rapidly rising trend of online shopping in India.
Finding the right clothes to wear takes effort. It requires even more effort to find plus size clothes. The term plus size may even sound rude, but that's what it is. Over the years, plus size has been considered as a niche category, but now it is a booming industry. The emergence of online shopping has led to the increase in the demand and supply of plus size clothing.
Market Scenario
Market Size:
Plus size clothing has come a long way. In the past, choices were limited, but the increase in number of overweight customers around the world has led to the birth of a new niche in demand.
"'The Indian Belly' is the reason that they have started catering plus size services and gained back the customers that they were losing," stated Prem Dewan who oversees the Indian retail market for Corneliani, an Italian maker of svelte suits.
"Since economic growth slowed to 5 per cent last fiscal --- the weakest this decade --more retailers have targeted specialised markets, such as those buying large sizes," says Abhay Gupta, Chief Executive Officer of New Delhi based retail consulting firm Luxury Connect.
India's branded apparel market is projected to double to US$ 18 billion by 2017, according to for retail consultancy Technopak Advisors, encouraging brands from Ermenegildo Zegna Group to Corneliani to expand their business.
<![if !vml]>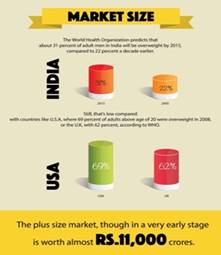 <![endif]>
Market Growth:
In the past, over-sized category was overlooked, but it's finally getting the deserved attention from retailers like Pantaloons, Biba and Mustard. Online fashion retailer Myntra recently ventured into plus size clothing with a varied portfolio of brands, offering sizes ranging from 2XL to 5XL. "The plus size segment is a latent market that offers huge opportunity," said Ganesh Subramanian, Head - New Initiatives at Myntra.com.
Retailers say almost 30 per cent of customers look for plus size clothing, a segment driven by increasing demand. According to data from the study, as many as 46 million people are overweight in India. The women's wear segment for plus size clothing is expected to reach US$ 22.3 billion by 2017. According to a Technopak report, the plus size clothing category already contributes US$ 1.8 billion and is expected to double by 2017. Previously, several international brands such as Ralph Lauren and Michael Kors have been associated with full-figure fashion with dedicated lines.