Elastane fibre has the property of stretching and so it is used in making stretch yarn. Fabric with stretch yarn provides the wearer comfort, durability, wrinkle resistance and freedom of movement. Therefore, such fabrics are in high demand. Piyush Chandarana and Bharat Thakar explain about the process and methods of manufacturing stretch and speciality yarn without any attachment.
Even in denim and other fabrics for making some styles of trousers, stretch yarn is widely used and 80-85 per cent of the domestic demands for them are with stretch yarn in the weft.
Making core spun cotton stretch yarn
Probable methods of core-spun yarn production are discussed below:
1. Conventional core spinning attachment with ring spinning systems
2. S.R.R.C core wrap spinning method
3. A.R.S. patterned spinning system
4. Core-twin spinning system
5. Composite electrostatic spinning system
6. Rotor spinning system
7. Friction spinning system
8. Air jet spinning system
We started a project of making the stretch yarn on rotor spinning. Initially, we inserted the elastane yarn into the rotor with various methods so that it would spin with cotton and give the stretch yarn. One of the ways in which we got the stretch cotton yarn is given in below Figure 1. In the method shown, we inserted elastane yarn from the back of the rotor and due to centrifugal force inside the rotor, elastane yarn comes in centre of cotton. This gives us core spun open end stretch yarn from the take up rollers.
<![if !vml]>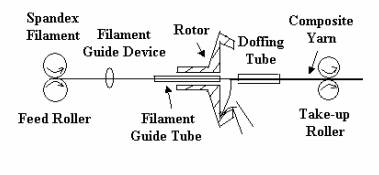 <![endif]>
Fig.1. Making the open end core spun stretch cotton yarn
The above process has many limitations since it requires a lot of modifications for the elastane yarn to enter the rotor. We have checked fabric made with such yarns but there were issues like uneven stretch.
After the trial mentioned above, we spun the elastane yarn with cotton into the ring frame. This is shown below in Figure 2.