Israel-based Kornit Digital develops, manufactures and markets industrial and commercial printing solutions for the apparel and textile industries. Kornit caters directly to the needs of both designers and manufacturers. Founded in 2002 by seasoned professionals with extensive experience in the digital printing industry, Kornit provides its customers with a complete digital printing solution, from start to finish. Gabi Seligsohn, CEO of Kornit Digital, explains the importance of state of- the-art textile printing technology.
The digital revolution has impacted, transformed and - in some cases - even eliminated entire industries. The compact disc meant the end of magnetic tapes and enabled lossless reproduction of music, with or without the blessing of the record labels. The entire value chain of printed media and newspaper production has been completely shaken up in both production and consumption. Nobody uses printed maps anymore; GPS systems and digitised maps have become a commodity. These changes have always proven beneficial to the fast movers, and to business leaders that were ready to accept and master the change. The companies that stuck to old-fashioned business models and conventional technology, however, have usually either suffered or do not even exist anymore.
A few years later, the same process is now taking place in textile printing, and this has never been more obvious than in this ITMA year.
When I joined Kornit Digital in April 2014, I immediately recognised the opportunity to join a major player in one of the strongest growing markets of today.
<![if !vml]>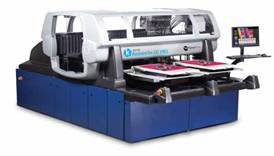 <![endif]>Textile printing is a mature industry with the relevant textiles for Kornit Digital being those which are either wearable or for home decor. At present, the global textile market as a whole is worth annually around $1 trillion. Of that amount, $165 billion represent printed textiles. The dominating technology in this market is screen printing which admittedly has its cost benefits in mass production and large print runs. On the other hand, it imposes significant limitations to the new and creative business models of today, such as e-commerce applications and short to mid-size runs of particular designs with a high variability of the media being printed upon.
With screen printing, the set-up process is very lengthy and costly, and it requires customers to order large quantities of a single design. The minimum order quantity is usually in the thousands if you want to manufacture at a competitive price. On top of that, the production is too often a burdensome and dirty process with negative implications for the environment.
There are three elements that drive the need for change right now:
<![if !supportLists]>• <![endif]>First, on the demand side, customers and consumers are increasingly looking for customised fabrics and garments. People want to express themselves with what they are wearing or what they are dressing their houses or offices in and want to appear unique.