Overall shipments of textile machinery fell in 2014. While short-staple and draw-texturing spindles saw a decline, flat-knitting machines saw more shipments. Though most segments saw declines - from the marginal to the considerable, the outlook in the industry is better this year, says Subir Ghosh.
Shipments in most of the textile machinery segments experienced worldwide declines last year. The deliveries of new short staple spindles dropped 15 per cent from 2013 to 2014. Shipped long-staple spindles and open-end rotors increased by 70 per cent and 2.6 per cent respectively, and the number of shipped draw-texturing spindles grew by around 12 per cent. Shipments of both shuttle less looms and new large circular knitting machines also fell by 14 per cent and 22 per cent year-on year. The only segment where shipments rose considerably was in the case of flat-knitting machines: 31 per cent.
These indicators have been revealed in the latest edition of the International Textile Machinery Shipment Statistics (ITMSS) that was published by the International Textile Manufacturers Federation (ITMF) in May this year. Volume 37/2014 of the ITMSS represents the 41st year of the statistical series that was launched in 1974 (then called the International Cotton Industry Statistics Supplement). This year's report covers six segments of textile machinery: spinning, draw-texturing, weaving, large circular knitting, flat knitting, and finishing machinery. The 2014 survey was compiled in cooperation with some 110 textile machinery manufacturers over 112 in 2013, representing a comprehensive measure of global production. According to the ITMF, the term "shipment" refers only to machinery produced by the participating manufacturers (for both the domestic market and for exports) which were physically shipped during the year under review. To clarify: this does not indicate either sales or installations. Broadly speaking, the overall decline in the shipment of new machinery is being seen as inevitable fallout of the slump in the global economy. According to the World Economic Outlook 2015 released by the International Monetary Fund (IMF) in April, global growth in 2014 was a modest 3.4 per cent, with a pick-up in growth in advanced economies relative to the previous year, and a perceptible slowdown in emerging markets and developing economies. However, despite the unwelcome slowdown, emerging markets and developing economies still accounted for three-fourths of global growth in 2014. There were a number of factors which have resulted in the slow growth: medium- and long-term trends, such as population aging and declining potential growth; global shocks, such as lower oil prices; and many country- or region-specific factors, such as crisis legacies and exchange rate swings triggered by actual and expected changes in monetary policies. To read more into the global textile machinery shipment trends, it is important to see it in the backdrop of the overall global economic scenario.
The IMF projects global growth to hover around 3.5 per cent and 3.8 per cent in 2015 and 2016. This is much more optimistic than the 2.8 per cent growth that the World Bank expects this year, and 3.2 per cent the next. The World Bank figures were published in the 2015 Global Economic Prospects report released in June this year. Developing countries face a series of tough challenges in 2015, including the looming prospect of higher borrowing costs in a new era of low prices for oil and other key commodities. This will result in a fourth consecutive year of disappointing economic growth this year.
Both the World Bank and the IMF are unanimous that the global economy is recovering. This recovery is also reflected in the subject at hand: textile machinery. Participants at a textile machinery workshop organised by the ITMF at Zurich, Switzerland, in May, were upbeat about prospects. The Federation reported in its June newsletter, "Despite the heterogeneous assessment on the country-specific outlook, the overall perspectives for the textile machinery industry are viewed as positive. One major factor, which certainly has contributed to the more upbeat outlook is the ongoing global economic recovery. The economic situation especially in major industrial economies is improving which will have positive feedback loops also on the textile machinery sector." The mood had been considerably bleaker last year.
Spinning machinery
The spinning machinery segment saw some upheaval. Shipments of new short staple spindles dropped by a significant 15 per cent in 2014, in sharp contrast to the 10 per cent increase of 2013. Short-staple spindle shipments declined to 9.8 million in 2014, the lowest in the five preceding years, and also lower than the ten-year- average of 10.9 million. Most of the new short staple spindles (91 per cent) were shipped to Asia- Oceania, where shipments fell by nearly 17 per cent year-on-year. China, the world's largest investor in short-staple spindles, saw a decline of a substantial 29 per cent. In fact, it had been China that had been seeing a growth in this segment since 2008.
<![if !vml]>

<![endif]><![if !vml]>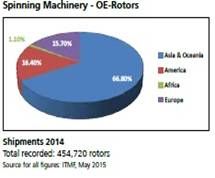 <![endif]><![if !vml]>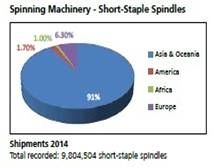 <![endif]><![if !vml]>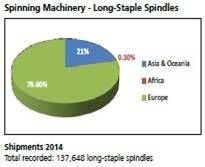 <![endif]>
Five of the largest investors for short-staple spindles were from Asia: China, India, Pakistan, Indonesia and Vietnam with 2013 installed capacities of 110 million, 49.46 million, 11.94 million, 11.79 million and 5.1 million respectively. However, shipments of short-staple spindles to Turkey, the fourth largest investor (7.1 million), increased by 5 per cent in 2014, registering the third consecutive annual increase. The 2013 global installed capacity for short-staple spindles (which constitutes over 90 per cent of the spinning machinery installed capacity globally) was 244 million, with Asia's share at 211 million. The segment that saw growth was long-staple spindles, where global shipments increased by a whopping 70 per cent from 80,800 in 2013 to 137,648 in 2014. This has been the highest rise in the last three years. The 2013 global installed capacity figure for long-staple spindles was 14.7 million, with Asia being the largest with 6.6 million, followed closely by Europe with 4.17 million.
Europe has been witnessing growth. The majority of long-staple spindles (69 per cent) were shipped to Europe. Shipments to Turkey rose to 67,000 which was equivalent to a share of 49 per cent of global shipments. Within Europe, Belarus and Italy came second and third with shipments numbering 21,216 and 10,584 spindles. In 2014, shipments to Asia increased marginally by 0.2 per cent to 29,000 spindles with only three countries figuring in the list: China (19,552), Iran (6,000) and India (3,456). While North and South America did not receive any shipments of long-staple spindles, shipments to Africa amounted to only 432, with South Africa being the sole destination.
Shipments of open-end rotors improved moderately in 2014 by 2.6 per cent after declining consecutively the previous two years. The number of shipments reached to 454,720, the highest level since 2011 and well above the long-term average of 402,669. The 2013 global installed capacity figure for open-end rotors was 8.34 million, with Asia being the largest with 4.9 million.
Nearly 67 per cent of worldwide shipments of open-end rotors were destined for Asia though the pace has been slackening in the continent over the past few years. Shipments to Asia, still the largest market with about two thirds of the share) fell by 13 per cent after the previous declines of 13.9 per cent and 11.9 per cent in 2013 and 2012 respectively. In South America, shipments declined (by 9.3 per cent). In contrast, shipments to Europe and, especially, North America saw strong increases of nearly 27 per cent and an astonishing 402 per cent respectively. Within Asia, China was the biggest destination for open-end rotors with 147,180, followed by a distant India (36,264), the Philippines (26,320) and Indonesia (23,480). The US, which had a 2013 installed capacity of 670,000, accounted for 60,632 shipments in 2014. This was the second largest destination for open-end rotors after China.
Draw-texturing machinery
<![if !vml]>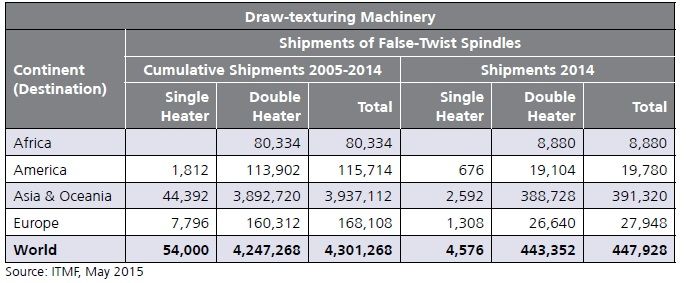 <![endif]>Global shipments of single heater draw-texturing spindles (mainly used for polyamide filaments) increased by 76 per cent from 2,600 in 2013 to 4,576 in 2014. With nearly 57 per cent, Asia is the region where most of the single heater draw-texturing spindles were shipped to, followed by Western Europe with 20 per cent and South America with roughly 15 per cent. Within Asia, there were only two destinations: Chinese Taipei (1,632) and China (960). Italy was the third largest with 924.
In the segment of double heater draw texturing spindles (mainly used for polyester filaments), the downward trend continued and global shipments fell by 12 per cent on an annual basis to 443,352. However, the pace of decline moderated somewhat compared to 2013 when shipments fell by nearly 30 per cent. Asia's share of worldwide shipments amounted to almost 88 per cent. China remained the largest investor accounting for 60 per cent (i.e. 266,056) of global shipments. Within Asia, Japan came second with 57,960 and India a distant third with 14,640.
Weaving machinery
Shuttle-less looms have been seeing a steady decline. Worldwide shipments of shuttle-less looms fell by 14 per cent to 71,667 units in 2014, dropping for the third year in a row. Shipments of water jet shuttle-less looms dropped 30 per cent to 24,220, which was the third fall since 2012. Shipments of air-jet looms too declined, though this was the first fall after four years of increases. The number of shipped air-jet looms contracted by 19 per cent to 20,176 in 2014. In contrast, deliveries of rapier/projectile looms shipments rose by 14 per cent from 23,828 in 2013 to 27,271 in 2014, the highest level since 2006.
<![if !vml]>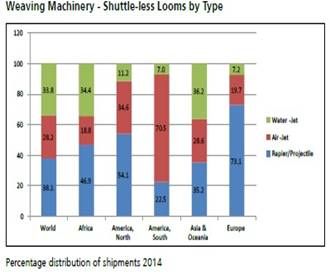 <![endif]><![if !vml]>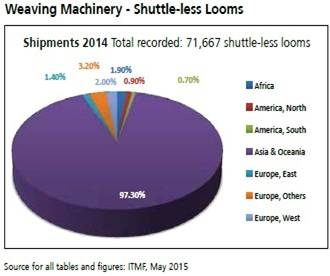 <![endif]><![if !vml]>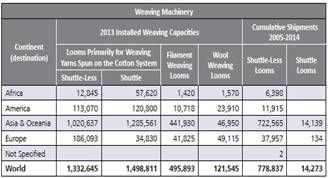 <![endif]><![if !vml]>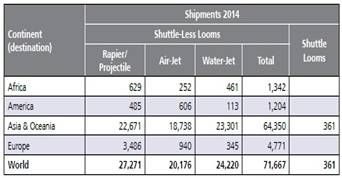 <![endif]>
According to the ITMF, the figures for this segment are less accurate than others for two reasons: first, in case of filament-weaving looms, the data for several countries are not available, and hence May numbers are based on estimates; and, second, due to a less systematic reporting system, the data for capacities in the long-staple (wool) sector are estimates as well.
For weaving machinery too, Asia- Oceania in 2013 had the largest installed capacity of both shuttle-less and shuttle looms with 1.02 million and 1.28 million out of a global installed capacity of 1.33 million and 1.498 million respectively. As in previous years, the main destination of shuttle-less looms was Asia amounting to a share of 97 per cent (64,350 out of 71,667) of worldwide shipments. Therefore, the percentage of the three sub-categories is relatively even. Water jet looms measure 36 per cent (23,301) of shipments to Asia, 35 per cent (22,671) are rapier/projectile looms and 29 per cent (18,378) are air-jet looms. In Europe and North America, 73 per cent and 54 per cent of shipments are for rapier/projectile looms, while the share of water-jet looms is only 7 per cent and 11 per cent respectively. Within Asia, China dominated with total shipments of 33,049. India was half with 16,207 total shipments, but was the biggest destination for rapier-projectile looms with 8,043 shipments. In this subcategory, China was second with 5,994 units and Bangladesh third with 4,945 units.
Circular and flat-knitting machinery
Global shipments of large circular-knitting machines fell by 22 per cent from 36,575 in 2013 to 8,502 in 2014, the lowest level since 2009. Also for this category, Asia was the world's leading investor. Nearly 88 per cent (25,039) of all circular knitting machines were shipped to Asia, and with a share of 60 per cent (16,957 shipments) of worldwide deliveries China was the single largest investor. India and Turkey ranked second and third with 2,464 (8.6 per cent) and 1,325 units (4.6 per cent) respectively.
The year 2014 was good for the electronic flat-knitting machines segment as global shipments grew by 31 per cent to 46,103 units. This was the first increase since 2011. Asia received the highest share of shipments. Over 85 per cent (39,465) of all deliveries went to Asia, with China being the largest investor with a share of 42 per cent equivalent to over 19,391 units. Including China, four of the five largest investors for flat-knitting machines were Asian countries. The second and third were Bangladesh (11,312 units) and Vietnam (1,956). Turkey ranked fourth with 1,879 machines and India fifth with 1,840 units.
All shipments in the hand-knitting and semi-automatic machines went to Asia: 18,346 in all. Of these, 10,000 units were marked for China, and 4,921 for Bangladesh.
<![if !vml]>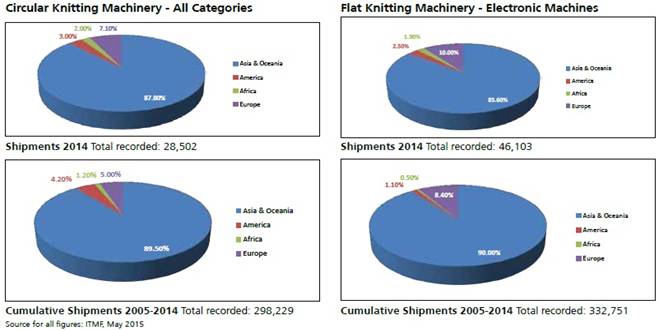 <![endif]>
<![if !vml]>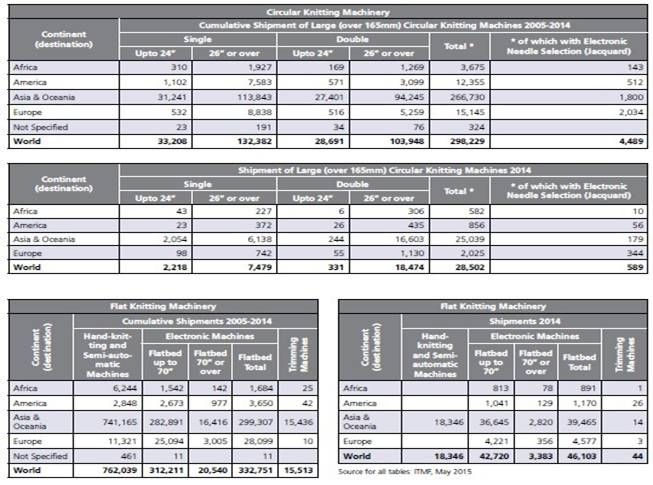 <![endif]>
Glimmer of hope
Even though the 2014 numbers have come across as dampeners, those would need to be seen in the light of what both the World Bank and IMF have forecast: things will be better in 2015, marginally though. Both the predictions hinge on a slow but sure-shot US recovery.
The World Bank report had remarked, "Among major economies, growth in the Euro Area and Japan is picking up, and the United States should continue to expand at a robust pace despite recent setbacks, while the slowdown in China is proceeding as anticipated in January. High-income countries are expected to grow by 2 per cent in 2015 and 2.3 per cent in 2016-17. Compared with 2014, growth in developing countries is expected to slow to 4.4 per cent in 2015, 0.4 percentage point less than anticipated in January, before rising to 5.3 per cent in 2016-17." The IMF, on the other hand, had said, "Growth in the US was stronger than expected, averaging about 4 per cent annualised in the last three quarters of 2014. Consumption - the main engine of growth - has benefited from steady job creation and income growth, lower oil prices, and improved consumer confidence."
In the textiles context, the numbers from the US have been encouraging. American textile companies have increased the pace of hiring. According to ITMF, in May 2015, employment in the textile mills sector rose to 119,400 persons - the highest level since September 2011. In May 2015, capacity utilisation rates for the textile mills and apparel manufacturing sectors reached 82.3 per cent and 87.4 per cent respectively, well above the capacity level of total manufacturing of 77.8 per cent.
Consequently, the textile machinery outlook too is brighter than last year. In the ITMF survey (mentioned earlier), 20 per cent of the participants expected a 'very good' order intake for the coming months. A rating of 'very good', according to the Federation. Compared to last year, when the same question was asked, the percentage of 'very good' votes has increased by nine percentage points. The survey is essentially a comparison between last year's and this year's assessment on current order intake. The ranking goes from 'very good' to 'moderate' to 'very bad'. 'Very good' is equivalent to an expected year-on-year increase of orders of over 10 per cent, while 'very bad' indicates an annual decrease of orders by over 10 per cent. 'Moderate' signals a year-on-year change ranging between -1 per cent and +1 per cent. The percentage of survey participants that stated the order intake in Q1 2015 was 'very good' increased substantially from a meagre 7 per cent in 2014 to much more optimistic 26 per cent this year. The percentage of 'bad' and 'very bad' votes for Q1 2015 amounted to 13 per cent, which was a significant drop compared to last year's rather high 30 per cent.
On the overall outlook of order intake, expectations of textile machinery orders varied among countries. This year, the survey participants were more positive on the future development of orders in China than last year. The combined percentage of 'good' and 'very good' rose from 25 per cent to 35 per cent, while the share of 'moderate' votes climbed from 38 per cent to 49 per cent. For the US, the combined share of people regarding the perspectives as 'good' and 'very good' fell from 63 per cent to 53 per cent, while the percentage of 'moderate' votes rose by ten percentage points to 34 per cent. In case of India, the outlook improved, as the percentage of 'bad' and 'very bad' votes dropped from last year's 22 per cent to 13 per cent this year. The survey was conducted by ITMF, Swiss men and VDMA.
In the days to come
For both the global and Indian textile machinery industries to recover, a number of factors the world over would need to stabilise - from oil prices to currency exchange rates. The Indian industry cannot possibly be totally insulated from the global developments, but it has its own advantage: growth within the country. Approaches always have to be multi-pronged, and it will be in the Indian industry's interest to turn the despondent situation into a glorious opportunity.
About the author
Subir Ghosh is a Bangalore-based journalist and researcher.