On the way to sustainable mobility, technical textiles are contributing fast and effectively in numerous applications in Automotives
Automobiles are the lifeline of the current society and the sector is consistently growing at a healthy rate decade after decade. With technological advances, comfort and safety features, a lot of emphasis is given on the material being used in almost all components of vehicles. Many such changes have resulted in the material substitutions to meet characteristics such as light weight, lower emissions, durability, anti-corrosion, fire-proofing, and passenger safety. These developments have become a global norm now and a lot research and development is going on to try and find best alternatives to conventional materials.
One such material comes from the textile industry and is broadly called automotive textiles and because these materials are specially designed to meet above mentioned objectives; these are call Technical Textiles. E.g. yarns, fibers, filaments, fabrics, and composites.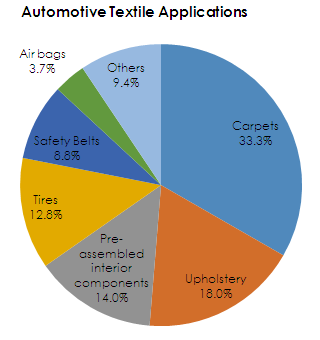 The vehicles in the future will wear increased amount of textiles and the major drivers to this increased demand are need for lighter and more fuel efficient vehicles, rising disposable incomes in all growing economies, and the increasing usage of the passive safety devices, adoption of tighter safety norms by growing and populous countries. The average weight of textile material in a mid-size car today is around 30Kg and this figure is expected to reach 35Kg by 2020.
According to our analysis, it has been projected that knitted and woven fabrics will account for a major share of the global automotive textiles market. This forecast holds strong despite an increase in the usage of composites and rise in the penetration of nonwovens in the automobiles. As far as nonwovens are concerned, there are now more than 40 applications for nonwovens inside cars, encompassing over 35 square meters of flat surfaces.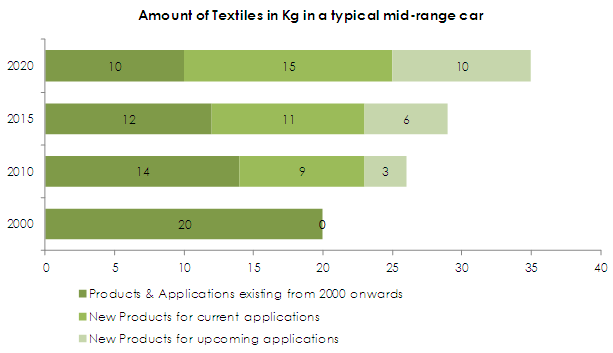 There will be momentous growth in the market for passive safety devices in the near future that include airbags and seat belts, as a result of new legislation which will make the fitting of airbags mandatory on all vehicles in the majority of the developing countries by 2016. The global consumption of textiles used in automobile industry is estimated to be around 2.7 million metric tons in the year 2014, which is expected to rise to over 4 million metric tons by the year 2020.
This growing demand has thrown up a lot of challenges for textile makers and they're already researching on key segments such as smart textiles for vehicle interiors, invisible electrically conductive fabrics for textile heating and cooling systems in seats, sensitive textile panels that can convert hand movements into gear shifting signals and so on.
There are lot more avenues that will see textiles replacing existing materials in vehicles in near future. On the way to sustainable mobility, technical textiles are contributing fast and effectively in numerous applications creating a lot of opportunities for innovative and next gen textile makers.
These are more such developments are analyzed and discussed in Fibre2Fashion's upcoming syndicated research report on the market opportunities for technical textiles in Automotives, to know more about the report please contact : mi@fibre2fashion.com