Global Nonwovens for Hygiene Market- Applications, Trends and Market Outlook
Nonwovens are a sheet of natural or man-made fibres or filaments, excluding paper, that have not been converted into yarns, and that are bonded to each other by several methods like by adding an adhesive, creating physical tangles or tuft among the fibres, stitching the fibres or filaments, etc. The versatility of nonwovens means that they can deliver innovative, cost-effective and sometimes surprising answers to innumerable business challenges. Many properties of nonwovens that can be achieved by selecting raw materials and methods are abrasion resistant, antistatic, biodegradable, crease resistant, flame resistant, ironable, long-lasting, mouldable, permeable, sewable, stretchable, tear resistant, washable, weldable, etc.
Nonwovens manufacturing starts by the arrangement of fibres in a sheet or web. The fibres can be staple fibres packed in bales, filaments extruded from molten polymer granules, Bi-component fibres, or fibres made from bio-polymers. There are four methods used to form a web or sheet of nonwovens: Drylaid, Spunmelt, Wetlaid and other techniques. Nonwovens have many applications in various fields like Medical, Filters, Geotextiles and others.
Nonwovens used in hygiene field have numerous applications like feminine hygiene products, baby diapers, adult incontinence products, tissues, wet towels, surgical gowns, face masks, and others. The major players in the hygiene market are Freudenberg, DuPont, PGI, Kimberly-Clark, Unicharm, Ahlstrom, and others.
The global nonwovens market was $37 Bn in 2014 and is projected to reach to $50 Bn by 2020. The consumption of nonwovens in 2014 was $37 Bn worldwide. World nonwovens market demand is expected to rise by 6% by 2018.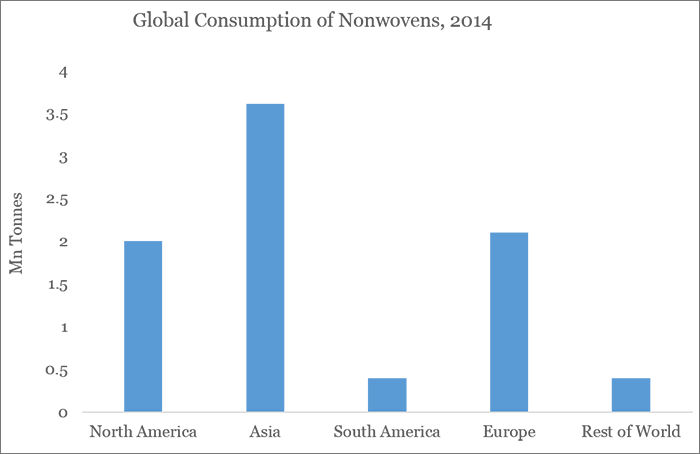 The global market for nonwovens for hygiene was at approx. $9 Bn in 2014 and is expected to grow at a CAGR of 7% by 2018. China is the fastest growing country in the nonwovens market. North America and Western Europe accounts for roughly 20 percent of the market. The Central and South America, Eastern Europe and Africa/Middle East each accounts for less than 10 percent of the global nonwovens market. Spunmelt nonwovens is to be fastest growing by process and is projected to be the most rapid gains by 2018.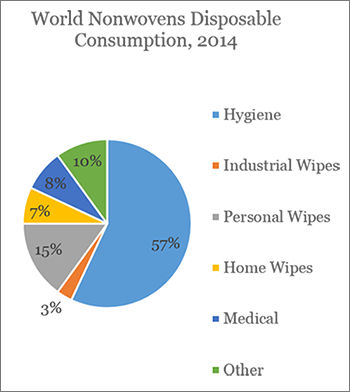 The major exporters of nonwovens are United States, Germany, France, United Kingdom and China with a market share of 28% together in 2014. While China, United States, Germany, Italy and Japan are the major importers with a market share of 50% together in 2014.
The major factor that is driving the growth of nonwovens for hygiene market is rising health and hygiene awareness among people around the world. Growing demand of incontinence products and baby diapers has been driving the nonwovens for hygiene market. Demographics of North America are persuading the growth in Adult Diapers/Underwear.
Price fluctuations of raw materials is the major limiting factor for nonwovens hygiene market. To manufacture nonwovens fabric, the technology which is used is very expensive. This will limit the growth of nonwovens for hygiene market.
Rapid development in healthcare infrastructure and the presence of high unmet needs in the emerging markets like India and China are some factors likely to present manufacturers with lucrative future growth opportunities in nonwovens for hygiene market.
Demand of nonwovens for hygiene market is expected to increase by good percentage in the next five years. The future will show various new nonwoven technologies and innovative finished products to make life easier for consumers, care-givers and health care professionals.