The SAP Market
Introduction
Superabsorbent polymers are those classes of special materials that have the capacity to absorb and retain large volumes of water and aqueous solutions. The market for the superabsorbent polymer (SAP) in the past few years has grown significantly as major manufacturers prepare themselves for growth of hygiene markets globally. Although majority of these investments are in the developing regions, responding due to the growth in sanitary napkins and baby diaper markets, but there is also investments in more developed regions as demand for SAP is driven not only by growing demand for the products that use SAP but also by increasing amounts of the SAP per unit as the adult diaper requires more than double the amount of SAP than in baby diaper. In mature markets it's more about the adult incontinence market and in further down the road this market could be larger than the diaper market.
Since its development in 1978, the use of SAP has revolutionized the diaper industry because of its unique ability to absorb and retain aqueous solutions up to 60 times its volume and 500 times its weight and diaper manufacturers soon began to design diapers that were thinner, more absorbent and more comfortable than ever before. The global diaper market has traditionally been the largest market for SAP globally, at one-point comprising as much as 85% of sales, but recent developments in the adult incontinence market are changing the customer mix in the market.
The Roadmap
Superabsorbent polymers were first produced commercially in Japan in the year 1978. It was first targeted at feminine hygiene items, but SAP soon found a place in the diaper market because of its ability to absorb and retain aqueous solution. SAP is prepared from acrylic acid and a crosslinker by solution or suspension polymerization. The type and quality of crosslinker controls both swelling capacity and the gel module.
During the past few years, SAP has progressively substituted fluff pulp as the main component of the diaper core. Early diapers contained SAP just one to two grams of the material, but this number has increased to 15-16 grams per diaper as the amount of fluff pulp has diminished and some modern diapers have almost no fluff pulp at all.
This has driven up SAP levels in most diapers until recently. The amount of SAP, in terms of grams, has started to decrease as newer grades of the polymer improve performance, and diaper design improves the liquid management within the SAP. In other words, not as much SAP is required to do the same work. The SAP is now being engineered to more powerfully absorb liquid and the diaper makers are moving the SAP's position within the diaper to ensure that it is all used.
These developments have been both good and bad for SAP producers. Demand for more complex diapers has created a more value-added marketplace, weeding out the companies that cannot offer this level of performance; however, it has lessened the amount of SAP needed in a marketplace facing an overcapacity situation.
Current Scenario
The scenario today is that only the top manufacturers with the most innovative products can survive. If they do not innovate, things will be particularly bad when capacity gets high. Major players today are continuously working on new products all the time which include work on performance, swelling, speed of absorbency and odor control. Challenges facing products are meeting the need for softer, thinner and almost invisible diapers, preventing skin irritation and supporting better mobility. In the upcoming future there would be a requirement to further enhance sustainability of hygiene products, including of promotion of eco labels and measures to reduce waste.
The top three companies today, BASF AG, Nippon Shokubai and Evonik Industries, occupy 51% of the production, and the output of each company exceeds 500,000 tons/year.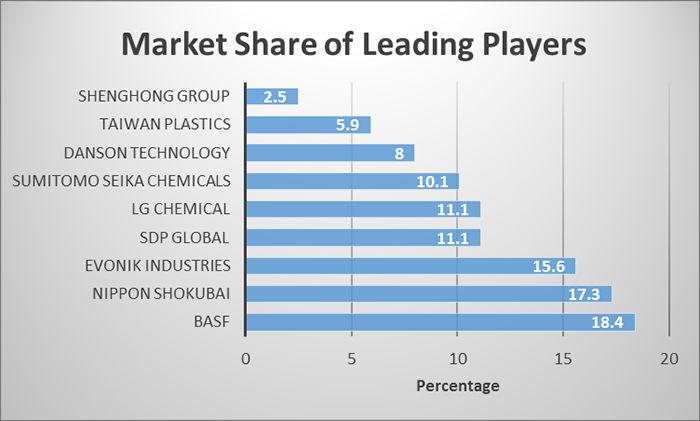 In light of all these, the global production of SAP will reach 2.7 million tons by the end of 2015 and 2.8 million tons by the end of 2016. This is creating a situation markedly different from the SAP market of a few years ago, which was described as a seller's market. In dollar figures, the global superabsorbent polymers market will reach $8.78 billion by 2020 and the CAGR growth will be 5.5% between 2014 and 2020.
New Markets
This study found that increasing demand for baby diapers and adult diapers in emerging economies of Asia-Pacific will likely boost demand for SAP in the region over the coming years. Additionally, rising hygiene awareness among the ever-increasing population is estimated to boost demand for superabsorbent polymers in Asia Pacific.
Demand for SAP is expected to be high in Asia Pacific due to growing end-use industries in countries such as China and India. Asia Pacific is anticipated to be the fastest growing market during the forecast period. Superabsorbent polymers are used on a large scale by the hygiene products industry in developed regions such as North America, the largest market for superabsorbent polymers. Tied a number two, Europe and Asia-Pacific each accounted for more than a 25% share of the global volume of superabsorbent polymers in 2013; however, growth in Asia Pacific is expected to be the fastest growing, expanding at a CAGR of 5.4% between 2014 and 2020. The rest of the world, including the Middle East and Africa, is likely to be the second-fastest growing market for superabsorbent polymers during the forecast period.
Regional production capacities are shown in the Figure below are as follows: China's annual capacity is 740,000 tons/year (23% share); Japan's annual capacity is 660,000 tons/year (20% share); Europe's annual capacity is 542,000 tons/year (17% share); the U.S.'s annual capacity is 501,000 tons/year (16% share); Korea's annual capacity is 360,000 tons/year (11% share); and others are 434,000 tons/year (13% share). Due to the high demand for SAP in China, production capacity in the country will grow significantly in the future.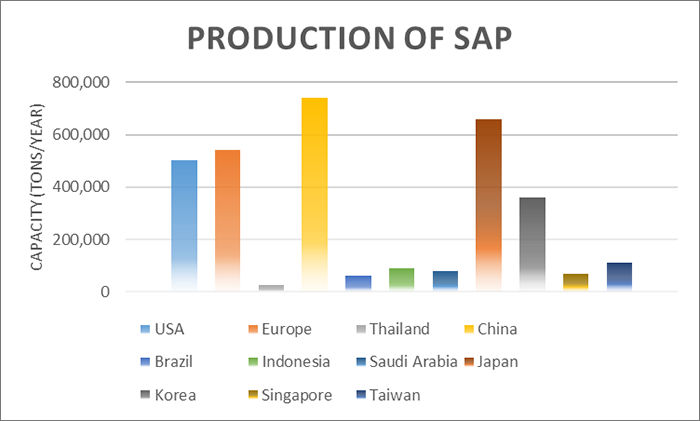 In terms of product segments, superabsorbent polymers is divided into three types: sodium polyacrylate, polyacrylamide copolymer and others including ethylene-maleic anhydride copolymer, polyvinyl alcohol copolymers, etc. All types of super-absorbent polymers are used in various applications such as sanitary napkins, training pants and diapers. Hence, demand for these polymers is high in the market. Polyacrylamide copolymer is estimated to be the fastest growing segment, due to its nontoxic nature and high water absorbing and retaining property.
Application segments include baby diapers, adult incontinence products, feminine hygiene products and others. Among these, baby diapers is primarily expected to boost demand for superabsorbent polymers in the market. The baby diaper industry accounted for more than a 74% share of the global superabsorbent market and the market for adult incontinence products was the second largest, which accounted for 224.3 kilotons.