There are too many variables. They are all moving very, very fast. By the time you understand one thing, not only "that thing" has changed but many new variables would have also popped up. So, how does one begin working at Textiles 4.0? Global futurist Aseem Prakash says how.
Is your business ready for Textiles 4.0?
Before you can say, 'Yes', 'No', 'May be' or 'I don't know', you will want to know what does Textiles 4.0 mean. Once you've understood its meaning and scope, your thinking and perhaps, even your business strategy, will change dramatically. Or, so it should.
So, what is Textiles 4.0?
Here is a clue: it is not a conference or an industry expo (although it is a great name for that too). Textiles 4.0 is a fancy way to talk about the Future of Textiles. It is based on a rapidly spreading expression, "Industry 4.0", which in itself refers to how the advancements in various technologies are radically transforming your industry.
Now that you know what Textiles 4.0 means, is your business ready for it?
Here is another clue: as you begin navigating the future, you will soon develop a splitting headache. There are too many variables. They are all moving very, very fast. By the time you understand one thing, not only "that thing" has changed but many new variables would have also popped up. Most variables are unfamiliar or remain unfinished (work-in-progress).
So, how or where do you begin?
To save you a headache pill, here are some of the shifts that you may want to start paying attention to and make yourself future-ready.
Next competitor
Who is your next competitor? Is it a known company, locally or globally? Is it a start-up within, or outside, your industry? What about artificial intelligence? What will you do when a company, start-up or established, uses artificial intelligence to redefine how your industry operates?
No, this is not a hypothetical or intellectual question. It is already happening.
A start-up in India, Stylumia, plans to use artificial intelligence to predict consumer likings and fashion trends. It wants to change how clothing companies make decisions about what to make or how to price, from hunches to analytics.
At a minimum, the power of decision-making and control of what you should or should not do shift from your business to an unknown start-up.
Innovation platform
Talk to anybody from anywhere. In no time, you will be told to invest in innovation. That is no brainer, for sure.
Except, how do you innovate the new product line, especially now, that is right for today and ready for tomorrow? Equally important, how do you build a product that not only gives you an edge in the marketplace, but also simultaneously creates new value for customers?
Earlier, chances are that you assembled a team that would research information, analyse trends and define the new product. If required, the team would also talk with some supply chain partners. In other words, your ability to create an innovative offering sat with you.
But, what happens when that ability becomes a commodity and anybody from anywhere can access the same?
That is the promise of Google's 'Project Jacquard'. It is an innovation platform that allows any clothing company to access "conductive yarns" and weave them into their products.
Innovation platforms like Project Jacquard creates a double whammy. On the one hand, they give you an easy access to new technologies and expertise that otherwise will be expensive and difficult to assemble. On the other hand, they turn cool innovation into a commodity.
Now, if you and your competitors, known and unknown, can tap the same innovation platform, how do you create the competitive edge even if that edge lasts only few quarters?
<![if !vml]>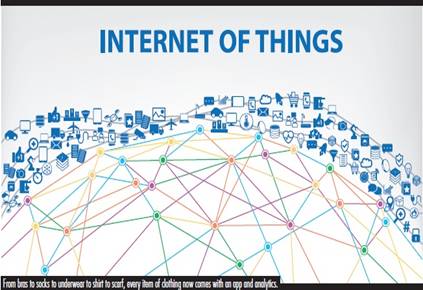 <![endif]>
Connected products
It is no longer cool to talk about connected products that use the Internet of Things. It is expected. It is not the finish line. It is required to get into the game or stay playing.
In fact, if your products are not already connected, intelligent and smart, you will not only lose whatever competitive advantage you currently have but will also miss out on the next generation of revenue streams. From bras to socks to underwear to shirt to scarf, every item of clothing now comes with an app and analytics.
Although, everybody is calling their connected products 'smart', truly smart clothing is more than a connected product. A smart cloth leverages advances in material innovations (many of which are still getting researched).
What is your company's strategy for creating connected or smart clothing?
Next fashion hub
You go to Milan or Paris if you want to know about new fashion trends coming out of the West. If you are after Muslim consumers, the fashion hub may be located in Jakarta or Dubai. You can learn about Asian tastes by visiting Shanghai or Mumbai.
But, if technology is at the core of new product design, where should you go for learning about 'wearable fashion'? Silicon Valley? Consumer Electronics Show in Las Vegas? While both are great places to visit, the next fashion hub may be taking shape in your backyard: start-ups.
Take a look at 'Lechal', a start-up in India that introduced a footwear using haptic technology. The shoe, originally designed for visually impaired people, guides wearers in navigating the city streets using GPS, haptic feedback and app.
Every nation is not only building an ecosystem of start-ups but many start-ups are focused on wearable technology. Are you on top of how start-ups in your country augmenting what you are doing or changing your industry?
Robotic manufacturing
India is gung-ho about 'Make in India'. Perhaps, you are already a part of that wave. However, the biggest shift in manufacturing is not that it has moved from China to India or other places (Cambodia, Vietnam or Ethiopia). The most dramatic shift is that robots are replacing humans (even to make socks and scarfs).
You may have heard of Changying Precision Technology Company in China. Its labour force is 90 per cent robots and 10 per cent humans.
In Kyoto, a Japanese firm, Spread, plans to use robots to farm/produce lettuces and is hoping to more than double the production to 50,000 lettuces a day.
How is your company preparing for robotic manufacturing? From taken acquisition to taken retention to talent departure, how will robots in factory transform your business?
Conclusion
Look at it any which way, your industry is changing in ways not seen before. What does that mean for your business?
First, you are no longer operating inside the known boundaries. Second, your next competitor can come from anywhere. Third, the customer wants value, not just price discount. Fourth, you have a huge opportunity in front of you to 'Profit From The Future'. Fifth, if you fail to act, you will get ubered.
So, are you future-ready?
About the author
Aseem Prakash works as a global futurist with a strategy innovation lab, Center for Innovating the Future. You can reach him via: AseemPrakash.com.