Women of villages near Rishikesh town in Uttarakhand are now earning a livelihood by an ingenious method of mixing bhimal and jute fibres, reports Shishir Prashant.
When Uttarakhand Chief Minister Harish Rawat recently visited a trade fair at Parade Ground in Dehradun, he closely looked at a pair of slippers that caught his fancy. The attractive hand-woven slippers had been made by mixing fibres from bhimal and jute.
<![if !vml]>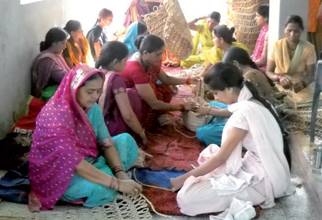 <![endif]>
"Why can't these slippers be used in hotels," Rawat wondered aloud. He asked the state department of micro, small and medium enterprises (MSME) to hold talks with hoteliers in this regard.
Bhimal (Grewia optiva) is a common tree found in the lower Himalayan region. It is abundantly found in Uttarakhand, and used as fodder for sheep and cattle. Its soft twigs and leaves are considered high quality feed for cattle. People in the Garhwal region also use it as fuel for cooking food.
But lately, the fibre from dried and beaten twigs is also being widely and successfully used to make exquisite handloom products such as slippers, baskets, mats and bags.
Of late, women in the religious township of Rishikesh have started mixing the fibre from bhimal with jute to produce these handloom items, according to Veena Pundir, a master-trainer at a village near the famous Swarg Ashram area in Rishikesh. Pundir had been working with Bhartiya Gramotthan Sanstha, an NGO working in many fields, earlier.
<![if !vml]>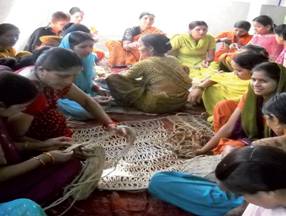 <![endif]>The women in the hills have traditionally extracted fibre from bhimal trees. When they venture into the forests as part of their daily chore looking for fodder, they usually cut bhimal trees which appear resplendent when flowers are in full bloom. Though the wood of bhimal is not preferred as fuel due to its strong pungent odour, the women extract fibre from the twigs. After being chopped down from the forests, the twigs are immersed in a small stream (called gadhera). After 40 days, the fibre is extracted manually and sold to NGOs, which in turn manufacture the handloom items.
<![if !vml]>
<![endif]>The Bharatiya Gramotthan Sanstha has been buying bhimal in the Garhwal region at ₹5-10 per kg and selling it to craftswomen at a much higher price of ₹20 per kg. If a craftswoman buys one kg of raw material (bhimal and jute) at ₹50 per kg, she can make four pair of slippers from the material. Jute incidentally is sold at ₹80 per kg. However, the Sanstha buys back four slippers at ₹240. "So, the women can earn ₹190 for making four pairs of slippers from one kg of raw material," said Pundir. "I had no work till I got a chance to make these slippers. But now, I have started enjoying making these slippers. Now I am able to earn almost ₹200 on a given day," said Sunita Devi, 40.
In order to enhance the look and feel of the fibre, the Sanstha has started using natural dyes of different hues and shades.