Well-known South Korean outdoor brand Black Yak stole the show at the ISPO sports fair in Munich in January bagging as many as ten awards. The brand's plans of entering the European market that have been on hold since 2013 is now set to see the light of the day later in September. Regina Henkel reports.
Well-known South Korean outdoor brand Black Yak will soon be launching in Europe. In times of crisis in the outdoor-wear market, this is being seen by observers as a daring jump. But possibly right too, as some want to believe. At the last sports fair ISPO in Munich, the collection was awarded with an unbelievable ten separate ISPO prizes.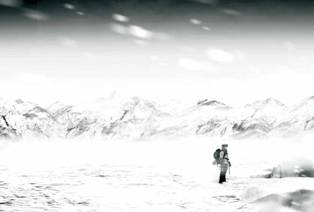 Until now, the flow of goods ran mainly in one direction: Western brands would conquer Asian countries and build up new markets there. Rarely and even more rarely crowned with success, would one see things flowing the other way. Certainly, as far as the fashion industry is concerned. Hardly ever has any Asian brand built up a strong position in either the US or Europe in recent years. Despite many efforts, not even Chinese sports giant Li-Ning could succeed against the overpowering competition from Nike and Adidas in the West. Confident Asian brands that do not try to deny their origin and yet convince with an independent product language have been hard to find in Europe. At least, till now.
Adjusting the collection for Western consumers
Black Yak wants to change all that. At the ISPO fair this January, Black Yak presented its first European collection. Decorated with ten ISPO awards, it was more than a brilliant entry into the new market. Observers from the sports and outdoor markets have been watching Black Yak for a while. This is not only because Black Yak is one of the market leaders in South Korea, a country with the second largest outdoor market in the world.
The brand has been on the European radar since it appeared at ISPO a few years ago. It was the independent, fashion-oriented design of the South Koreans that caught the eye of many ISPO visitors. Many seasons before all traditional outdoor brands from the Western countries began presenting quilted midlayers; Black Yak had those in its own collection. So, the initial talks with potential distributors and dealers were promising.
The launch in Germany was scheduled for 2013, but the brand decided to hang on. "In order to survive a market entry, you have to question some things, and then completely rethink and adjust the plans. This is what we have done in the past months," says Maximilian Nortz, managing director, international business - Europe. Nortz came to Black Yak as global marketing director in April 2014 from a marketing position at Messe Munchen, the organiser of the ISPO trade show. A few months later, he started as international business manager, scripting plans for expansion into Europe.