Two recent studies that looked at supply chain issues have found many, if not most, supply chains are plagued by corruption and abuse of environmental and social norms. But can these two reports be linked to the issue of sustainable development? Subir Ghosh probes.
At an October 2013 round table conference organised by the Guardian newspaper in association with the global engineering and environment consultancy URS, it became evident from the discussions that companies were becoming increasingly exposed to risks across their supply chains, either by disruption resulting from climate change or reputational damage. The discussants built up a strong business case for developing sustainable ways of working throughout a company and its supply chain: saving resources is a more efficient and profitable way of doing business. What has, since, been added to the discourse is the issue of working conditions and labour rights.
It is this aspect that has been highlighted by two recent reports- one of them specific to the textiles and apparel industry-that have exposed corrupt and irregular practices in supply chain management, and also pointed out that they invariably perpetuate environmental and labour violations.
Plagued by graft all through
The supply chain of the garment industry, Bangladesh's biggest export earner, is beset with irregularities and corruption for which global apparel buyers are responsible to quite an extent, a report of Transparency International Bangladesh (TIB) has contended.
<![if !vml]>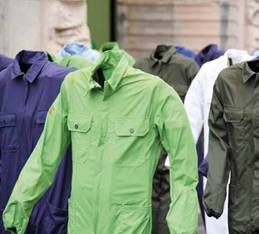 <![endif]>The anti-corruption watchdog, in a report released on January 14 this year, detected anomalies at 16 stages-from order placement to shipment-in the apparel supply chain in that country. Irregularities and corruption at different stages of the chain have become almost a custom in some cases. Moreover, various stakeholders, including factory owners, buyers, auditors and inspectors, were alleged to be involved in the process. The study was titled 'Undress Corruption: How to Prevent Corruption in the Readymade Garment Sector: Scenarios from Bangladesh'.
The report said: "The scenarios reveal that irregularities occur along the entire RMG supply chain, not as an exception but more or less as a rule. Violations of existing labour and safety laws are being 'overlooked' if an envelope containing money is handed over to the concerned official responsible for identifying the violations. Bribery is used to hide deficiencies of quality and quantity and non-compliance with buyers' Codes of Conduct. In this atmosphere of failing governance and accountability of stakeholders, extortion is an additional 'tool' used to maximise profit."