India: Denim Destination
By: Mr. Milindrasinh Jadeja
The global market for denim is forecast to reach $64.1 billion by 2020. The Indian denim industry has shown continual growth over the years and currently the country has a denim manufacturing capacity of around 1.2 billion meters per annum operating at a utilization levels of 80-85%. Despite the impressive statistics, the Indian denim manufacturing industry contributes 5 per cent to the global scenario, reflecting the overall performance of the textiles industry. However, denim is the only segment in the Indian textile industry that has the potential to grow manifold.
According to the Suryalakshmi report, India is being looked upon by an increasing number of global denim manufacturers as an emerging denim export region, owing to its high availability of cotton, qualityf standards, cost effectiveness and large pool of skilled work force. Denim jeans manufacturing cost is substantially lower in India as compared to other developed/developing nations.
<![if !vml]>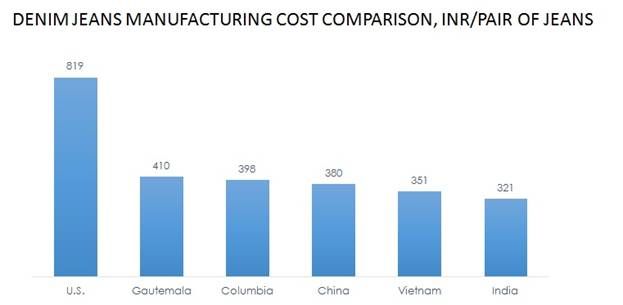 <![endif]>
On the domestic front, the denim wear market is driven by favorable demographics, increasing disposable incomes, westernization of work culture and the ensuing rise in the popularity of denim jeans as business casual wear. With increase in globalization, young India prefers denims as a part of their essential daily wear.
<![if !vml]>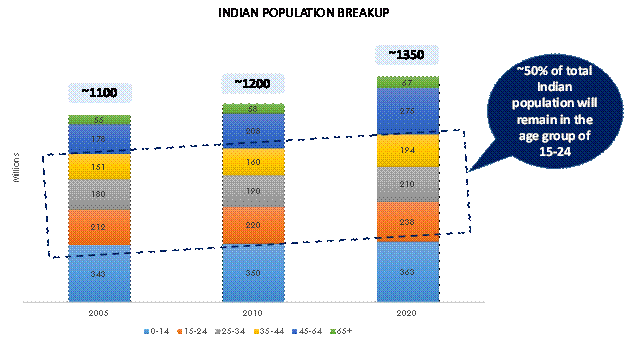 <![endif]>
The Indian demographic age is ripe for consumption where style dominates utility. The median age of the Indian consumer is 26 years with maximum population lying in the age bracket of 15- 59 years. By 2020, it is projected that India will add another 140 million people in the consuming age group. This population has more aspirations, is more aware, has higher spending power and is expected to consume across a greater number of categories than the previous generation. According to the Indian census report, the number of households with an annual income of $7,000 or more is going to increase from about 30 million today to 100 million by 2020. There will be 400 million individuals in the middle to high income bracket by 2020. These indeed will fuel the per capita consumption of denim.
Current Indian Denim Market Scenario
Currently, the Indian market is facing an oversupply situation, following the capacity expansion post 2011 due to lower incubation period after the demand for denim fabric picked up due to recovery in the country's economy. With gradual recovery in global economy and declining cost competitiveness of China, demand for denim fabric picked up post 2011, which prompted players to again embark on capacity expansion.
<![if !vml]>
<![endif]>
Many manufacturing units are unable to fully utilize their capacities, owing to oversupply in the market which in turn, is having negative impact on the operating margins of these players. The capacity addition has grown mostly in the bottom most segment of the market and the mills in the lowest business segment are gravely affected. The mills in the mid and high segment of the business, have faced the lowest impact of this situation.
Denim production capacity has grown by 500 million meters, from 700 million meters in 2010 to 1.2 billion meters in 2015. It is projected to reach 1.5 billion meters by 2020, growing at a CAGR of 4.6%. The share of denim export is projected to increase from 35% in 2015 to 45% in 2020. The two giant denim producers; China and United States, have cut down their production of denim, as a result of rising labor and energy costs. This will lead to significant growth in export demand for Indian denim market. India has been one of the major global suppliers of denim fabrics however, the country still falls behind other competing nations in terms of denim apparel such as jeans. Most of the global brands outsource denim apparel work to Indian players, much of it is meant for the domestic market and not for exports.
The current consumption of denim jeans in India is 453 million pairs. The average per capita consumption of denim jeans in India is 0.3 pair which is very less as compare to that of China and U.S., where average per capita consumption of denim is 1.0 and 8.0, respectively. The per capita consumption of denim jeans in anticipated to increase to 1.0, owing to growing disposable income, favorable demographics, and increasing penetration in rural market.