Paraxylene Market across the Globe
By: Arpan Kharva
Paraxylene is primary raw material used for manufacturing of Purified Terephthalic Acid (PTA) and Dimethyl-Terephthalate (DMT). Both, PTA and DMT are used in manufacturing Polyethylene Terephthalate (PET) saturated Polyester polymers and production of Polyester staple fibre and filament. The global production of Paraxylene in the year 2014 is estimated at 38,757.0KT and the consumption is at the level of 39,400.0KT. The total registered trade of Paraxylene is estimated to be 54,494.5KT in the year 2014.
paraxylene: Demand-Supply Gap Analysis (2014)
<![if !vml]>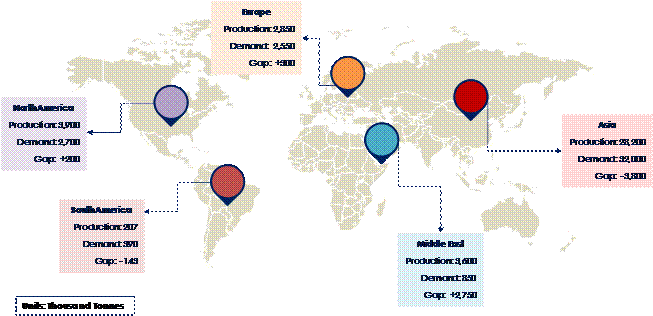 <![endif]>
Source: Fibre2Fashion Analysis, Secondary Research
Asia being the biggest consumer of Paraxylene had the biggest demand supply gap of -3,800 KTin 2014, as shown in the figure above. In 2014, China; accounting for 47% of global Paraxylene consumption, was the major contributor to this demand supply gap in Asia. China mainly imported Paraxylene manufactured in the Middle East to fulfil its deficit. Asia being one of the fastest growing regions in the World attracted majority of the Paraxylene manufacturers to expand their operation in the region to gain from the growing demand in the region, especially in China.
Global paraxylene CAPACITY, BY Region, 2011-2020 (Kilo tonnes)
| | | | | | |
| --- | --- | --- | --- | --- | --- |
| Region | 2011 | 2012 | 2013 | 2014 | 2015 |
| North America | 4,600.0 | 4,750.0 | 4,850.0 | 4,950.0 | 5,000.0 |
| South America | 250.0 | 250.0 | 250.0 | 250.0 | 250.0 |
| Europe | 2,400.0 | 2,600.0 | 2,600.0 | 2,650.0 | 2,700.0 |
| Middle East & Africa | 3,800.0 | 3,950.0 | 4,100.0 | 4,500.0 | 4,800.0 |
| Asia I Far East | 27,000.0 | 28,000.0 | 29,000.0 | 33,000.0 | 35,500.0 |
| World | 38,050.0 | 39,550.0 | 40,800.0 | 45,350.0 | 48,250.0 |
Source: Fibre2Fashion analysis, Secondary research, Primary interviews