Home Textiles: The Growing Market
By: Rushikesh Jethava
Housing boom in Asia-Pacific, Increasing fashion trends in home textiles and demand recovery from Western economies are the major factors driving the growth of Home textiles globally.
Textiles industry was amongst the worst affected industry during the financial crisis of 2008 which led to shut down of textiles manufacturing centers in the Western countries and shifting of manufacturing base to emerging economies such as China, India, Bangladesh and many other Asian countries due to lower labor cost and other financial benefits.
Home textiles witnessed the impacts of financial crisis and registered modest growth of 2.0% - 3.0% between 2008 and 2013. However this segment in the textiles industry emerged as one of the fastest growing segment ever since global economy started showing signs of recovery in 2013. Retail value of global home textiles market is estimated to be around $ 110,508.0 million in 2014 and is expected to reach $131,499.9 million by 2020 growing at a CAGR of 3.5% during this period.
<![if !vml]>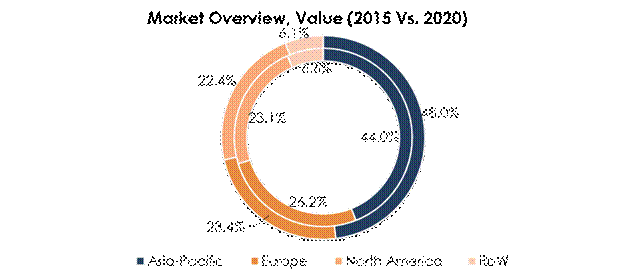 <![endif]>
Inner circle represents data for 2015
Asia-Pacific is the largest regional segment in the global home textiles market, this segment represented 44.0% of the home textiles market in 2015 and is expected to grow at a CAGR of 5.4% between 2015 and 2020 and is expected to account for 48.0% of the market share in 2020. Asia-Pacific was followed by Europe, North America and RoW with a respective market share of 26.2%, 23.1% and 6.6% in 2015. Globally top ten home textile countries accounted for approximately 78% of the world-wide home textile market in 2015 lead by China with a market share of share reached 27.2% in 2015.
<![if !vml]>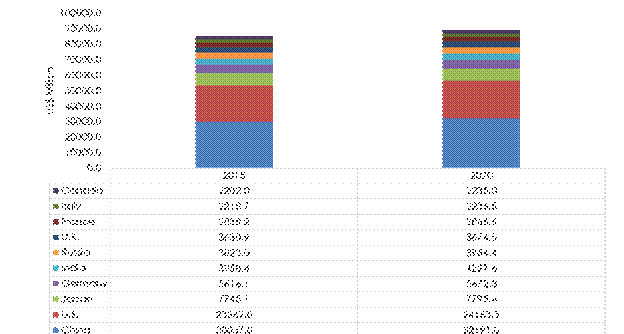 <![endif]>
Globally China and India are expected to be the major driving factors for the home textiles products between 2015 and 2020. Both these countries are poised to grow at a respective growth rate of 6.9& and 7.2% between 2015 and 2020. Indian home textiles market is expected to reach $5,603.9 million by 2020 from current market size of $3,958.4 million in 2015. Demand for home textiles in the Indian domestic market is driven by several factors such as Favorable demographics, increasing disposable income, rapid urbanization and housing boom.
<![if !vml]>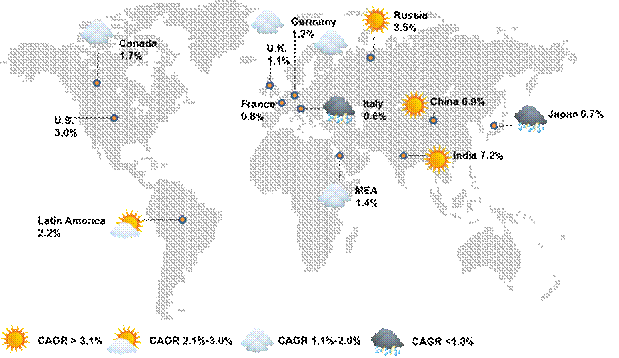 <![endif]>
Indian Home Textiles Market Scenario:
Indian home textiles market highly unorganized market. Unorganized market players account from nearly 85.0%-90.0%. This unorganized structure of the Indian home textiles industry offers a huge opportunity for organized and e-commerce companies to own a large market share in this space. Online retail of home textiles is catching up a significant pace but it is still a very young and this new way of shopping of home textiles products is more appealing to a lot of customers not only in metro cities but in smaller Tier-2 and Tier 3 cities too due to higher convenience, wide range of choices and ease of shopping.
India is also amongst the largest exporters of home textiles products globally. Welspun is the world's third largest home textiles company, and exports 97 per cent of its merchandise. It is present in 50 countries and has a distribution network in 32 countries including the US, Canada, UK, Australia and other countries in Europe and the Middle East. It supplies home textiles to 14 of the 30 global retail giants such as Carrefour, IKEA, Wal-Mart, JC Penney, Macy's, Tesco, Kohl's, Sam's Club, Costco, Kmart, and Target. Welspun is the leading supplier of bath towels in the US and was the official manufacturer of Wimbledon's towels. Apart from Welsun some of the other prominent Indian home textiles players are Alok Industries, Himatsingka Seide Limited, Trident Group and many others.