A cursory glance at the fashion statement of celebrity kids tells you that street fashion is here to stay even among this age group, says Sweta Kumari.
One look at photographs of Harper Beckham, Suri Cruise or Dannielynn Birkhead who modelled for Guess and you know that street fashion is not a passing fad. Children, as much as youth, breathe it.
Street style for kids is big business today. Funky, quirky and jazzed up with glamour accessories team up with the carefully casual look for girls and boys.
Street style has always been there. It is only since the mid-1950s that its importance has been recognised, appreciated and emulated. Street fashion is considered to have emerged not from studios, but from the grassroots. It is generally linked with youth culture, and is often seen in major urban centres even though smaller towns have their own smaller hubs.
Theories about origin of street fashion
The Trickle Up Theory involves innovation or a picky style that begins on the streets, worn by lower income groups. It is picked up by designers and projected to upper class spheres which purchase the designs.
A typical example of this is the T-shirt. From a modest start, the Tee has turned into an emblem of global fashion. It has become not just a fashion and cultural icon, but a message board where people can express their feelings in the form of slogans, symbols and logos. Messages focus on the wider audience of popular culture, or are directed at subcultures, politics, economics, social issues and more.
<![if !vml]>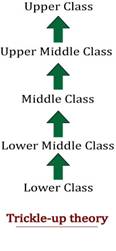 <![endif]>
Major subcultures affecting kids fashion industry
Most major youth subcultures have had been associated with street fashion adopted by today's kids who are not only stylish, but decide their style. Despite naysayers, children have become a cult classic with the tag of cool city kid.
Examples from the 1950s, 1970s, 1980s, 1990s, 2000s, and 2010s include: Kids street
<![if !vml]>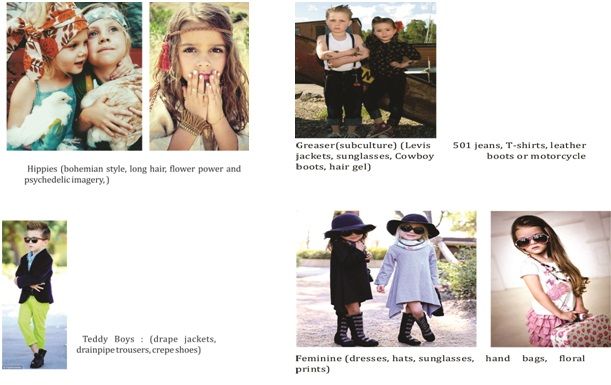 <![endif]>
<![if !vml]>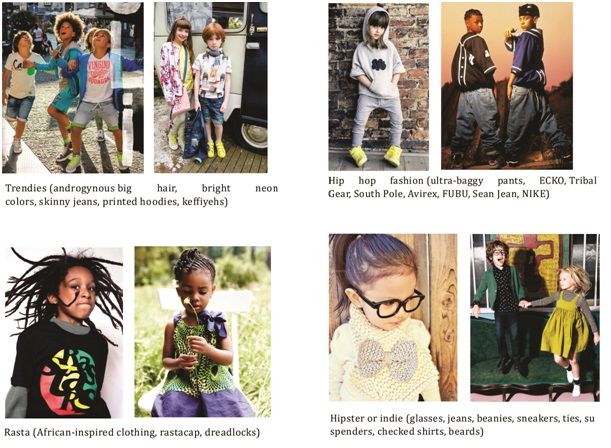 <![endif]>
<![if !vml]>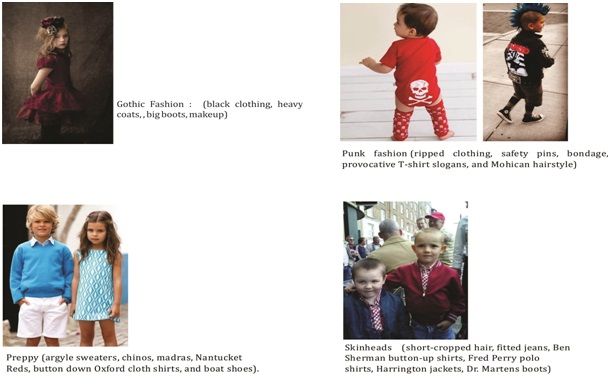 <![endif]><![if !vml]>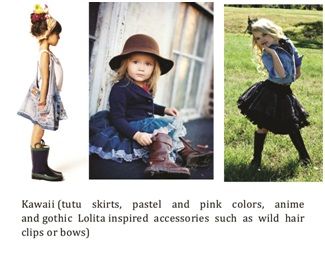 <![endif]>
Earlier, fashion riarily to adults requirements. Today, with the exposure children get, they are conscious of their looks and aesthetics. The fashion industry now caters to children's designer clothing. Young children now enjoy a mixed and widespread range of fashion attire, which helps them to position a fashion trend of their own. You can now find vibrant, effervescent, exclusive, creative, exciting, and striking clothes for both girls and boys.
The children's fashion industry has grown and evolved into a stand-alone genre with its own trends and creative milestones.
Brands primarily concentrating on kids' street fashion include Nico Nico, Lot801, Agatha Cub, Primary, Meme, Freshly Picked, The Mini Classy, Boy + Girl, Indikidual, Rags to Raches and Loola.
These brands have hip, smart, gender-neutral designs. These are statement- making brands with comfortable, cute designs that have whimsical and quirky prints. They mostly use the finest organic cotton. Most of these brands believe that childhood is too short to wear unexciting clothes. So, these brands have lovable clothes which are overpriced, but for good reason.
Bright Future
Nothing beats new fashion trends spotted first on the street. However, as Internet shopping grows, street fashion has a bright future. That augurs well for local artisans since there is growing appreciation of traditional handicrafts. We will see the return of the local village as a counter-reaction to the global village. The street, the catwalk, the whole world will become spaces in which objects come to life and bodies interact. A classic example of this is Venice Beach-based company brand Boy + Girl which engages local artisans and designs in Los Angeles.
Street fashion is here to stay and especially so, street fashion for kids who took inspiration from youth to dressing the look in more creative and stylish ways.
References:
* Harpersbazaar.com
*Pinterest.com
*Wikipedia.com
*Streetstylenews.com
*Fashion Brands by Mark Tungate