One of the most noteworthy elements that denim has introduced into the Kolkata dress culture is that it has subtly been able to fade out that distinct demarcation between how the rich dress up and how their poor counterparts do. Ritusmita Biswas discusses how the city is changing.
Denim, that gained popularity in the 1950s, is going strong even today-across the globe, across countries, and Kolkata in India bears no exception. Primarily designated as apparel for the working classes, denim found resonance in working class street fashion that so characterises the fashion quotient of the city. A khadi kurta paired with a jhola and a faded denim has been the quintessential attire of the Bengali intellectual for years.
<![if !vml]>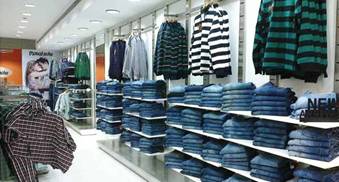 <![endif]>"Denim has never been and will never be out of fashion across the world, and in the city of Kolkata, the demand has always been high. We have been dealing in denims since 1984, and this market here is growing by the day. The latest trend is the acceptance of denims at the workplace too, which has further boosted its demand," points out Pratik Agarwal, director of Moustache Jeans. The brand, launched in 1984, was initially a denim manufacturing brand, but gradually transformed itself into a casualwear retailer.
His words are echoed by Ayush Rungta, director of Hoffman, another prominent denim manufacturer from the city. "The company started in 1991, and since then we have been making denims for men. Though we ave ventured into women's apparel, denims remain our primary focus, and we have been dealing with it for more than twenty-five years. We have a tremendous demand for denims. True, the demand has always been there, but since it is now worn as officewear too, we foresee the demand only rising in the future."
Babul Majumdar, director of newly-launched brand Perky Fashions which specialises in denimwear, says: "For denim, the demand is round the year. When we started in 2011 in Kolkata, I had no clue that the demand would be so high in this market-it has surpassed my expectations. What is interesting is that the demand sustains through the year."
Categorising the target audience
Denim has been able to retain its essential appeal as a cutting-edge piece of clothing that has remained in vogue through ages. Uniformity is an unavoidable consequence of globalisation where everyone aspires to be like the other, irrespective of differences in social and economic status. From a rag picker to a CEO, a pair of denims- regardless of price, design, or label-enables a wearer experiences a sense of belonging to society.