One of the most noteworthy elements that denim has introduced into the Kolkata dress culture is that it has subtly been able to fade out that distinct demarcation between how the rich dress up and how their poor counterparts do. Ritusmita Biswas discusses how the city is changing.
Denim, that gained popularity in the 1950s, is going strong even today-across the globe, across countries, and Kolkata in India bears no exception. Primarily designated as apparel for the working classes, denim found resonance in working class street fashion that so characterises the fashion quotient of the city. A khadi kurta paired with a jhola and a faded denim has been the quintessential attire of the Bengali intellectual for years.
<![if !vml]>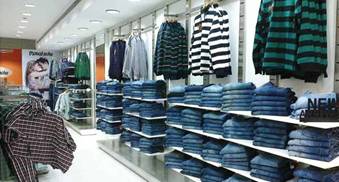 <![endif]>"Denim has never been and will never be out of fashion across the world, and in the city of Kolkata, the demand has always been high. We have been dealing in denims since 1984, and this market here is growing by the day. The latest trend is the acceptance of denims at the workplace too, which has further boosted its demand," points out Pratik Agarwal, director of Moustache Jeans. The brand, launched in 1984, was initially a denim manufacturing brand, but gradually transformed itself into a casualwear retailer.
His words are echoed by Ayush Rungta, director of Hoffman, another prominent denim manufacturer from the city. "The company started in 1991, and since then we have been making denims for men. Though we ave ventured into women's apparel, denims remain our primary focus, and we have been dealing with it for more than twenty-five years. We have a tremendous demand for denims. True, the demand has always been there, but since it is now worn as officewear too, we foresee the demand only rising in the future."
Babul Majumdar, director of newly-launched brand Perky Fashions which specialises in denimwear, says: "For denim, the demand is round the year. When we started in 2011 in Kolkata, I had no clue that the demand would be so high in this market-it has surpassed my expectations. What is interesting is that the demand sustains through the year."
Categorising the target audience
Denim has been able to retain its essential appeal as a cutting-edge piece of clothing that has remained in vogue through ages. Uniformity is an unavoidable consequence of globalisation where everyone aspires to be like the other, irrespective of differences in social and economic status. From a rag picker to a CEO, a pair of denims- regardless of price, design, or label-enables a wearer experiences a sense of belonging to society.
Kolkata, well known for its emotional affinity to hold on to what is old and what is ethnic, has also displayed a great sense of acceptance and openness in its whole-hearted embracing of denim as a part of its citizens' everyday life. The dhoti had long lost its glory and popularity, and the saree has only been able to secure its position as an occasion wear for women. It is true that while for men, jeans or denim is the primary everyday as well as celebratory wear, the salwar-kameez is a tough contender among women, specially the older generation. Nevertheless, if one looks around all over Kolkata and how it dresses its citizens, from the old-age streets of north and central Kolkata to the relatively newer eastern fringes of the city, to the popularly considered posh locales of south Kolkata, jeans and kurtas seem to be the apparel of the day-the epitome of a non-gendered self-expression for Kolkatans.
<![if !vml]>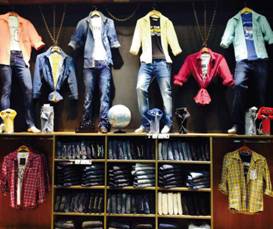 <![endif]>Men, however, continue to be the primary audience for denimwear. Says Sayed Mazhar, a senior sales executive with Mufti: "Our brand which started in 1998 deals in denims only for men. Usually a man wears denims all day long, and his primary requirement is denims of good quality and durability." Majumdar says the price points that sell the most are the cheapest ones that come in a unique design and are of a good fabric. "Our fabric quality is better than that of branded products; so it has many takers. We are available across the country and in popular multi-brand outlets like Spencer, More, Infinity, among others."
Agarwal says: "Women are known as shopaholics, but as we are a male-oriented brand, men are the buyers for us. The target audience for us is a common man-a man young in age and young at heart. We have a huge market in the eastern part of the country, though of late we have started making our presence in south India as well." Adds Rungta, "Our brand is known for menswear, and so majority of the sale is from menswear. But we have been seeing a reasonably good sales growth in the womenswear category too."
Denim has come a long distance from its origin, and it now extends beyond the boundaries of friendly gatherings, having moved into the arena of social events, educational institutions and workplaces, snorting at gender discrimination and providing an air of comfort and safety. Even the "nightly ladies" of the not-so-welcome red light areas in and around Kolkata have embraced denim, though in its extravagantly sequined avatar.
So, what are the styles that people are opting for? "Skin-tight jeans with tapered legs having toned effect on the body is what the style is now," informs Rungta. "Slim-fit high fashion denims are in vogue now. People are possessive about their pair of denims and are ready to invest in the brand provided it matches their wearability and style requirements," says Agarwal. "Our brand offers products from ₹495 to ₹2,695, and we have takers for all," he adds.
The highs and lows
<![if !vml]>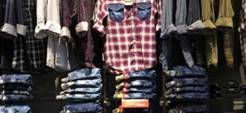 <![endif]>The most noteworthy thing that denim has brought into the Kolkata dress culture is that it has very subtly, but nevertheless successfully, been able to fade out that distinct demarcation between how the rich dress up and how their poor counterparts do. Just as my affluent neighbour's son Yash sports denim in all his daily activities and his weekend frolic, Santu, my driver also does the same. Yes, to me, apparently, both belong to the same dressing strata-the denim-but if you look closely, there is a yawning gap between the cost it incurs to both. Undeniably Yash's single piece of denim may cost Santu a month's salary.
This difference of a few thousands of rupees between different denim labels will be all the more apparent if you recce the age-old markets such as Vardaan Market or New Market versus the relatively upmarket ones like both the City Centre Malls and the South City Mall, and not to be forgotten, Kolkata's latest craze-Quest Mall.
The Vardaan and New Markets base their business on the huge swarms of shoppers who look for low to mid-range jeans, of both Indian make such as Dollar, Force or Lux, and imported ones from Bangkok and Sri Lanka, that range from few hundred rupees to a thousand or so. The customers mostly belong to the student community and low-income groups. Then, there are the mid to high income group customers who look for international labels, but nothing in the line of designer favourites. The hot sellers with this group are Levi's, Lee, USPA, and also a little higher-range Tommy Hilfiger or Guess or Ed Hardy.
Yes, people do care about the cost while buying denims. There is a huge taker for our kind of brands which start from ₹799 and go on to ₹1,999. For us, the middle income group is the target audience. A branded product is so costly that they are unable to buy the same, and so they want to buy a good quality product at a reasonable price. Yes, there are cheap jeans that come from non-branded companies which too have a huge market. But, people do want to buy brands at a lower price, and so brands like ours flourish," says Majumdar.
Agrees Azhar of Mufti, a brand which retails from Quest Mall, one of the most expensive malls in the city: "People care about the cost, but regular customers are more interested in style and fabric. Customers might have low-range jeans for regular use, but they are willing to invest in a high-end pair, if they like the style and look of the jeans." Akbar Khan, owner of Denim Point in New Market, says: "We deal not only in local but Mumbai brands as well, and the price range is around ₹1,100-2,600. Some of the popular brands from Mumbai here are Nostrum, Status Quo and garner, though local brands like Hoffman, Moustache and Passport have huge takers."
Of late, Kolkata is also witnessing a new range of customers for whom designer brands such as True Religion, Armani, Burberry and a number of others have opened up stores in the city, where denims can range from a few thousands to a few lakhs. The most noteworthy point here is that these upscale stores are not running at losses.
Denim thus has travelled a long way through the city' style alleys to become a fashion-must irrespective of age groups, with almost everyone owning a couple of pairs, thanks to its undeniable appeal, comfort, simplicity and modesty.