The Indian denimwear market is currently facing an oversupply situation in the aftermath of the capacity expansion post-2011, which in turn was due to lower incubation after the demand for denim fabric picked up as a result of a recovery in the country's economy. India is now being looked upon by a number of global denim manufacturers as an emerging export region, owing to its high availability of cotton, quality standards, cost-effectiveness, and a large pool of skilled workforce. Fibre2Fashion presents an overview of the market.
First, let's look at the elementary facts: the global market for denim is forecast by observers to top a phenomenal $64.1 billion in another four years. In this backdrop, the Indian denim industry too has shown continual growth over the years. Currently, the country has a denim manufacturing capacity of around 1.2 billion metres per annum operating at a utilisation level of about 80-85 per cent. Yet, despite the impressive numbers, the Indian denim manufacturing industry contributes a paltry 5 per cent to the global market, in essence reflecting the overall performance of the country's textiles industry. However, denim is the only segment in the Indian textiles industry that has the potential to grow manifold compared to others.
<![if !vml]>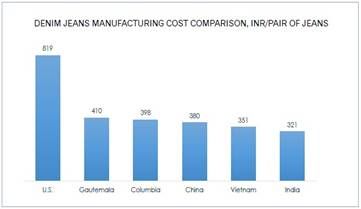 <![endif]>India is being looked upon by an increasing number of global denim manufacturers as an emerging denim export region, owing to its high availability of cotton, quality standards, cost-effectiveness, and a large pool of skilled workforce. Moreover, denim jeans manufacturing costs are substantially lower in India as compared to other developed/developing nations.
<![if !vml]>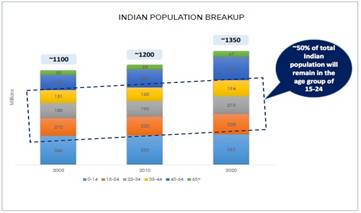 <![endif]>On the domestic front, the denimwear market is now being driven by a number of factors: favourable demographics, increasing disposable incomes, westernisation of work culture, and a rise in the popularity of denim jeans as business casualwear. And with unabated globalisation, young India prefers denim as part of essential dailywear. All these factors augur well for growth.
In terms of demographics, the median age of the Indian consumer is 26 years with most falling in the bracket of 15-59 years. By 2020, India will add another 140 million people in the consuming age group. This population has more aspirations, is more aware, has a higher spending power, and is expected to consume across a greater number of categories than the previous generation. According to the last census report, the number of households with an annual income of $7,000 or more is going to increase from about 30 million now to roughly 100 million by 2020. There will be 400 million individuals in the middle to high income bracket by then. These factors taken together are expected to fuel the per capita consumption of denim.
Current Indian denim market scenario
Currently, the Indian market is facing an oversupply situation, following the capacity expansion post-2011 due to lower incubation period after the demand for denim fabric picked up due to the recovery in the country's economy. The domestic denim industry has witnessed this cyclic phenomenon twice in the recent past-the first was the major downturn between 1998 and 2001 which was a result of the high capacity installation in China, followed by a period of rapid growth in demand in 2002-07. To cater to increasing demand, denim fabric producers built up on the existing capacity. However, post- 2008, domestic and export demand for denim fabric in India declined owing to the global economic meltdown, which in turn affected the utilisation rates of denim fabric manufacturers. With gradual recovery in the global economy and declining cost-competitiveness of China, the demand for denim fabric picked up after 2011, which then prompted players to again embark on capacity expansion.
But at present, many manufacturing units are unable to fully utilise their capacities, owing to oversupply in the market which in turn is having a negative impact on the operating margins of these players. The capacity addition has grown mostly in the bottom-most segment of the market, and the mills in the lowest business segment are gravely affected. The mills in the mid and high segments of the business have faced the lowest impact of this situation.
Meanwhile, denim production capacity has grown by 500 million metres-from 700 million metres in 2010 to 1.2 billion metres in 2015. It is projected to reach 1.5 billion metres by 2020, growing at a CAGR of 4.6 per cent. The share of denim export is projected to increase from 35 per cent in 2015 to 45 per cent in 2020. The two major denim producers-China and the United States-have cut down their production of denim, as a result of rising labour and energy costs.
This will lead to a significant growth in the export demand for Indian denim. India has been a major global supplier of denim fabrics, but the country falls way behind other competing nations in terms of denim apparel such as jeans. Most of the global brands outsource denim apparel work to Indian players; but much of it is meant for the domestic market and not exports.
<![if !vml]>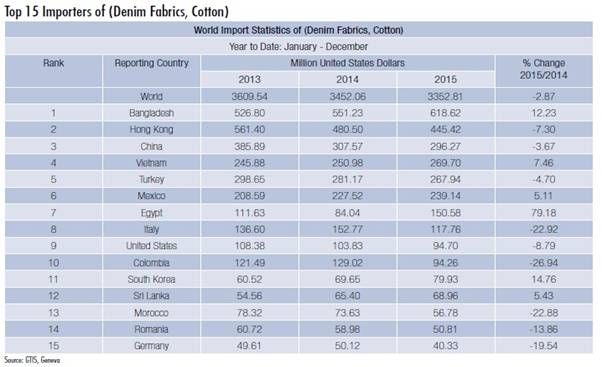 <![endif]>
<![if !vml]>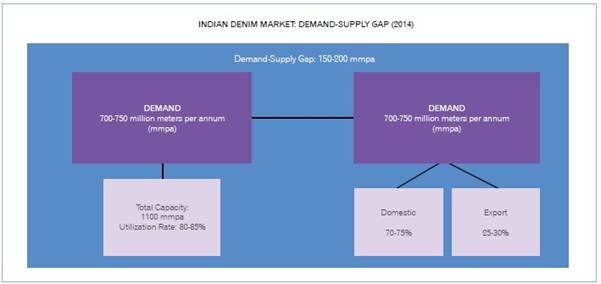 <![endif]><![if !vml]>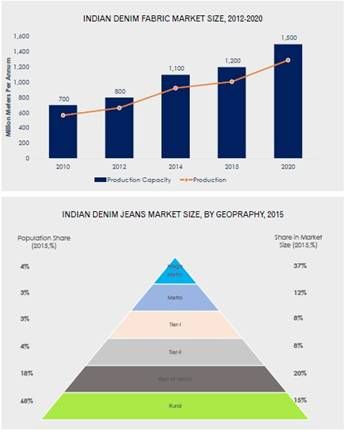 <![endif]>Moreover, the current annual consumption of denim jeans in India is only 453 million pairs. The average per capita consumption is a minuscule 0.3 pairs-significantly less compared to the corresponding numbers in China and the US, where the average per capita consumption figures are 1.0 and 8.0 respectively. However, the per capita consumption is expected to increase to 1.0, owing to growing disposable income, favourable demographics, and increasing penetration in rural markets. The sky, therefore, is the limit on this count.
Another problem area, where too there lies a scope for growth, is the fact that the alue share of the Indian denim market is skewed in favour of mega metros and metros. These account for roughly 49 per cent share of the country's denim market. Though markets of other urban areas and rural India contribute high in volume terms, their combined share in market value was only 51 per cent in 2015. Even today, most of the demand from small urban clusters and rural areas are fulfilled by unbranded local denim manufacturers. This is fertile ground for branded manufacturers to reach out, and expand their presence in those markets. Once the penetration of branded denim intensifies and awareness about its positive attributes such as quality, design and fit, etc, increase in these upcoming urban clusters and rural areas, people would be willing to pay for branded products, leading to increase in its overall market value.
<![if !vml]>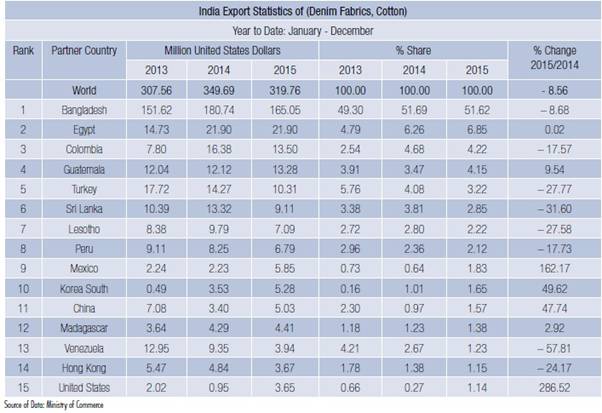 <![endif]>
<![if !vml]>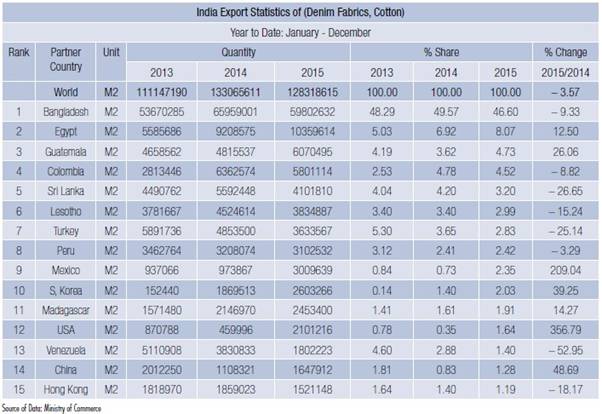 <![endif]>
The trends and innovations
The global demand for denim is moving towards refinement and subtle fashion. Fabrics are becoming finer with superior shades, finishes and some value-additions like printing and hand-painting. Innovations are coming from blends, technical stretch denims, organic denims and green recycled denims. The market is looking for something new at all times, and blends can bring that newness. Thus, fabrics are being developed with many blends like cotton with viscose, modal, linen, bamboo fibre, soya fibre, hemp fibre, milk fibre, sorona fibre, and many other man-made and natural fibres. A lot of polyester fibre has made inroads into denim in various forms, leading to lower priced products, while organic denim has slowly taken a backseat.
Sustainability too is contributing to newer styles. A major issue related to denim remains water consumption, with 1,200-1,500 litres of water needed to produce one pair of jeans. However, denim garment washes are becoming relatively greener with sustainable washing methods, waterless washing, and new fashion is based on laser prints and laser designs, etc.
Back home, Indian fabric manufacturers feel that colourful denim has a significantly good future. A more comfortable and softer feel for ladies, lighter weights, with super stretch are among latest trends. Tighter constructions and finer yarns too are being used to construct denims. Satin weaves are popular as well. Denim fabrics with different colours, tints and coated denims are increasingly being used by lifestyle brands in India.