The enduring fabric called denim has kept pace with fashion trends across the globe, deftly twining with special yarns to create fusion fabrics and clothing like never before. Fabrics may come and go, but denims never go out of fashion. Sudha Passi explores why:
*5.5 billion is the total number of denim articles sold worldwide.
*One out of two persons in the world wears a pair of jeans at any given time.
*550 million pairs of jeans were produced globally in 2015.
*5,000 pairs of jeans were sold in 11 hours when Hennes & Mauritz opened its first store in Delhi in 2015.
*The word 'denim' appeared for the first time in Webster's dictionary in 1864.
More than 150 years after it made its debut as sturdy clothing, denimwear-especially jeans-continues to rule the global apparel industry weathering every storm in its stride and bouncing back in new avatars time and again to retain its numero uno position as the fabric of choice across demographic barriers. From the early 20th century, when sailors from Genoa (Italy) wore jeans and Leob (Levi) Strauss introduced the rugged trousers among Californian gold miners and ranchers in the United States, and its soldiers popularised jeans across the Atlantic after the Second World War, denim has caught the fancy of human beings like no other textile.
The enduring fabric has kept pace with evolving fashion trends, deftly twining with special yarns to create fusion fabrics and clothing like never before. From workerwear to streetwear, casuals to performance, sports apparel and athleisure, there is hardly any segment of the apparel and accessories industry that denim has not penetrated or a continent where it is not present.
Browsing through the history of jeans and denim, one finds that the indigo-dyed pants have never been out of fashion completely since the 1950s, although there have been phases in the 1990s and the noughties (2000 to 2009) when the American youth took to cargo pants and khakis simply because their parents were still wearing 'blue'.
Denim became popular in the US in 1950s as jeans hitherto integral to cowboy imagery, made an entry into Hollywood. Actors Marlyn Monroe and James Dean were the new faces of youth culture and their 'bootcut' or overall jeans became a fashion statement. Interestingly, bootcut jeans, that have a close fit above the thighs and flare down slightly from the knees to the ankle, remains the bestselling jeans among women even today-three times more than the second bestseller straight-cut jeans, according to Manchester-based fashion writer Tori Attwood.
The Swinging Sixties was the era of flares and floral jeans. Manufacturers began to make different kinds of jeans-embroidered, painted, or even psychedelic. In fact, 1962 is regarded as the year when denim broke out into the commercial world, observes Attwood.
The popularity of denim surged through the Seventies. Rock stars became virtual brand ambassadors of the fabric, which epitomised freedom as it was natural, long-lasting and simple. The flares were replaced by close-fits and denim was stone-washed to produce a worn look-an idea pioneered by bigwigs like Francois Girbaud, founder and owner of Marithe Francois Girbaud and Adriano Goldschmied-but regretted in hindsight for its polluting effects.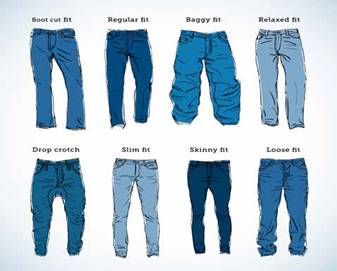 Dark coloured stylised and individualised jeans with leather and zipper embellishments appeared once designers embraced denim to make jeans a 'go-to casual' clothing. Designer denims ruled the 1980s. Sales in Europe increased by 800 per cent during the period. High-waist or "mom's jeans-because only a mom could wear them" became popular. Double denims and dungarees were also in. Mom's jeans are staging a comeback with a vintage tag this season. Its advantage is that one can choose one's style with waist size and length.
The 1990s were a challenge for the dependable-durable denim. There was an unusual sales drop in the West among the younger generation that was bored of blue. Khakis, cargo and sportswear sold better in that period. Nonetheless, baggy or boyfriend jeans appeared on American shelves. Women began wearing boyish bottomwear as both anti-skinny and flares were out. The 1990s were also the time when denim went creative, and experimenting with other material began. There were ripped jeans, embellished and nipped jeans. Latex was added to lend elasticity to the fabric. Ironically, the developing world and countries like India had just been introduced to denim. It was a matter of pride for any teenager, especially young males, to have a pair of jeans in the wardrobe. They went gaga over the indigopants, which symbolised liberalisation. Indian mills began to roll out denim and the country went on to become one of the largest producers of the fabric in the world.
By the turn of the millennium, denimwear exploded. Product innovations with specialised yarns began to yield fruit, and denim became a fabric no stakeholder in the chain dared ignore. While yarn-makers turned to laboratories for exotic strands for fusion fabrics, textile experts became hardpressed to invent sustainable technologies as textiles faced the heat of climate change. Farsighted fashion brands joined hands with suppliers, vendors as well as consumers to reduce the ecological footprint of denim, and in the process literally turned the industry on its head.
On the style front, nothing was left to chance. On the one hand, fashion and industry enabled denim break new ground to recapture lost markets to activewear and athleisure with hybrid products, and on the other, designers such as Alexa Chung for AG jeans, Marques Almeida and Prada invoked style and history to create nostalgia for the diehard denim loyalist.
"Denim has been growing continuously in the last decade, but what new has happened is that the high fashion has joined the bandwagon of denim affiliation," observes Sandeep Agarwal, industry expert and editor of denimandjeans.com, an online magazine. Thus, one can now see flares, hipsters, low-rise, high-waist, bootcuts, straight cuts-all styles that had come before. All of them co-exist with the factory-fresh incredulously soft, stretchable, skin-hugging denim apparel that blurs the distinction between casual and formal, fashion and performance.
"Jeans as a category are not dead, but they have done a good job of redefining themselves or reimagining their product in light of athleisure trends," observes Arham Choudhury, an industry analyst with the NPD group that tracks retail markets worldwide. Citing the examples of Wrangler and Levi's, he says that both brands really fought being overtaken by the athleisure trend, and now Wrangler is up 1.8 per cent year-on-year and Levi's is up 2.2 per cent.
According to the Cotton Incorporated Lifestyle Monitor Survey, jeans are the first pick as casualwear for 76 per cent millennials. Considering that they are the largest living generation in the US and 92 million strong, the stage is set for denim's resurgence. The coming days, therefore, will set the course for this resurgence.
What is denim?
Denim is a sturdy cotton twill fabric characterised by a 3X1 warp faced weave, in which the weft passes under two or more warp threads, producing the familiar diagonal ribbing identifiable on the reverse of the fabric. Traditionally, denim is made with indigo dyed yarn for the warp and natural yarn for the weft.
*48 per cent of the world's trade in fabric is in cotton, from which denim is made.
*About 225 pairs of denim jeans can be made from a single bale of cotton.
*Authentic blue denim takes its characteristic colour from interweaving indigo (blue) and One can now see flares, hipsters, low-rise, high-waist, bootcuts, straight cuts-all styles that had come before. All of them co-exist with the factory-fresh incredulously white.
What makes denim so popular and versatile?
The ease with which denim lends itself to blending with other yarns and its ability to withstand multiple production processes has enabled experimentation and product innovations. Fabric and yarn majors like ISKO, Invista and Dupont have produced thousands of patented denim products and concepts to give a spirited fight to activewear and athleisure.
Fact file
*Denim is short for 'serge de Nimes', a fabric that originated in Nimes (France) in the middle Ages.
*The first denim fabric was created in Chieri, a town near Turin in Italy.
*An article on practical denim for moms in 1981 boosted the sales of Levi's jeans by 125,000 in a week.
*Denim technology was imported in India around 1986-87.
Read more about sustainable and stretch denim trends here:- http://www.fibre2fashion.com/industry-article/7774/treding-now-stretch-and-sustainable