As theglobal apparel industry struggles hard to shed its notorious water-guzzler andpolluter tags, denim is weaving in stretch strands and sustainability in bothmaterial and processes so as to retain its command over the $1.2 trillionapparel market. The trend this season is stretch combined with sustainability.Both fabric-makers and designers are increasingly looking towards stretchabledenim to make their jeans and clothing as comfortable as it can get.
<![if !vml]>
<![endif]>All leading names in fashion and manufacturing have not only beenincorporating sustainable methods in their value chain, they have also madesure that the tags are more than visible to the buyers and form a vital part ofproduct promotion. The hottest trend right now is comfort, particularly stretch.Stretch denim made with cutting-edge technologies that are sustainable hasrevolutionised the very image of denim from a rugged fabric to a surrealisticsmooth figure-hugging cloth offering 24x7 comfort and 360 Freedom of movement.
ISKO,the world's largest denim manufacturer with an array of 25,000 patented denimproducts and trade concepts, has collaborated with bigwigs like Diesel, PierreCardin, Imps & Elfs, Moussy, CP Company, Tom Tailor and others to enabledenim penetrate hitherto unimagined categories like performancewear, sportswearand athleisure. "The future success of the denim business lies in fullyembracing product innovations with cuttingedge sustainability practices isusing less water and chemicals," said Adriano Goldschmied, fondly referredto as the Godfather of Denim, at the 17th Annual New York Fashion conference.Goldschmied has used the Turkish manufacturer's ISKO Future Face patentedtechnology for a perfect fit all-day long Jogg Jeans range to ensure thedurability associated with jeans and comfort of jogging pants.
ISKOFuture Face uses advanced shuttle-woven fabric which looks like circularknitting and lends a pair of jeans an incredibly soft feeling with maximumflexibility, thereby offering outstanding freedom of movement. It has beenembraced by Japanese brand Moussy, UK's C P company, and American brands likeGang for its 'Sweatie Denim' collection and Esprit while introducing denim tothe 'fitness culture'.
Anotherfavourite fabric among designers is ISKO Reform, whose advanced stretchtechnology assures perfect fit, superior shape retention and "magic powerto make you look a size slimmer," claims fashion brand Gaudi Jeans whilepromoting its womenswear segment. Completing its smooth and soft lookassociated with womenswear is ISKO PJ Soft powered by 50 per cent modal fibresfor 24x7 comforts. With an array of stretchable fabrics such as Jeggings, ISKOPop, ISKO Power Flex, ISKO BlueJym that impart awesome stretch and comfortlevels, the sky is the limit to which denim is now soaring thanks to Newproducts such as water-repellent "storm denim" is also helping thedenim business evolve, its unquestionable versatility.
<![if !vml]>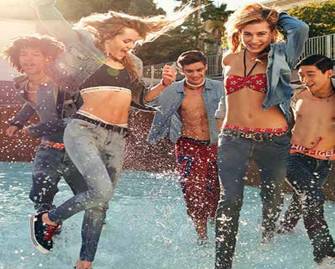 <![endif]>Goldschmied's Replay brand has used ISKO Blue Skin to create the Hyperskin collection offering total comfort and freedom by 'defying gravity with its four-way holding power. Premium Dutch kids' brand Imps & Elfs has powered one of its special denim lines for Spring/Summer 2016 'Fashion in Action' with ISKO's stretch denim products such as Jeggings, ISKO Pop and ISKO Reform XP. It allows children to play and run with freedom, comfort and most importantly in style, according to Fons Cohen, CEO of Imps & Elfs. The stretch denim has also crept into premium menswear. Here too, ISKO Reform and ISKO FutureFace have emerged as favourites among designers trying to capture the only growing segment in menswear-athleisure. French underwear specialist Pull In has relied on ISKO FutureFace stretch in its 'Dening' collection.
In November, ISKO introduced Isko Arquas-a collection of denim fabrics for uses ranging from dance and yoga to biking and from outdoors to weekend activities-at the Technogymn flagship store in New York. At the event, Marco Lucietti, global marketing head of ISKO, said the purpose of the new collection was to make performance look more like fashion, and fashion look more like performance. The fabrics will be available from the spring of 2016.
But what is adding stretch to the denim? Is it going to lose its natural fibre tag? Yes and No. Fibre producers are going at length to explain the organic content in their comfort stretch fibres. Dupont, for instance, says its comfort stretch fibre Sorona contains 37 per cent annually renewable plant based ingredients by weight. Its environmental footprint on the energy and emission fronts are also considerably lower than production of nylon-6.
No other fibre combines so many performance and environmental benefits as Sorona does, asserts Dupont, claiming superiority over rivals. Sorona delivers comfort stretch, which provides freedom of movement in denim fabrics. Most importantly, it retains both the individual shape and personalised fit of denim garments even after frequent washes.
"The denim industry has to adapt processes that have much less impact on the environment," Goldschmied said. He has incorporated the use of cellulose fibres such as Tencel and Modal by Lenzing in his products and is also using Lycra for stretch denim. Lycra Hybrid Technology, by US-based fibre maker Invista, features low shrinkage and multidirectional stretch.
New products such as water-repellent "storm denim" is also helping the denim business evolve, while lasers and ozone finishes have resulted in significant declines in energy and water use. ISKO has a water filtration and treatment plant that redirects treated wastewater for industrial and non-potable domestic use. "We look towards more sustainable trends-using much less water and chemicals," Goldschmied reiterated.
Significantly, all of these apparels carry the all-important sustainable label describing their commitment to sustainability not only in hang tags of the physical product, but online exhibits too. While brands such as Tom Tailor advertise their sustainable jeans tag on the 'we care' hang tags that go on to say that it is made with fabric derived from recycled cotton, as also water and energy-saving practices, Nudie Jeans has stitched 'the sustainable jean' label on the back pocket describing the entire eco-cycle of the product made from ISKO Recycled.
Swedish brand Lindex, a pioneer in sustainable initiatives, unveiled its spring Better Denim campaign with a vast range of sustainable denimwear in the kids and womenswear sections, taking pains to explain each sustainable initiative-be it a cotton hang tag, or printing the size number on waist bands instead of paper labels or the recycled zippers and rivets to its online shoppers. Another interesting feature of its online marketing is the 'roll-over' feature on the fabric, which in turn reveals an underlying layer that educates the shopper on sustainability.
Industry analyst Thomas Steve Bojer wrote after reviewing the business at the Kingpins Spring/Summer 2017 Denim Show in Amsterdam last fall: "Looking into the crystal ball of denim, it seems we will be talking a lot more about stretch and sustainability. Have we even asked the customer if he/she wants all this stretch and comfort?" Expressing doubts that men would discard their conventional denim jeans for softer and flimsy-knitted versions, he remarked, "Most denim fans I know actually prefer their jeans to be tough and stiff."
Only the cash registers will now tell where the crystal ball finally rolled.
Read more on denims made in India here:- https://www.fibre2fashion.com/industry-article/7775/india-made-denim-a-dream-going-sour