The drought-resilient sisal fibre grows well all year round in hot climate and arid regions which are often unsuitable for other crops. It is resilient to disease and its input requirement is low compared to other crops. It is 100 per cent biodegradable, and absorbs more carbon dioxide than it produces. Sudha Passi writes about the wonder fibre.
Almost 40 years ago, since it was swept out of the commodities market by synthetic polymers such as polypropylene, the sisal fibre is staging a gallant comeback to international trade with increasing demand for industrial use in the automotive, construction, marine, and renewable energy sectors. In times when carbon footprints of petroleum products are choking the planet and the world is shifting towards a greener economy, sisal is proving to be the quintessential resilient material with the additional advantage of being biodegradable.
The prospects for the global sisal industry, which is estimated to earn foreign exchange from nearly half of the 3,00,000 tonnes produced, look very bright as viable sustainable economy models around the fibre have been transforming the lives of a vast multitude of people in developing countries of Africa and Asia.
Sisal is no longer only used to make ropes and agricultural twines. The new commercial applications of this hardy fibre range from composite materials in the automobile industryto strengthening recycled paper; from the "ethnic feel" carpets, rugs and wall hangings to geotextiles and building materials fibre reinforcements. The emerging uses of sisal are shown in Figure 1.
<![if !vml]>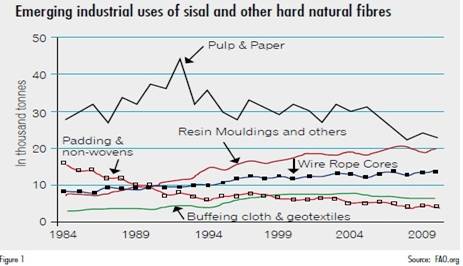 <![endif]>
Industry uses of sisal
Sisal is being coupled with polyurethane to form a material that is now being used in linings and structural components for automotive interiors such as door panels and trunk liners. Termed as resin mouldings, the innovation has caught the fancy of the automotive industries across the world, according to a trade information brief prepared by AusAid for the South African Development Community (SADC).