This year's Economic Survey pointed out that stringent labour regulations in the country are like "regulatory cholesterol," inhibiting formal entrepreneurs from hiring regular workers, says Prateek Kukreja.
According to the Economic Survey, the most pressing labour market challenge ahead of us is to generate a large number of formal sector jobs. Interestingly, as many as 10.5 million new manufacturing jobs were created in India between 1989 and 2010. Out of these, only 3.5 million, or about 35 per cent were in the formal sector. The rest were created in the informal sector, which does not come under any statutory act or legal provision and does not maintain any regular account. This increased 'informalisation' of India's manufacturing sector can be disheartening.
What makes the situation even more disappointing is the fact that the restrictive impact of these regulations has fallen mostly on labour intensive industries employing majorly unskilled or low skilled workers. India's textile industry has been one such victim of this "regulatory cholesterol."
The primary emphasis of this government has been on improving advanced factories in industries like solar-powered appliances and military weapons, which require highly skilled workers, unmindful of the fact that such workers are yet not found in abundance in our country. Ideally, initial efforts and policies of the government should have been towards improving gainful employment in labour intensive industries like textiles. This sector has a high potential of creating jobs for the huge army of India's low skilled unemployed population.
India's textile industry is the second-largest employer after agriculture, providing direct employment to around 45 million people. The sector also accounts for 14 per cent of India's total industrial production, close to 4 per cent of the country's total GDP (source: Ministry of Textiles, Government of India, Annual Report 2014-15).
However, over the past few decades, the organised textile industry has been slowing down. As a result, numerous textile mills have shut shop. There has been a displacement of entrepreneurs and therefore, workers from the organised segment of the industry have moved to the unorganised segment. This seems to be a consequence of strict labour regulations. Since, unlike in the organised sector, labour regulations cannot be enforced in the unorganised sector, employers may find it advantageous to shift to the latter, as it can provide them with greater flexibility in hiring and firing workers.
Labour Regulations in India
India's system of labour regulations is rather complex. There are over 200 labour laws, including 52 Central Acts. Bhagwati and Panagariya, in their book India's Tryst with Destiny argue that the country's labour market is so complex that it is impossible to comply with 100 per cent of the labour laws without violating at least 20 per cent.
Of all the regulations, the most important one is the Industrial Disputes Act (IDA), 1947. According to Chapter V-B, any firm employing 100 or more workers is required to seek permission from the Labour Department with jurisdiction over the firm, before layoffs or retrenchment. Concerned Labour Departments rarely give such permission and therefore it is impossible for establishments employing 100 or more workers to retrench workers even when the unit is unprofitable and must be shut down. This often results in establishments employing workers on contract rather than on a regular employment, causing the formal manufacturing sector to become increasingly informal.
Share of contract workers in India's textile industry
IDA often forms the basis for the regulation of employment security in the organised segment of Indian manufacturing. So, contractual workers in the organised textile segment has increased.
Workers Employed and Share of Contract Workers (%) in Organised Textile Industry
<![if !vml]>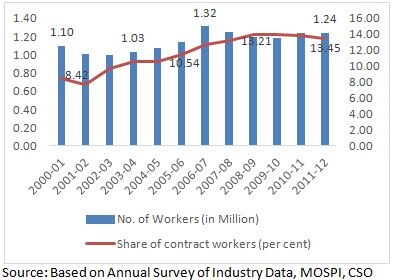 <![endif]>
The share of contract workers in the organised segment of India's textile industry rose sharply over the last decade from 8.42 per cent in 2000-01 to 13.45 per cent in 2011-12. It is often argued that entrepreneurs tend to hire workers on contract, despite this being more expensive. So, do they hire contract workers just to escape Chapter V-B?
Contract workers: Escape route?
The table below shows the share of contract workers in textile firms employing less than 100 workers. These are non-IDA firms.
Share of contract workers in organised segment of India's textile industry (2011-12)
Product Category (NIC 2008)

Share of Contract Workers

Firms with <100 regular workers

Firms with 100 or more regular workers

Preparation and spinning of textile fibres

20.72

7.63

Weaving of textiles

24.95

7.72

Finishing of textiles

43.09

10.30
Source: Author's calculation based on Annual Survey of Industries (ASI) data (2011-12)
Clearly, the share of contract workers in non-IDA firms is higher than that in IDA firms. This suggests that the firms in the organised segment of this industry employ contract workers to replace regular staff. Since firms employing less than 100 workers do not come under the ambit of Chapter V-B of IDA, there is an incentive for firms who have not yet crossed this threshold to hire more contract workers rather than regular workers, so they remain outside the ambit of IDA. On the other hand, firms which have crossed this threshold have a lower incentive to hire contract workers, as they would anyway have to comply with rigid hiring and firing provisions of IDA.
This shows that contract workers in the organised segment of India's T&C industry are hired mainly to replace regular workers to escape strict hiring and firing provisions under IDA. So, immediate labour reforms at the state level as well as at the Centre are called for. Of late, there have been a few significant measures adopted by the Central Government in this sector.
To revamp India's textile sector, the government announced a massive ₹6,000 crore package to boost employment in the industry. Under this, employers will get some relaxation. For example:
(1) Fixed term employment shall be introduced in the garments sector (keeping in view the seasonal nature of the sector) wherein a fixed-term worker shall be considered at par with permanent worker in terms of hours, wages, allowances and other statutory dues.
(2) The employer's contribution to EPFO will be given by the government for the first three years of setting up a unit.
(3) Overtime limit of workers has been increased from 50 hours for three months to 90 hours for three months.
(4) Deduction on income tax provision for employers hiring permanent workers has been relaxed. The benefit will now accrue to establishments employing permanent workers for at least 150 days. Earlier, the floor was 240 days.
(5) Contribution to Employees Provident Fund by workers earning less than Rs. 15,000 a month has been made optional.
Many states have allowed night shifts for women, providing greater flexibility to the employer. These reforms shall be crucial in generating gainful employment in this highly labour intensive sector, thus creating a huge number of jobs.