It's the information age. More than ever before, today's consumers access product information through the Internet and social media. With 24x7 access, scrutiny and negative publicity can grow. So, it is critical for a company to truly understand the supply chain and work towards collaboration. If aggregate efficiency is to be achieved, teamwork between suppliers and retailers is essential.
What is collaborative supply chain management about?
Historically, supply chain management used to be about getting the right product to the right customer at the right time. Today, it is about delivering on that promise with the right information. This includes data about where the product's materials come from, how it is made and delivered. By sharing this information, retailers enable customers to recognise which products are more environmentally friendly or socially conscious. Organisations with transparent supply chains score over competitors, bringing about synergy among all stakeholders.
What are the elements of a collaborative supply chain?
In recent years, there have been several significant trends globally. When those are combined, they impact supply chain risks like rapid changes and redistribution of labour rates thought Asia Pacific; substantial global environmental concerns; lack of available supply; increasing momentum of green and ethical consumerism.
International firms with high level of economies have tried international business expansion in both inbound and outbound logistics. The current level of uncertainty and variability makes it imperative to bring about collaboration to increase profit margins starting from suppliers' efficiency to retailing.
Forging relationship with vendors
<![if !vml]>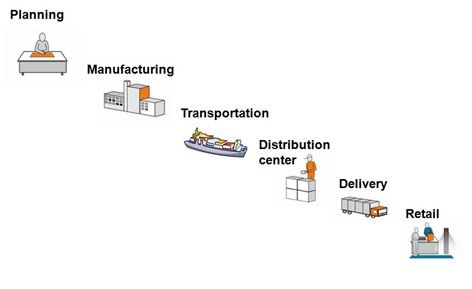 <![endif]>
As shown in the illustration, textile manufacturing is a step-by-step process which needs a sound, synchronised and efficient supply chain system. All stakeholders are constantly looking for a way to reduce production and distribution costs which, in turn, could improve margins.