The United Kingdom European Union membership referendum popularly referred to as the Brexit referendum, saw investors worldwide lose more than the equivalent of $2 trillion on June 24. Now that the initial panic has subsided, Subir Ghosh decides to look at how Brexit will affect the British fashion industry and the opportunities it offers Indian exporters.
It's a big industry by any measure-one that not only generates huge revenues for the country's economy, but also offers equally immense employment potential. The British fashion industry had revenues of 28 billion in 2015, and employed about 880,000 people-rights from manufacturing to retail. It's one of the sectors that is going to more than feel the pinch with the June 23 referendum calling for the exit of the United Kingdom from the 28-country European Union (EU).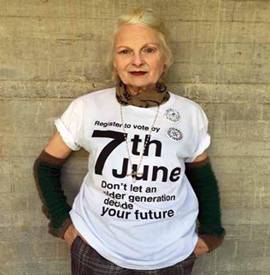 On a scale of severity, the hardest-hit in the industry with Brexit (a portmanteau of "British" and "exit") would be fashion designers, followed by stores. It is little surprise therefore that designer were not only extremely vocal about voting to "Remain" within the Union, they even held rallies in London urging the people not to "Leave" the bloc. Shortly before the referendum, a survey carried out by the apex British Fashion Council (BFC) found that an overwhelming 90 per cent of British fashion designers wanted to remain in the EU. And, many campaigned too. In the first week of June at fashion showcase London Collections Men (LCM), Christopher Raeburn presented pieces emblazoned with the emphatic word 'In', while Cozette McCreery and Sid Bryan of Sibling made their final bow at the same show wearing 'In' T-shirts. Legendary Vivienne Westwood was among 282 leading creative figures who signed an open letter opposing Brexit, and even urged the public to vote to stay through a blog post on June 15. The desperation of the industry was writ large.
For an industry already feeling the pinch because of a pound that is weaker against the dollar, the tumbling to a 30-year-low did mean that there would be more earnings for high-end stores from sales to tourists. That too at a time when the luxury sector has been virtually stagnant, and HSBC predicted that the pound would plunge deeper still. For a country that a British newspaper itself acknowledged as a nation of shopkeepers, retail numbers mark the bottom line for the fashion industry. The Telegraph quoted a retail analyst revealing that 84 per cent of high street stores have been running lucrative promotions to offload stocks. Since most big-name retailers import in dollars and a domestic price rise is imminent, holding on to stocks doesn't make business sense.