The world is moving towards sustainable material for a better future. That is what makes pineapple fibre important, says Vanali Ballikar.
<![if !vml]>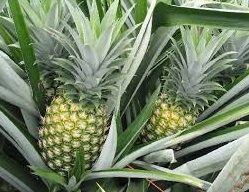 <![endif]>The world is moving towards sustainable material for a better life for future generations. The textile industry's main concern is to give mankind superior, sustainable products that are close to nature. Pineapple fibre is one such natural source of minor fibre. It has seen rising demand in the eco market. A detailed study on the source, cultivation, extraction and processing of pineapple fibres reveals that these fibres can be used as an alternative to leather. This edible fruit that has medicinal values now finds another avatar in textile applications. The fibres can be extracted from the leaf as well as the fruit. The study also gives properties and applications of pineapple fibres towards more sustainable living.
Textile fibres are obtained from the hair, leaf, bast and fruit of a plant. All vegetable fibres are cellulose-based. Pina fibre is from the leaves of the pineapple plant. Pineapple fibres are sustainable natural materials and demand for pina is increasing in the go-green market as technology progresses in using pina as an alternative to existing textiles and leather.
The pineapple belongs to the family of Bromeliaceae (or multiple fruit bearing) plant. The Ananas Comosus, an edible fruit-bearing plant, is a tropical, herbaceous; perennial that grows in countries near the equator. India, like the Philippines and Thailand, has the right climate for pineapples.
Bromelin, a proteolytic enzyme in the stem of the pineapple, has various health benefits. It is used to cure lung cancer, allergies, asthma, in anti-ageing treatments and for faster recovery from surgery. Vitamins like A and B are found abundantly in pineapple, along with Vitamin C, calcium, potassium and iron. Pineapple contains carbohydrates and water, majorly insoluble fibres not harmful for blood sugar.
Pineapple grows abundantly in regions that receive high rainfall like West Bengal, Assam and the north-eastern states, the Western Ghats and coastal areas like Goa, Kerala and Karnataka. Pineapple cultivation in India is majorly seen in the hilly regions of Nagaon and Cachar districts of Assam, Senapati, Thoubal, Churachandpur, Bishnupur, east Imphal regions of Manipur, west and north Tripura, Dhalai Tripura. In the south, you would find fields of pineapple in Shimoga, Udupi and Uttar Canara regions of Karnataka. In Goa, pineapples are cultivated on the hills of Ponda and in Pernem, Bicholim talukas.
Not one, but four
There are at least four main varieties of pineapple around the world.
1. Smooth Cayenne: The main variety in Thailand, the Philippines and Indonesia, it is known for succulent, juicy and sweet flesh. It is eaten around the world mostly as fresh cut fruit or canned.
2. Queen or Queen Victoria: A crunchier and more aromatic variety found in Malaysia, China, Vietnam and India.