Some 230 suppliers from 20 countries, all of them carefully selected producers and designers of sophisticated collections for upholstery and window & wall covering, will exhibit their products at the trade fair Meet only Original Designs (MoOD) in Brussels in September. All of these companies are export-oriented (otherwise they would not participate in MoOD). Here are some issues they are discussing with staff and sector associations because these could have an unwanted impact on their export activities, reports Jozef De Coster.
The Brexit vote of June 23 was an unpleasant surprise for interior fabrics exporters from Italy, Spain, France, Belgium, because UK is traditionally an important market for them. Though it's presently uncertain what will be the final impact of the Brexit on future textile trade between the UK and EU, there's no doubt that the impact will be mainly unfavourable.
<![if !vml]>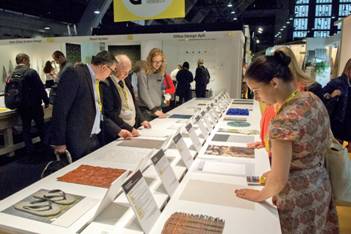 <![endif]>Also, the US is an important export market. European exporters of interior fabrics are disappointed about the slow pace of TTIP negotiations (Transatlantic Trade & Investment Partnership). They are afraid that a series of potential and real problems in the field of labelling requirements for textile products, regulation of flammability and harmonisation of standards could remain untreated for a long time.
Though it may seem unlikely that real estate tycoon Donald Trump will grasp the American presidency in November 2016 (however, he was also an unlikely Republican candidate), exporters as well as importers worry about the protectionist spirit Trump is embodying.
Rising protectionism
During a speech at Liberty University in January 2016, Trump boasted, "We're going to get Apple to build their damn computers and things in this country instead of other countries." However, Apple's CEO Tim Cook already learned the hard way that it's not easy to find a good alternative for the super-efficient Chinese assembly industry. In 2012, Apple invested some $100 million in American production capabilities, but without much result.
The increasing lack of domestic labour skills and specialised suppliers makes it difficult to re-shore mass production to the US. Just like Apple, textile and clothing manufacturers in the US and in other expensive countries like EU, Japan, Canada, made the same conclusion: do not drop China, the reigning manufacturer of the world.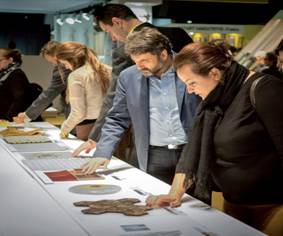 Jean-Paul Depraetere, CEO of Escolys Textiles, a leading producer of Jacquard interior fabrics, recently pointed out that besides China's superior manufacturing capabilities, there's also another aspect of China's position that should not be ignored by textile manufacturers: the Chinese (quasi-) monopolies. That China is a quasi-monopolist in the field of so-called rare earth elements (unusual metals that are sprinkled inside almost every piece of high-tech one can think of) is not a big issue for the global textiles industry.
However, as Depraetere said, China is also a quasi-monopolist as a spinner of high-qualitative flax yarn. The excellent flax that is grown in northern France, Belgium and the Netherlands - all goes to China. According to cotton textiles manufacturer Jean-Francois Gribomont (Utexbel), past president of the European cotton industry association Eurocoton, Europe has also lost all its dye stuff suppliers to China. Moreover, the Chinese reportedly hold 60 per cent of the world's cotton stocks, which enables them to dictate cotton prices.
Americanism, not globalism
Maybe American television journalist Andrea Mitchell was a bit too sharp when she said on NBC last March that Donald Trump is "completely uneducated about the world." After all, being the ex-owner of the Miss Universe Organisation, the Donald can surely make an educated distinction between a Russian model and a competitor from India or Venezuela.
But what is scaring European textile exporters is that Trump, who once appeared totally open to international competition among beauty queens (dozens of countries send their national beauty contest winners to the annual Miss Universe pageant) takes a protectionist stance in matters of international politics and trade. When Trump, as the presidential candidate, addressed the Convention of the Republican party on July 21, he stressed : "The most important difference between our plan and that of our opponent (Hillary Clinton) is that our plan will put America first. Americanism, not globalism, will be our credo." Any kind of 'America first' policy could have negative effects on the textiles and clothing industry which is one of the most globalised industries of the world.
Depraetere says that export-oriented textile companies continually have to address daunting challenges: solve complex logistics problems, build an international network of agents, get paid from distant foreign customers, prepare their participation in trade fairs in several continents. The last thing they want is that an important country like the US in a protectionist move as it would introduce new tariff and non-tariff trade barriers, unreasonable products and safety requirements, and even more complicated rules of origin.
MoOD has a global mission
Patrick Geysels, CEO of the Belgium-based trade fair organisation Textirama, points out that the annual trade fair MoOD dose not only have a national, regional or European mission, but a global mission too. Visitors at MoOD come from many European and non-European countries. Also, the 230 exhibitors come from all over the world. Only a quarter of them originate from Belgium; two-thirds come from other European countries and around 30 percent are non- European companies, mostly from Turkey (27) and India (eight).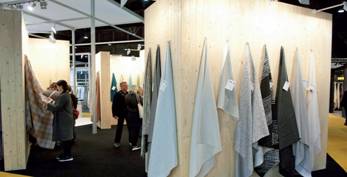 The strong presence of Turkish companies is no accident. Turkey, a great textile nation with a large cotton as well as synthetic fibre sector, is after China the biggest textile and clothing supplier to the EU. Geysels estimates the number of Turkish weavers of interior fabrics at around 500. Nearly thirty of them passed the severe MoOD selection test which is based on fabric quality and innovation. Most of them are rather young (second generation) companies. When confronted with problems like the troubles in the Middle East and in their own country or with the sudden loss of Russian customers, they are reacting swiftly and vigorously.
Probably the most remarkable new Turkish exhibitor at MoOD is Yunsa. The company claims to be the biggest manufacturer of woollen textiles and worsted fabrics in Turkey and Europe. Its 2015 turnover amounted to 264 million Turkish lira ($88 million) and net profit was 5 million Turkish lira ($1.7 million). Yunsa is particularly well known in fashion and is a major player with brands like Hugo Boss, Armani, Tommy Hilfiger, Paul Smith, Calvin Klein, Massimo Dutti, Max Mara, etc. Now, the company is thoroughly committed to making a name in the interior fabrics market. The ambitions are high. Yunsa does not hide the fact that it has a world leadership vision.
High Indian ambitions
New Indian exhibitor GM Syntex Pvt Ltd too has high ambitions. It will participate in MoOD along with Indian companies GM Fabrics, D'decor Exports, Dicitex Furnishings, Kishan International, Raghunath, Swan Silk and Universal Textile Mills.
Geysels says: "What we see in India are financially very strong interior textiles companies which excel in innovation and international trade skills. High-end European buyers are fascinated by the Indian offer of silk and other fine products. If American buyers often prefer doing business with Chinese suppliers, European buyers prefer the creative Indian offer."
The upholstery and window coverings of GM Syntex, for instance, are created from high-grade materials and represent top design. The company is surely not shy to admit its ambition, which is to conquer the number one spot among textile manufacturers. Such goal, of course, is only within reach in a world of free international competition and trade.