"Patola"- the supreme among Indian ikats, is a double ikat silk textile traditionally dyed with naturally dyes, producded by Jain weavers of Salvi community says Noopur Sonee.
These double-ikat patola textiles were woven in Patan, Surat and other centers but there are now only two families of Jians weaving them in Patan. Cheaper Patola imitations are woven in single ikat in Rajkot, Saurashtra and in both single and double ikats in Andhra Pradesh in the South.
In India, patola were used as ceremonial saris chiefly by Nagar Brahmins, Hindus or Jain Mahajans (Merchants) and Bohra Muslims, notably in Gujarat and Maharastra. Traditionally, patola were often worn by the mother of groom and it was gifted as wedding presents. But it was rarely worn as bridal saris.
It is a legendary heritage of Indian textiles from North Gujarat. A double ikat silk fabric in which both warp as well as weft threads are dyed into a complicated pattern, it is one of most complex textile- weaving techniques in the world and highly priced fabric.
Motifs and Design:
The designs include leaf forms, geometrical forms, floral forms, architectural forms, flowering plants, creepers, animals and human figures. these included Pan Bhat, Rattan Chok Bhat, NariKunjar Bhat, Phulwa Bhat, Chhabadi Bhat, BohraGaji Bhat, Gala Wali Bhat, Akhrot Bhat, Popat Kunjar, Maharas bhat and Vohra Cheer bhat.
1. Pan Bhat: Mahajans of Hindus and Jain communities were mainly used this design of patola. It has pan shaped leaves in the main field and in the rows. Border was enhanced with motifs of elephant, flowering plants, female dancers and parrots which are arranged in sequence and repeated in compartments.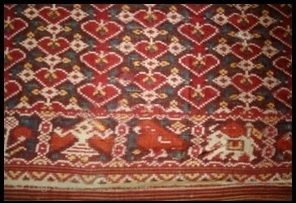 2. Rattan Chok Bhat: Literally it means jewels square design. In this design the main field of saree is divided into sections by broken band parallel to the border and filled with lozenges. Borders are designed with elephant and parrot motifs alternatively. Flowering plants are also arranged in the same manner pointing towards outside.
<![if !vml]>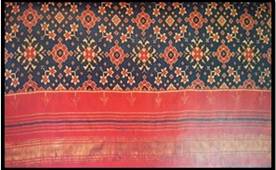 <![endif]>
3. Nari Kunjar Bhat: It means female dancer and an elephant. These main field is designed in lozenges and four motifs are alternatively arranged in some manner. Borders are emphasised with ornamental flowers and enclosed in some compartment from wave.
<![if !vml]>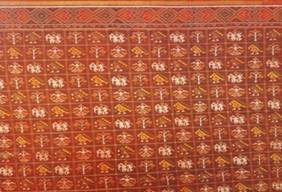 <![endif]>
4. Phulwa Bhat: These designed fabrics were produced with size of 400 cm long and less than 100 cm in width. Main field of this design is adorned by plants with five petalled flowers enclosed in a compartment either a lozenge or a cell while the borders have different kinds of creepers. Sometimes these fabrics are also designed with temple motifs arranged in rows.
<![if !vml]>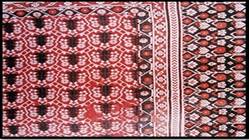 <![endif]>
5. Chhabadi Bhat: This design is produced with less than 400 cm in length and width 100 or -. Basket design is the key feature of Chhabadi Bhat. In this bhat, main field of the article has floral ornaments or designs which are arranged in circle or ovals as well as in borders. One fine zig-zag band or pan shaped leaves joined to each other by means of crosses. This bhat also has temple motifs. Brahmins of Surat area were mainly wearing this bhat.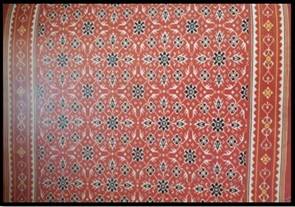 6. Bohra Gaji Bhat: This bhat mainly used by Muslim community. It was 430 cm long and 110 cm wide and is produced with same pattern in border, main field as well as end pieces. This bhat is designed with architectural forms, has alternate rows of shaped leaves arranged in crosses with lozenges filling between them which is a very intricate pattern.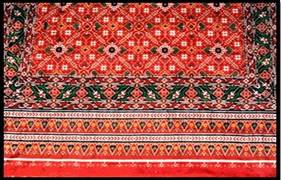 7. Gala Wali Bhat: This bhat is also known as 'Dakshini Patolas' because they are very long and 100 cm wide. In this bhat the main field is single colored. It can be green, yellow or red. Sometimes striped or brocaded or pattern by simple weft ikat designs are produced. Most of these fabrics are bordered by designs of elephant, parrots and flowering plants which were used by Jain community of north Gujarat.
8. Akhrot Bhat: This bhat is adorned with wall nut motifs.
<![if !vml]>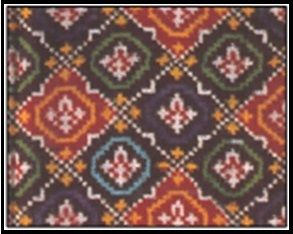 <![endif]>
9. Popat Kunjar: In this bhat parrot and elephant motifs are produced.
<![if !vml]>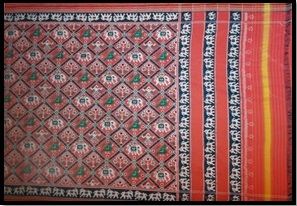 <![endif]>
10. Maharas bhat: A design depicting women dancing keeping rhythm with sticks in their hands- typical Gujarat folk designs are produced.
11. Vohra Cheer bhat: This bhat is associated with Vohra Muslims who wear this at weddings and on auspicious days. This is enhanced by geometrical pattern.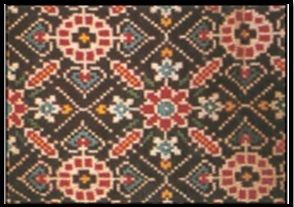 References:
1. Jaitly Jaya (2012). Crafts Atlas of India. Niyogi Books.
2. Ranjan Aditi & Ranjan M.P. (2007). Crafts of India. Handmade in India. Council of Handicraft Development Corporations.
3. Buhler Alfred & Fischer Eberhard (1979). The Patola of Gujarat: Double Ikat in India. Krebs.
4. Patolas and Resist-Dyed Fabrics of India- Manual.
Image Courtesy:
1. Rugrabit.com
2. Mytextilenotes.blogspot.in
About the Author:
Noopur Sonee has done M.Sc. with specialization in clothing and textiles from Banasthali University, Rajasthan.