The European textiles industry may have finally been able to shrug off the sluggishness that had been holding it back since the end of the Multi-Fibre Agreement. Jozef De Coster spoke to industry leaders and experts during the recent ETP conference in Brussels, and found that the textiles industry there is now in an upbeat mood, and ready to take the lead in many segments.
The time of fear and desperation in the European textiles industry is over. At least, that's what Francesco Marchi, director-general of the European Apparel and Textile Confederation (Euratex), believes. The mood in the industry is upbeat and palpable.
The reasons for this swing were explained by manufacturers and researchers at the latest ETP conference in Brussels (October 12-13). ETP is the European Technology Platform for the future of textiles and clothing. European manufacturers are confident that their strengths in high-tech production, advanced materials, digitalisation and sustainability lend them an edge.
The optimism in the European textiles sector is not that of blind believers. The leaders and members of Euratex and ETP know very well that the sector has to address several big challenges, like its exaggerated dependency on imported (mainly Asian) fibres and dyestuffs, and its image as a "sunset industry" that makes it difficult to attract ambitious workers, students and researchers.
However, in spite of all challenges and threats, Lutz Walter, secretary-general of ETP, thinks that the next 10 years will see the re-emergence of European textiles leadership. He is confident that during the next decade European companies will successfully conquer global market niches.
The present position of the European manufacturing industry is very different from that at the end of 2004 (end of the Multi-Fibre Arrangement), when in the aftermath of the liberalisation of global textiles markets, this industry was characterised by off-shoring of volume textiles and clothing production, shrinkage and restructuring.
Inflatable crew modules for Mars
European leadership is already there in the textile machinery industry.
Filips Lombaert, marketing director at Picanol, boasts that the Belgian weaving machine constructor has always been a pioneer in applying electronics to weaving machine control. By offering the most advanced electronic functions, Picanol allowed all weavers to enter the era of digital weaving.
According to Peter Dornier, CEO of Lindauer Dornier GmbH, the German specialist in weaving machines for technical textiles, growth markets abound. It is estimated that 60 per cent of all woven carbon and aramid fabrics, 50 per cent of all glass fibre fabrics, two out of every three airbags and three out of four car tyres worldwide are woven on the weaving machines built at Lindauer Dornier's plant in Germany. Dornier, which previously had a great record in the aircraft industry (until the Allies at the end of the second World War forbade Germany to manufacture aircraft) predicts a bright future for the suppliers of carbon fibre composites for the car, the aircraft and the aerospace industry.
He points to automobile maker BMW which started using these composites in 2013, and to Alfa Romeo which has been using them since 2014. US president Barack Obama recently said that the US government has contracted companies to build prototype habitats that could sustain human life in deep space. "The ultimate goal is eventually for humans to stay on the red planet Mars for an extended time by 2030," he said. Peter Dornier is pretty sure that the inflatable crew modules which will be used on Mars will be woven on Dornier machines. But, he warns the European industry that China and India especially are busy building up an oligopoly in the carbon fibre composite market.
Fast-growing health and wellness markets
Another area where Europe is leading is that of functional and smart materials for health and wellness-this market is growing very fast. Marc Frouin, president of French company BioSerenity, says that in France healthcare expenses soared from 2.6 per cent of the GDP in 1950 to 9.1 per cent in 2010. Some leading companies like Apple (Apple HealthKit), Google (Google Fit) and Samsung (Sami) are eagerly competing while trying to build the largest health care ecosystem of the world.
BioSerenity is focusing on epilepsy patients, who form nearly 1 per cent of the world's population. In order to supply these patients with the shirt and cap they need for being monitored, the company had to cooperate with textile specialists. BioSerenity, which started only two and half years ago, gets a lot of interest from doctors, researchers and patients in Europe, the US and Asia. If the monitoring of epilepsy patients becomes a success story, the company may consider extending the 'shirt and/or cap' monitoring to other patients with chronic diseases.
<![if !vml]>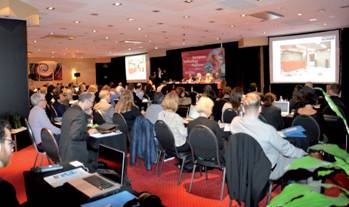 <![endif]>
Meanwhile, Spanish research institute AITEX has developed a smart shirt that is expected to push adolescents to a higher degree of physical activity. Also, adolescents who normally don't like traditional exercises can be motivated to do regular efforts when they are approached via personalised 'exer-games'. Rosa Lopez of AITEX contends that textiles are better than wearables such as bracelets to measure (lack of) activity and providing biofeedback. Many other new smart textiles are in the pipeline; for instance, therapeutic garments like compression stockings.
And of course, the health and wellness market is only one among dozens of growing technical textile market niches in which the European textiles industry is eager to take the lead. German textiles consultant Hendrik Van Delden presented the preliminary results of a study on the competitiveness and export opportunities for European technical textile producers, already showing impressive growth rates and export market shares for EU producers, especially in the attractive US market.
Successful combination of European research and Indian needs
Developing high-tech textile materials is one thing, and developing new markets another. Combining the results of European textile research with the needs of fast growing or emerging markets could be a very successful business model.
That's what Mohit Raina, founder and managing director of Raina Industries Private Ltd, is currently doing in India. He is bringing European construction textiles to the growing Indian market. While training at the Rheinish-Westfalische High School in the German city of Aachen he learnt that textile-reinforced concrete is much stronger and lighter than steel-reinforced concrete.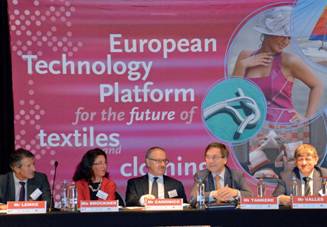 Textile-reinforced concrete also allows more freedom in design and it does not corrode. Looking at the big (€35.6 billion) and fast-growing (10 per cent annually) construction market in India, Raina decided to try his luck there. In November 2014, he created Raina Industries, with the intention to find a niche for advanced building materials from Germany. He has a factory in Chinchpada, near Mumbai.
"India is a very cost-sensitive market," says Raina. "It's not easy to convince sceptical Indian customers to pay twice the price of conventional building modules for textile-reinforced modules. Also, we have to train Indian engineers, because they don't know textile construction materials."
Thanks to the support of German building experts and the interest of open-minded Indian NGOs, government officials and politicians-Raina explained the advantages of textile construction materials to ministers and even to prime minister Narendra Modi-Raina Industries succeeded in selling, in one single year, modular toilets in rural India to some 50 schools and over 100 households. Raina sees this as a first step: "There are nearly 1.3 billion people in India. Our task is to develop the technology and the people, and then they will develop the world."
Textile industry still has an image problem
The European textiles industry, which boasts of being a high-tech industry with a bright future, has difficulties in attracting students, researchers, managers and therefore also funding. The core of the problem is that the general public, and especially youngsters, do not yet know the 'new' textiles industry. The prevailing image of the sector is still that of the last decades, characterised by enormous job losses due to companies closing down and production shifts to low-wage countries.
Also, the textiles sector, and especially the garment industry, is known as a low-wage sector. What people do not know is that the productivity of the EU textiles and clothing industry increased an impressive 36 per cent since 2004, that exports have grown by 37 per cent in value, and that many technical textiles markets have shown compound annual growth rates of up to 5-7 per cent.
At the ETP conference in Brussels, Massimo Lolli, HR director at the prestigious Italian Marzotto Group (established in 1936), argued: "When young people choose a profession, the image of a sector is of utmost importance. The textiles sector alas has no positive social reputation in Europe. Our sector must urgently build up such reputation. But how do you that? If we don't find an answer to that question, we are dead."
Polish professor Katarzyna Grabowska, the new president of the Association of Universities of Textiles (the first woman to get this honour), is happy to see that the average number of bachelor's and master's students in European textile universities has stopped declining. The total number of textile students has stabilised in the period 2006-2016, but unfortunately the number of PhD students remains much too low.
Lutz Walter believes that the new Strategic Innovation and Research Agenda (SIRA), which was unveiled during the conference, will make the sector more attractive. The SIRA outlines the major innovation themes and research priorities which are expected to drive and shape the future of the textiles and clothing sector in Europe over the coming decade. It has been jointly developed by over 100 textile industry, technology and research experts from across Europe.